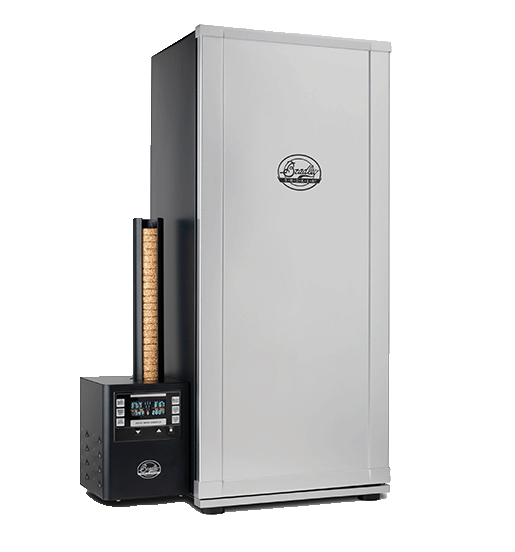 Bradley 6 Rack Digital Smoker
Bradley 6 Rack Digital Smoker
The Bradley Digital Food Smoker includes all the features of the Bradley Original, along with new technology! Temperature, time, and smoke are now completely controllable for no babysitting, no hassle experience.
Regular price
£549.98 GBP
Regular price
Sale price
£549.98 GBP
Unit price
per
Sale
Sold out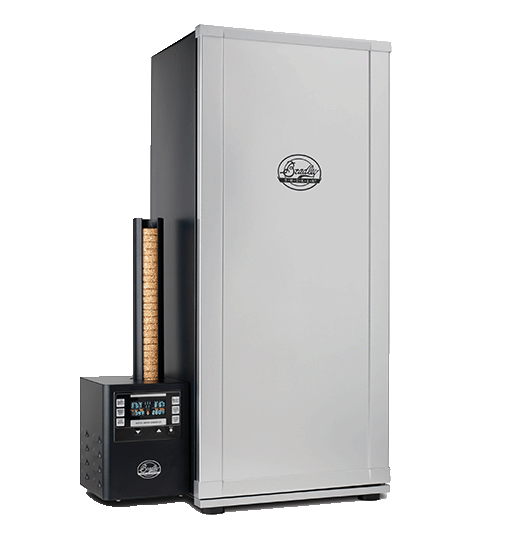 highlights
The interior construction is polished, insulated stainless steel
Digital interface
Maximum Temperature of 120°C (250°F)
Separate Burners for smoke and oven
One-year warranty from date of purchase
Internal thermostat
Four fully supported, removable racks
Up to 9 hours of no wood refilling
Compatible with the cold smoke adapter (sold separately)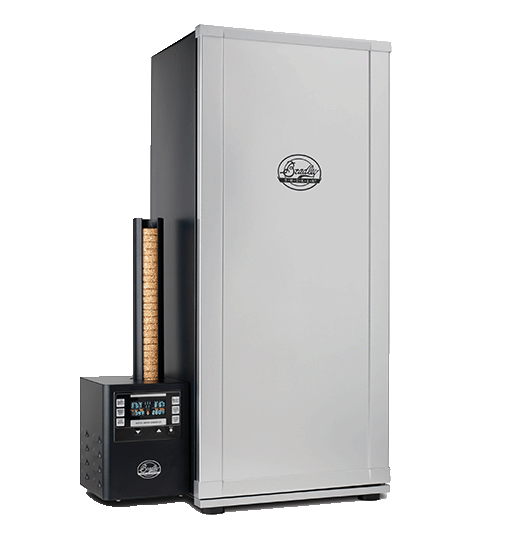 Product
Description
Details

The Bradley Digital Food Smoker picked up where the Bradley Original Smoker left off. Food smoking is simpler than ever before! Forget checking on your wood often to control smoke and temperature. With up to 9 hours of no wood refilling, food smoking gets a lot easier, and wood never burns down to ash. In other words, enjoy your no babysitting, no hustle experience with all of our recipes. The Bradley Digital gives you total control over smoke, temperature, and cooking time. Additionally, this is all simply at the push of a button. Above all you enjoy delicious, consistent, pure smoke taste thanks again to Bradley's PureSmoke Technology. With the extra cooking space with 6 racks! Bradley Bisquettes are sold separately.
Technical Specs

| | |
| --- | --- |
| Weight | 32 kg |
| Dimensions | 430W x 370D x 990H – 610W with Generator on side |
| Smoker Size | 100 x 43.5 x 36 cm |
| RATED VOLTAGE | 240V |
| RATED FREQUENCY | 50 / 60HZ |
| RATED POWER | 650W |
| MAIN HEATING ELEMENT | 500W |
| BISQUETTE BURNER | 125W |
| INTERNAL VOLUME | 108L |
| TOTAL RACKS | 6 |
| COOKING AREA | 2178 sq cm |
| COOK TIME ADJUSTABLE RANGE | 00:20 - 09:40 |
| COOK TIME ADJUSTABLE INCREMENT | 20 min |
| SMOKER INTERNAL OPERATING TEMPERATURE RANGE | 48 - 120°C |
| OUTSIDE TEMPERATURE OPERATING RANGE | -10 to +50°C |
| ADJUSTABLE MEAT TARGET TEMPERATURE RANGE | N/A |
| ADJUSTABLE RANGE INCREMENT | N/A |
| INTERNAL FOOD MEASUREMENT RANGE | N/A |
| POWER | 220 – 240 Volt, 50 Hz 2.5 Amps, ETL & CE Listed |
Warranty

The Bradley Smoker carries with it a 1 year limited warranty against manufacturing defects.

Requirements and Limitations:

Warranty is effective from the date of purchase. Keep your sales receipt as proof of purchase date. Warranty is limited to repair or replacement of components as determined by Bradley Smoker Bradley Smoker at its discretion will provide a replacement component for any component found by Bradley Smoker to be defective and shall not be responsible for any re-assembly. This limited warranty is non-transferable and becomes void if product is used for commercial or rental purposes. Warranty covers manufacturer's defects only. This limited warranty will not reimburse you for the cost of any inconvenience, food, personal injury or property damage. Warranty is valid only in the country of purchase. Shipping and handling charges are the responsibility of the original consumer/purchaser for all in/out of warranty parts orders. Serial number of the smoker must be provided on all warranty claims.

Bradley Smoker excludes from its warranty the following:

Defects/damage resulting from accident, abuse, misuse, alteration, improper assembly/installation, vandalism are not covered. Damage resulting from weather conditions including but not limited to hail, wind, rain, or snow is not covered. Normal wear and tear, chipping and scratching on painted surfaces is not covered. Discoloration from exposure to sunlight, heat or chemicals is not covered by this warranty. Failure to perform regular maintenance, safety checks and service. Including but not limited to removal of grease build up resulting in a flash fire, damage caused by grease fires is not covered by this warranty.

To ensure your satisfaction register your smoker online at: www.bradleysmoker.co.uk

For warranty and customer services please call: +44 (0) 1803 712712