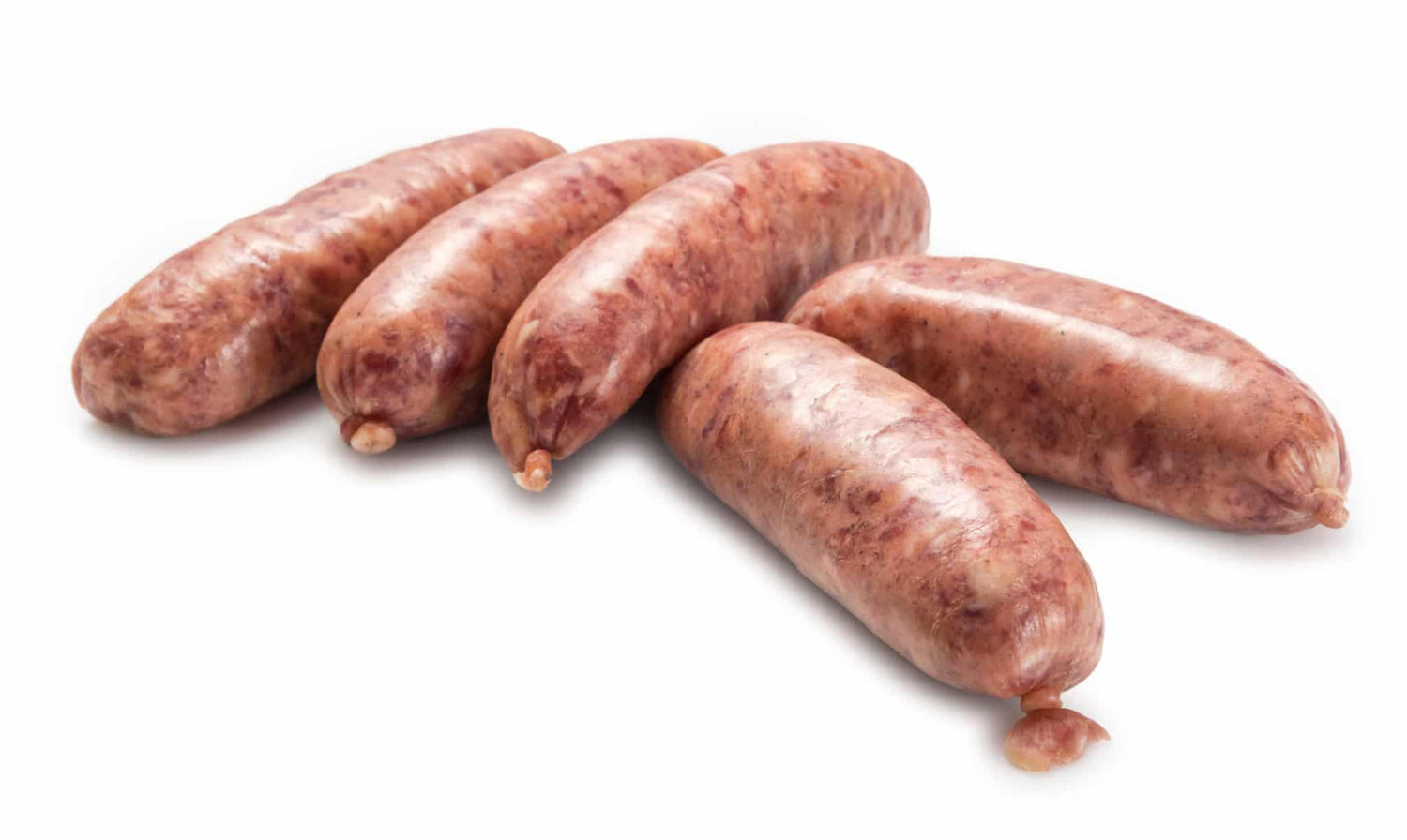 Smoked
Chaurice

– Hot Creole Sausage Recipe



Chaurice (shore-EESE) is a Creole sausage that is comparable to Spanish chorizo and, like chorizo, there seems to be a huge number of versions out there. Some versions are hotter than others. Chaurice is considered the hottest in Creole and Cajun cuisine. It was a favorite in Louisiana dating back to the 19th century, and it's believed to have come to Louisiana with the Spanish. It is generally fresh, but can be cold or hot smoked. I found that this version is not much hotter than a hot Italian sausage, but my relatives and friends do consider this hot.
Ingredients
4 Lb pork butt - cubed
1 Lb pork fat back or pork fat - cubed
1 Medium yellow onions, coarsely chopped (about 7-9 ounces)
¼ Cup New Mexico chile powder; aka Anaheim or (Paprika)
¼ Cup minced garlic (1½ ounces)
2 Tbsp Morton kosher salt
1 Tbsp cayenne
1 Tbsp hot crushed red pepper
2 Tsp fresh ground black pepper
2 Tsp dried thyme leaves - crushed
1 Tsp cumin
¾ Tsp ground allspice
1½ Tsp white sugar
3 Bay leaves, finely crushed
½ Cup fresh broad leaf parsley - chopped (about 1 ounce)
1¼ tsp pink salt (optional, but must be added if you plan to smoke the sausage)
10 feet of 32-35 mm hog casing (optional), soaked and rinsed.
Preparation
Blanch onions in boiling water for 2 minutes. Remove from water, drain, and rinse under cold running water until cooled. Note: I prefer to mince, and sautee the onions in a pan lightly sprayed with oil, cool; then add them to the ground meat mixture. This way I get onions that are consistent in size. Make sure you do not brown the onions.
In a small bowl combine all of the ingredients (except the pork and parsley) and mix well. Put the pork in a large bowl, and add mixed ingredients to the pork. Toss to coat the meat evenly. Cover and refrigerate for at least 1 hour, but not more than 24 hours. Note: I like to let it set overnight; approximately 10-12 hours.
Ensure that all equipment and meat are cold; grind the meat into a bowl set in ice with a meat grinder fitted with a ¼-inch die. Note:If you want a coarse-textured sausage use a ⅜ or ½-inch die, or coarsely chop meat in a food processor.
Once ground, you can form the sausage into patties, logs, or stuff the mixture into prepared 32-35 mm hog casings, or casings of your choice. If you are stuffing the sausage, form it into 6-inch links, or into rings.
At this stage, you can leave uncooked, cooked or smoked before refrigerating and/or freezing for longer storage.
Cooking:
Chaurice sausage is generally not cooked ahead of time but can be cooked in advance for convenience.
Lightly oil a large pan, or griddle, making sure there is plenty of room between the sausages; at least ½ an inch. If necessary, cook in batches.
Preheat the pan over medium-low heat, and place the sausage in the pan (do not crowd). Cook until the bottom of the sausage has nicely browned. Using tongs turn sausages over.
After turning the sausage, cover and continue to cook for 8 minutes.
Remove the lid and check the temperature. The internal temperature should be 148ºF to 150ºF. If the sausage has not reached that temperature, continue to cook with the lid off.
Remove from heat and serve with rice or beans or both. Otherwise, refrigerate, or freeze after the sausage has cooled.
Smoking:
Chaurice sausage is generally not smoked, but it smokes up nicely for easy future use.
NOTE: If you are going to smoke the sausage by these instructions, you needed to have added the pink salt. Just take note that the added pink salt does alter the flavor. If you did not add the pink salt, your only smoking option is to smoke/cook at 225ºF or above (with no drying period) until the sausage has reached an internal temperature of 150ºF.
Prior to applying smoke, you need to air dry the sausage. You can do this either by air drying them uncovered in the refrigerator overnight, placing them on a kitchen counter in front of a fan until the casings are dry, or placing them in a preheated 110-120ºF smoker with the vent wide open for about 30 minutes to an hour until the sausage is dry to the touch. Note: You can either arrange the sausage on the racks or hang it from dowels that have been cut to fit the smoker.
After the sausage has dried, close the vent to ¼ open, increase the heat to 130-140ºF, and apply 2-3 hours of smoke. Note: If you had dried your sausage in the smoker, rotate the racks from top to bottom, and front to back; before applying smoke. If they are hanging by dowels rotate from front to back. I prefer to lay them on racks, for easier rotation. I used pecan for the smoke flavor, but maple, apple or hickory can be used.
After the smoke has been applied, rotate the sausage again. Raise the cabinet temperature to 170-180ºF, and continue to smoke until the internal temperature reaches 150ºF.
Remove the sausage from the smoker, and immediately shock it in an ice water bath until the sausage has cooled, and to stop the cooking process.
Remove sausage from the bath; air dry, or pat dry with paper towels. Refrigerate or freeze for longer storage.
Recipe Credit: Habanero Smoker
Pecan
Wood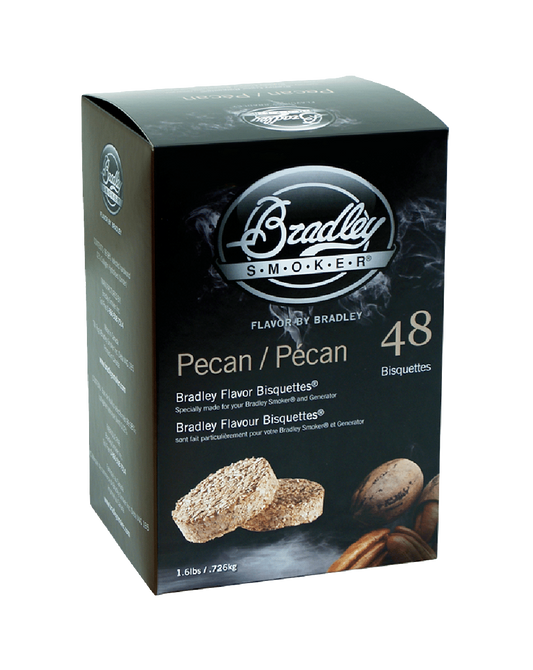 With a sweet and mild flavour, making it the milder cousin to Hickory, Pecan Bisquettes pair well with poultry, beef, pork, lamb, game, and water fowl.
Shop Now