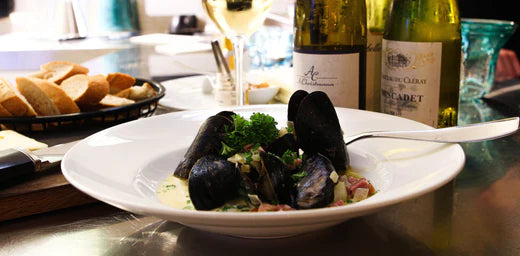 Smoked
Moules Marinières

with flank pork - Moules Marinières au porc fumé

Thomas Karlstein

Moules marinières is a dear old dish.
Ingredients
(Serves 4)
2 nets of fresh blue mussels
2 yellow onions depending on size
2 carrots
500 g smoked flank pork (in small cubes)
(1/2 stalk of fennel)
(a few stalks of celery)
2 bay leaves
10 white peppercorns
a bouquet of fresh thyme
25 g butter
3 dl dry white wine, preferably an oaked Chardonnay
0.4 L fish stock
8 dl whipped cream
Parsley to garnish with
Preparation
Countless are the Fridays when the saucepan was on our bar counter. I don't know why there are often mussels on Fridays, but you know what I think you shouldn't eat on a Friday. The light from the candelabra is reflected in the shiny bench. The white wine sips melodically as it washes into the crystal clear glasses in waves. In another glass, the Belgian beer whips itself up into a foam. Sometimes it's hard to choose. A few times the mussels have been served outside by the grill. We gather on stretched-out barstools around the wide stove and decadently throw all the empty shells into a tub on the grass. However, there is still some time left until then. Today it will be moules marinières in a new way - Moules Marinières au porc fumé.
Actually, it's not Moules Marinières at all. The mussels should be smoked. The whole "pot" should be smoked. The idea is based on the mussels we were served in Spain almost fifteen years ago. In Spain they had added HP sauce to get the smoked taste. Nothing wrong with that, it works surprisingly well and I have copied that dish countless times. Today, however, there will be real smoke. Smoked moules au porc. Mussels with smoked pork.
Everything is prepared in the kitchen before everything goes into the smoke. There they are allowed to stand at 150°C until it starts to boil and the mussels say: -Voila! With moules, exact quantities are not that important. I usually take a look in the root vegetable box, there I pick a carrot, sometimes a bunch of fennel and always onions. Roscoff or shallots are preferred, but no one will frown on plain yellow either. A sprig of fresh thyme is hard for me to live without.
The main rule says that the wine must be a Muscadet, preferably a sour le, which has been allowed to rest longer on the lees before bottling. As I dislike main rules in cooking, I choose an oaked Chardonnay instead. The same wine in the pot as in the glass - a general rule you can actually like. I got a tip today from someone I trust, so we're running on it. I also think that a slightly stronger wine is needed for this particular version of moules. A mineral, light and neutral Muscadet probably does better in a perfectly clear Moules Mariniéres without cream.
Now it's time to get started, the mussels must have time to spit too!
 
Method:
Clean the mussels. Remove those with broken shells. Then let the mussels spit out in salted water for 30-60 minutes.
Rinse the mussels in cold water. Allow to drain.
Chop the onion and slice the carrots roughly.
Place in a saucepan or pan with butter, herbs, spices and possibly celery and fennel.
Put down the pork.
Fry on medium heat until the onion has become transparent and everything is shiny.
Remove from the plate and scoop into a roasting pan. You want a large surface that is exposed to smoke, at the same time the mussels want a little moisture while they are being smoked. If you don't have a suitable deep frying pan, a wide saucepan is of course fine.
Pour over wine, fish stock and cream.
Add the mussels to the roasting pan.
Then set the whole pan or deep pan in the smoke (150°C). I smoke with alder shavings to get a neutral smoke flavor.
Stir a few times in the meantime.
Remove the pan from the smoke when it has boiled and the clams have opened. Taste test so that they feel good in the texture. It usually takes about 2 hours.
Serve in deep plates with chopped parsley.
On the side, it's good with some bread and some cheeses. If you prefer beer to wine, it is fine to replace the wine in the mussels with a tasty Belgian wheat beer instead.
The main rule is gossip about what you have in the glass.
Alder
wood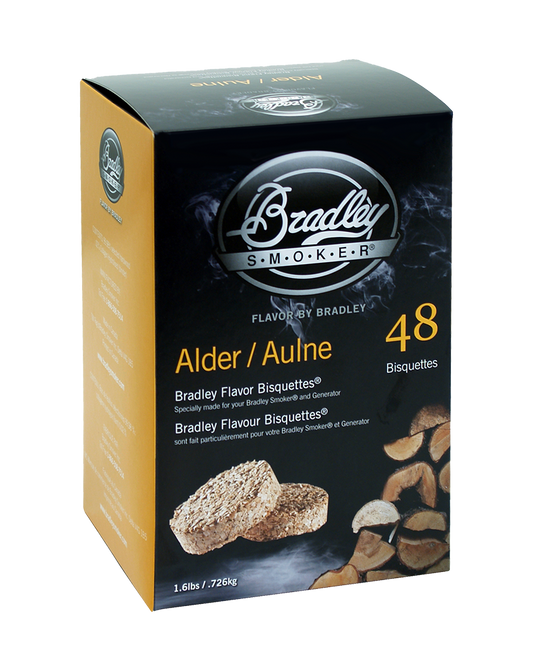 Alder is commonly used for smoked salmon because of its milder flavour. However, thanks to its light, sweet, and musky flavour, it's a smooth smoke flavour perfect for almost any dish.
Shop Now