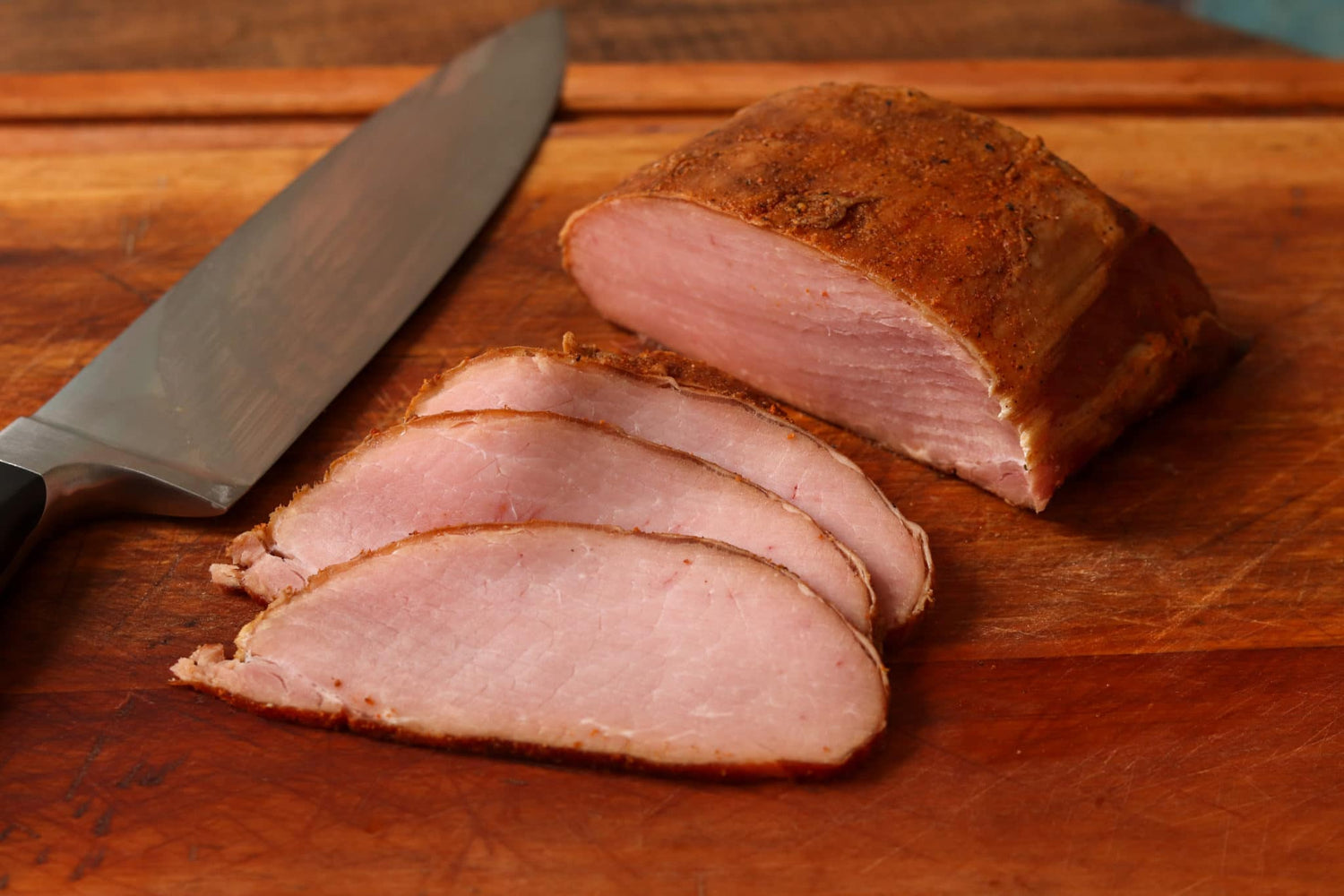 Smoked
Canadian Bacon


This Kinda Smoked Canadian Bacon Recipe is very easy to make in comparison to how delicious it gets. It all starts with a chunk of boneless pork loin, readily available everywhere. Brine it for a week and then smoke it using Pecan bisquettes. Maybe put in the ham bag and roll tight, then use some hog rings or string to hold it thigh and small. I vac sealed it in 8 oz packages and one just wrapped in plastic to make some goodies with.

Made some eggs Benedict the other day, but didn't have any muffins. So I cut the crust off some sour bread, toasted it and dropped on some of my CB. A couple home grown eggs and smothered in Hollandaise sauce and a dash of smoked paprika. That's how good, fast and convenient breakfast can be!
Ingredients
A chunk of boneless pork loin
The Brine:
1 Cup Morton Coarse Kosher salt
1 Cup packed dark brown sugar
4 Bay leaves crushed
1 Tab granulated garlic
1 Rounded Tab whole allspice
1 Rounded Tab whole juniper berries
1 Rounded Tab whole black peppercorns
3 Tab Penzeys Cajun spice
2½ tea cure #1
¼ Cup pure honey
¼ Cup Jack Daniels
1 Gal water
Preparation
Add all but the cure, honey, and jack to 2 quarts of water and bring to a boil, stirring constantly.

Reduce the heat and simmer, stirring occasionally till you can smell the fragrance of the spices, around 20 min.

Remove from the heat and let it cool below 140ºF (60°C), then add the cure, honey, and jack.

Pour the brine in your curing bucket and stir in ice till you end up with 1 gallon.

Check the temp of the brine. You don't want to put the meat in till the brine is below 40ºF.
Place the meat in the brine and keep it submerged with a heavy plate.

Put your brine bucket in the fridge, then overhaul every other night for a week.

When the week is done, rinse the meat under cold running water, place on an inverted rack with a drip pan under it for 24 hr, turning over at the 12 hr mark.

When smoking, remove from the fridge and let sit at room temp for at least one hour.

Warm up the smoker to 250ºF for one hour, load up 3H Pecan and, as soon as the smoke starts rolling, put in the meat, the closer to the top the better.
Smoke/cook at 250ºF (121°C) till the IT loins hits 145-150ºF (62.8°C-65.6°C)
Remove and let cool at room temp for 2H, then wrap in plastic and place in the fridge for 2 days.

After the fridge time, slice and enjoy.
Pecan
Wood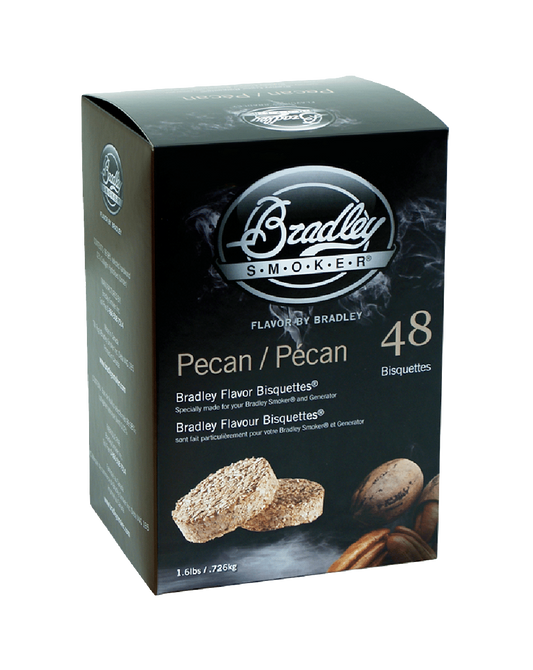 With a sweet and mild flavour, making it the milder cousin to Hickory, Pecan Bisquettes pair well with poultry, beef, pork, lamb, game, and water fowl.
Shop Now