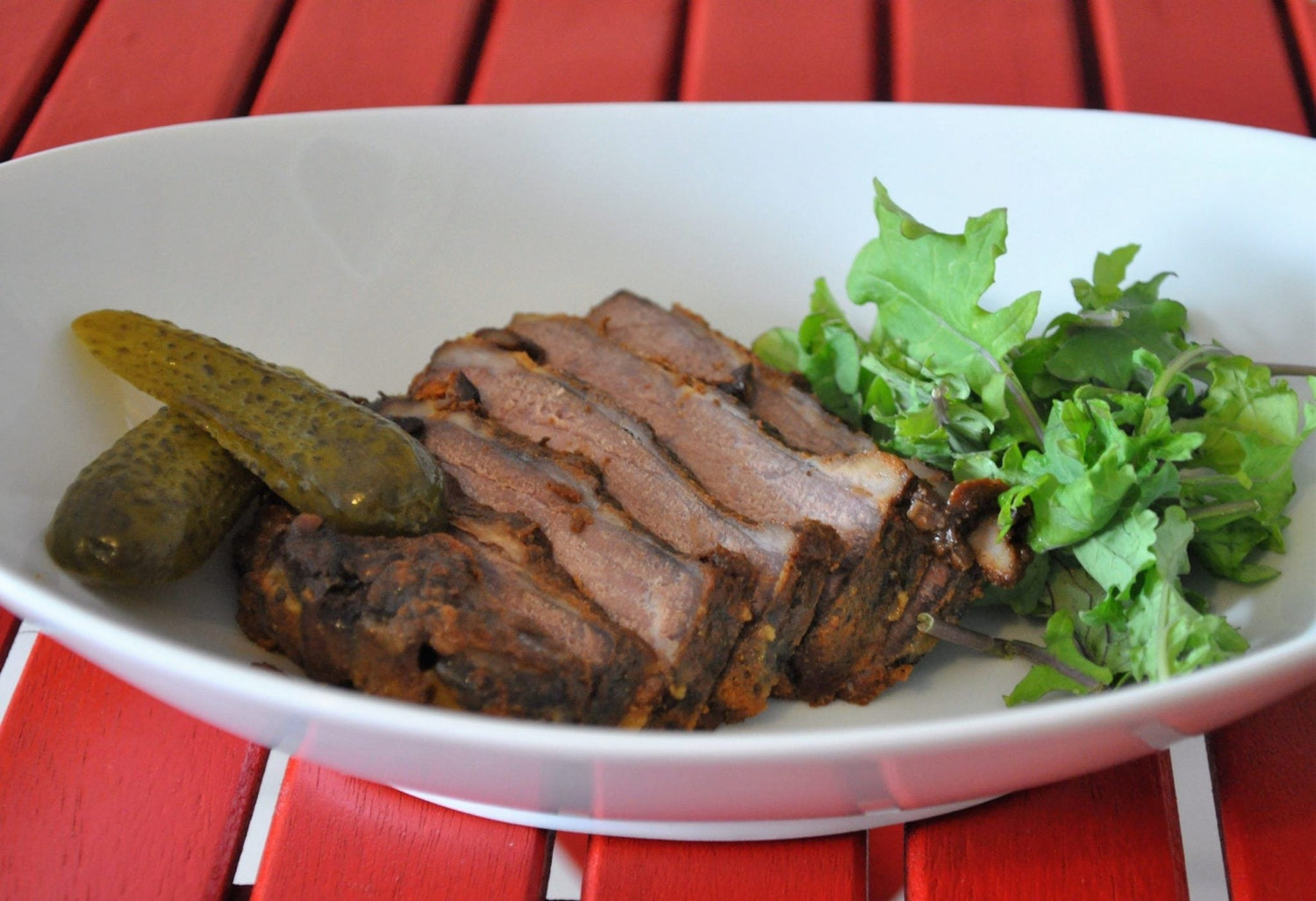 Smoked BBQ Style
Brisket

Recipe



Many people consider brisket the most difficult cut of meat to cook. The perfect solution is to treat the meat with a generous rub and brine, so that it doesn't get dry. And don't forget the golden rule: low and slow.
Ingredients
10 lb Beef brisket, fat trimmed to ¼" thickness
For BBQ rub:
¼ Cup brown sugar
¼ Cup paprika
3 Tablespoons black pepper
4 Tablespoons kosher salt
2 Teaspoons garlic powder
2 Teaspoons onion powder
2 Teaspoons celery seeds
1 Teaspoon cayenne pepper
For mustard sauce:
1 Cup yellow mustard
¼ Teaspoon black pepper
¼ Teaspoon kosher salt
1 Teaspoon hot sauce
For mop sauce:
½ Cup apple cider vinegar
1 can (355 ml) of amber or dark beer
½ Cup water
¼ Cup vegetable oil
1 Tablespoon BBQ dry rub
2 Tablespoon Worcestershire sauce
1 Tablespoon hot sauce
1 Teaspoon black pepper
BBQ sauce:
½ Cup onions, finely chopped
2 Tablespoons butter
3 Tablespoons tomato paste
2 Cups ketchup
¾ Cup brown sugar
¼ Cup honey
¼ Cup molasses
1 Cup white vinegar
1 Teaspoon allspice
3 Tablespoons Dijon mustard
2 Teaspoons black pepper
2 Teaspoons chili powder
3 Tablespoons Worcestershire sauce
2 Teaspoons garlic powder
1 Tablespoon paprika
3 Tablespoons lemon juice
Bradley Flavor Bisquettes – Hickory
Preparation
Mix together ingredients for dry rub, and set aside 1 Tablespoon for mop sauce.
Sprinkle brisket generously with the dry rub, wrap in plastic and refrigerate overnight.
Preheat your Bradley Smoker the day of with Hickory Flavor Bisquettes to 200-250°F.
Remove the brisket from refrigerator 1 hour prior to cooking and let stand at room temperature.
Mix together ingredients for mustard sauce.
Mop the entire brisket with mustard sauce.
Place the brisket fat side up in your smoker.
Mix together ingredients for mop sauce.
After 3 hours rotate brisket and mop with mop sauce.
After 2 more hours, place brisket on 2 pieces of heavy-duty foil. Pour remaining mop sauce (about a quarter of a cup) on top of brisket and seal tightly.
Continue to smoke for another 2 to 4 hours, or until internal temperature of the brisket reaches 195°F.
Remove brisket from foil and let stand for 30 minutes, before slicing brisket against the grain.
While brisket is smoking, prepare BBQ sauce by heating butter in a medium saucepan and sauté the onions over medium heat until soft. Add remaining ingredients. Bring mixture to a boil over medium high heat. Reduce heat to low and simmer for 20 minutes.
Serve brisket with BBQ sauce.
Recipe by: Lena Clayton
Hickory
Wood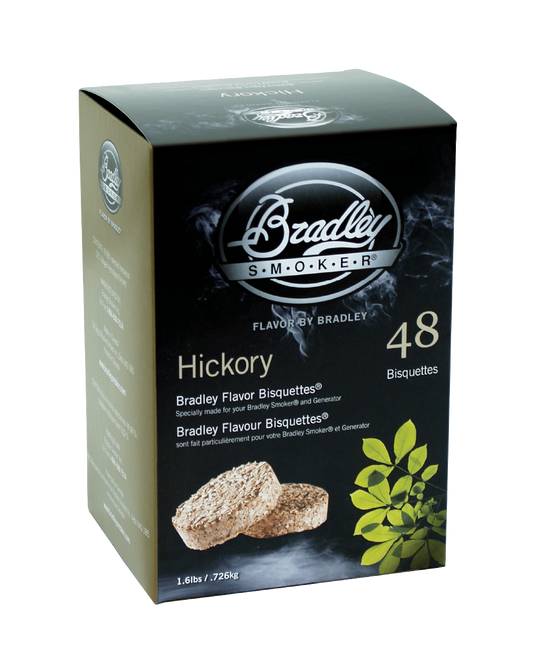 The strong and sweet flavour of Hickory Bisquettes make it one of the more popular woods for smoking, and especially pairs well with poultry, beef, pork, game, water fowl, nuts, and cheese.
Shop Now