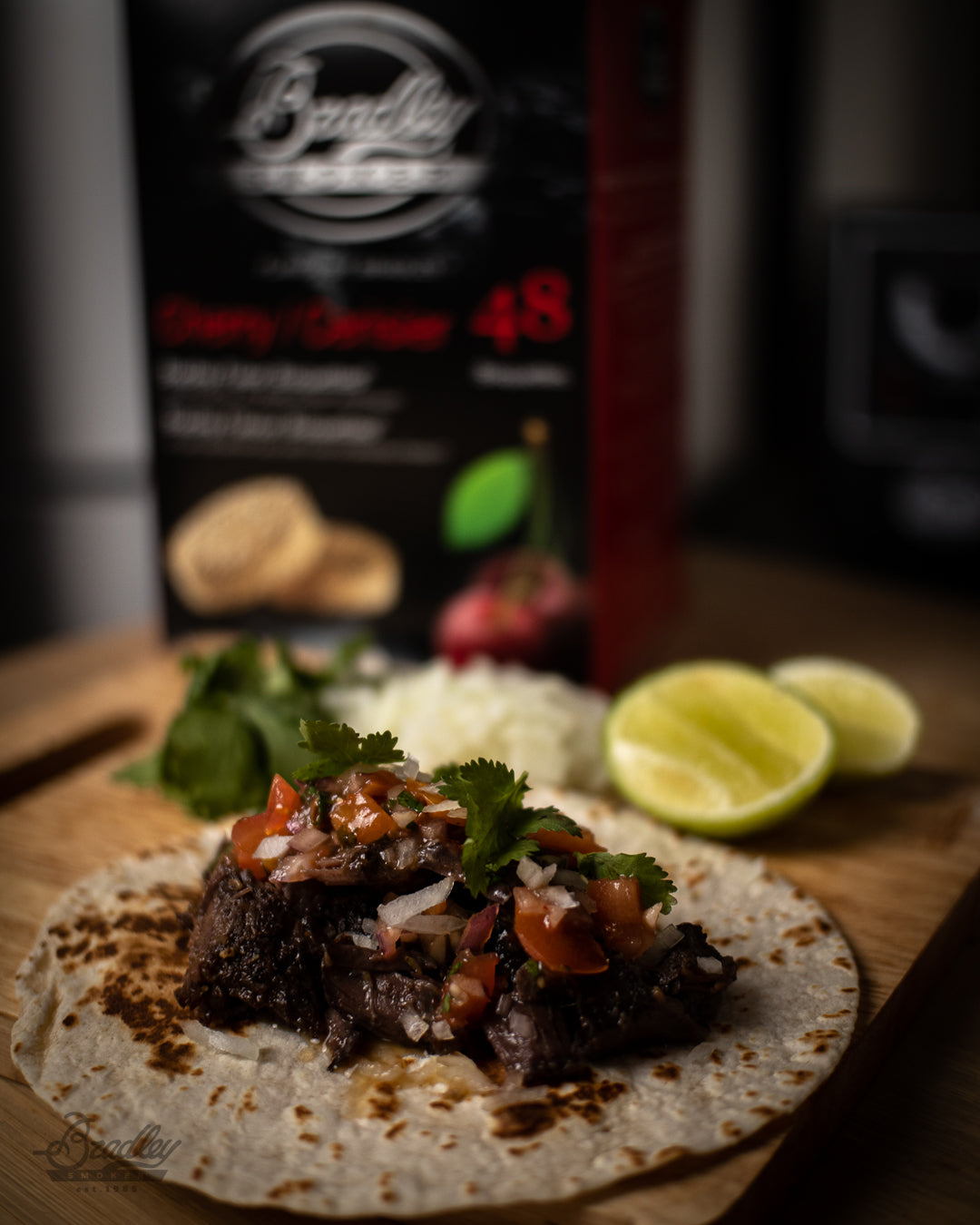 Smoked
Beef Cheek

Tacos

Dan Shahin

Smoked beef cheek tacos are the ultimate fusion of flavour and tenderness. Slow-smoked to perfection, these succulent morsels are a game-changer in the world of tacos. The smoky, melt-in-your-mouth goodness combined with your favourite toppings creates a taco experience like no other. Prepare to be amazed with each savory bite.
Ingredients
4 Beef Cheeks
 Favourite Beef Rub – we made our own simple one by combining 1tsp each of salt, pepper, garlic powder, onion powder and sweet paprika. 
1 bottle of Ginger Beer 
2 tbsp Brown Sugar 
1 tsp Mustard or Hot Sauce 
1 pack of Tortillas 
Salsa:
Bunch Coriander Sweet Tomatoes 1 clove Garlic 1 Red Onion ½ tsp Cumin Seeds ½ tsp Salt ½ tsp Black Pepper Juice of ½ Lime Pinch of White Sugar 
Preparation
Trim all of the surface fat and silverskin from the beef cheeks.
Season the beef cheeks with your favorite rub.
To help the rub adhere, rub some of the mustard or hot sauce on the outside of the meat. 
Smoking Method
Set Smoker to 110-125C and turn smoke function on. We are using Cherry Flavour Bisquettes which we love with beef cheeks, but you can use whichever flavour you like. 
Once up to temperature, place the cheeks in the smoker. Smoke until you have a nice colour and the internal temperature is reading approximately 75-80C. This will take approximately 3-4 hours. 
Place the cheeks in a tray with the ginger beer. You are looking to cover approximately 1 cm of the cheeks with the tops still out of the liquid.
Sprinkle the sugar over the top of the cheeks and into the ginger beer. Wrap the tray with a layer of foil and put back in to cook until the beef cheeks are reading 95C or are very tender to touch, this will be approximately 1.5-2 hours. 
Rest the cheeks for approximately 30 minutes before pulling to serve. For the salsa, finely chop the tomato, red onion and garlic. Coarsely chop the coriander. Combine everything together.
Alder
wood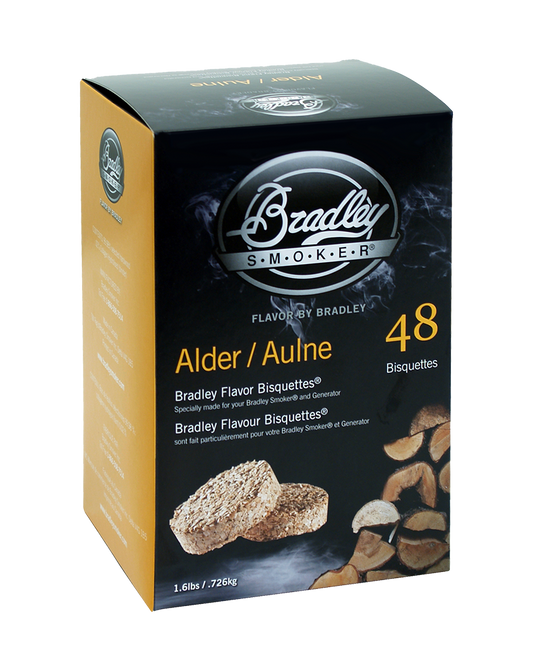 Alder is commonly used for smoked salmon because of its milder flavour. However, thanks to its light, sweet, and musky flavour, it's a smooth smoke flavour perfect for almost any dish.
Shop Now