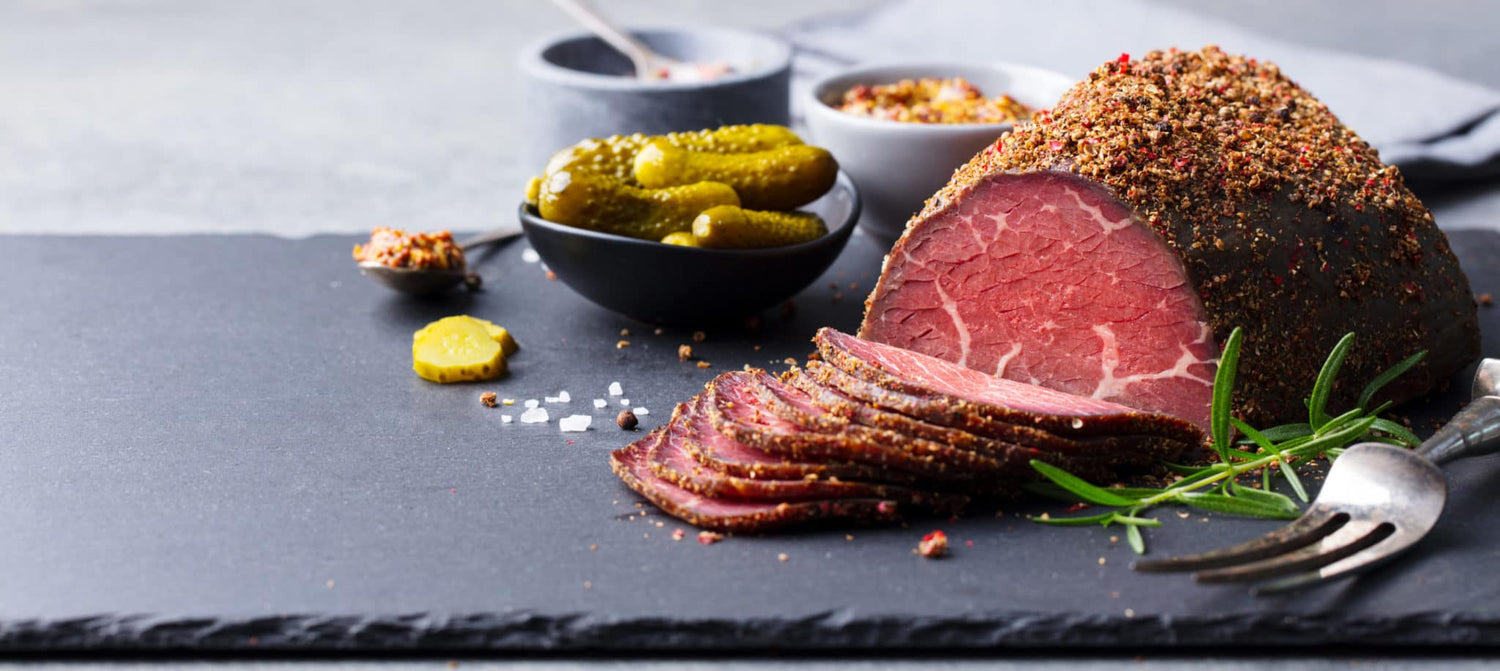 Smoked
Beef Pastrami

Recipe



Are you craving homemade pastrami with the perfect blend of spices and flavors? Look no further! Try this dry cure recipe that ensures full meat penetration for 4-7 pounds of brisket. And for those who prefer a wet cure, we've got you covered with our recipe that has similar flavors as the dry cure. Either way, your taste buds are in for a treat!
Ingredients
Pastrami dry cure ingredients (original):
¼ Cup each Morton Tender Quick, dark brown sugar, packed and freshly ground black pepper
2 Tbsp granulated garlic powder and ground coriander
This is enough for 4 - 7 pounds of brisket
Pastrami dry cure ingredients (modified):
Though the above recipe cure obtains good results, I often have and odd amount of rub left over that I can't use. This recipe will help reduce the waste of ingredients. Hopefully I will soon get around to posting my steaming method.
1 Tbsp Morton Tender Quick per pound
½ Tbsp dark brown sugar - packed per pound
½ Tbsp freshly ground black pepper per pound
1 Tsp granulated garlic powder per pound
1 Tsp ground coriander per pound
Pastrami wet cure (brine/pickle) ingredients (to use instead of the dry cure):
For those that like to use a wet cure (brine/pickle) I developed this recipe that would have similar flavors as my dry cure mixture. You can also use this for corned beef; just don't apply the rub, and cook it as you would in your favourite corned beef recipe. Why would you make your own corned beef instead of buying a commercial brand? FLAVOR!!!!
4 Qts water
12 Oz pickling salt (about 1 C+1 Tbsp) or 1 ½ C of Morton's Kosher salt
1 Cup brown sugar (6 oz)
5 garlic cloves, medium size - mashed or coarsely chopped
1 Tbs black peppercorns
1 Tbs whole coriander seeds - toasted
2 Tsp juniper berries - bruised
2 Tsp brown mustard seeds (or yellow)
1½ Oz pink salt (InstaCure #1, Prague Powder #1) about 8 teaspoons
Dry rub ingredients:
3 Tbs coriander seeds (4 tbs, if you don't have white peppercorns)
2 Tbs black peppercorns
2 Tbs yellow mustard seeds
1 Tbs white peppercorns
2 Tbs of granulated garlic
Makes enough cure for one brisket flat
Preparation
Pastrami dry cure directions:
Trim surface fat of an untrimmed brisket flat to 1/8″. This is important so that the cure fully penetrates the meat; yet it leaves enough fat to keep the meat moist. If you do a whole brisket or thicker cut of meat, you will need to prepare a wet cure and inject the meat.
In a small bowl, mix Morton Tender Quick, sugar and remaining ingredients. Mix all ingredients well, making sure to break up any lumps of sugar, no matter how small. I found that the bare hands work best. Rub mixture into all sides of brisket, and work it well in a small bowl, mix Morton Tender Quick, sugar and remaining ingredients. Mix all ingredients well, making sure to break up any lumps of sugar, no matter how small. Do not shake off any excess that is on the meat. I prepared a 5½ pound half flat (point end), used about ¾ of the mix, and the meat was fully cured.
Next, place brisket into a two gallon Ziploc bag; expel as much air as possible, and make sure the seal is secure. Refrigerate and allow to cure 4 days, turning the brisket over every 12 hours, or at least daily. After 4 days of curing, remove the brisket from the bag, and thoroughly rinse under cold running water. After rinsing, place the meat in a container and cover with cold water. Let the meat soak for 30 minutes, change the water, and let soak for another 30 minutes.
This helps reduce the saltiness from the meat. Pat dry with paper towels and apply rub.
Note: If your brisket weighs 7 pounds or more, or if it is under 7 pound, but unusually thick; you will need to add an extra day to the curing time.
Pastrami wet cure directions:
Using the back of a wooden spoon, press down and bruise the juniper berries.
Wood works better than metal. The wood seems to grasp the berries, while the metal spoon tends to shoot them out like marbles. In a 4 quart nonreactive pot, add 1 quart of water and all ingredients except the pink salt. Bring to a boil, and then simmer for 5 minutes, stirring to make sure all the sugar and salt has dissolved. During the simmering, a good amount of scum formed on the surface, but that cleared up after it had cooled and more liquid was added.
After 5 minutes, and when the salt and sugar have dissolved, remove from heat and allow it to cool. I usually add ice until the pot is about ¾ full.
Alternate method:
Instead of heating the ingredients, mix the salt, sugar and pink salt into the 4 quarts of water and stir until completely dissolved. The pink salt can be added at this time, because the brine mixture will not be heated. Combine 16 fluid ounces of the brine mixture with the rest of the ingredients in a blender and process until evenly blended. Add this to the remaining brine. Also, if you used this method, you don't have to bruise the juniper berries.
I then transfer the cooled mixture to my Rubbermaid 8 qt. food container; mixed in the pink salt, then added either ice or cold water to bring the mixture up to the 4 qt level. Refrigerate if necessary, and when the brine is cooled to at least 40ºF, place brisket into the container and brine for 4 - 5 days at 38ºF to 40ºF. If necessary, weigh it down with a plate to keep the meet fully submerged. Also, you can add up to an additional 2 cups of cold water, if necessary to cover the brisket.
The brisket may have to be bent to fix, because of the type of container you may have. So if the meat is touching the sides of the container; is alright because each day you need to remove the brisket, stir up the brine, bend the brisket in the opposite direction, and return it to the brine until it is fully cured.
This method is called over-hauling the redistribution of cure.
After it has fully cured, follow the procedure listed in the "dry cure" section, for rinsing, test tasting, soaking (if necessary), and resting.
Dry rub directions:
Combine the first four ingredients, and coarsely grind in a spice grinder or coffee grinder. Pour ground mixture into a bowl, add the granulated garlic and remix. Apply the dry rub to the brisket generously, working the rub into the meat by pressing it in with the palms of your hands. Air dry in the refrigerator for 4 to 8 hours, before before placing it in the smoker.
Remove brisket from the refrigerator and place it on a tray, fat side down, and place in a pre-heated Bradley Smoker, at 220ºF. Apply 3 hours of smoke. I used 2 hours of pecan, and finished with 1 hour of apple. Cook until the internal temperature reaches 160 - 165ºF. You can also use a smoking temperature of 250ºF.
When the brisket reaches an internal temperature of 160 - 165ºF, take it out of the smoker. Wrap the brisket in one layer of heavy-duty aluminum foil.
Wrap it in a towel, and place it fat-side up in a cooler or microwave oven for two hours (if just going into the microwave you don't need the towel). Remove brisket from the cooler (or microwave) and remove the foil and save. Wrap brisket in plastic wrap, and then wrap it in the foil you just saved. Place in the refrigerator for at least one day, two is better. When ready to eat, thin slice the pastrami across the grain for a tenderer slice. You can either eat it cold or warm it up.
Recipe Credit: "Habanero Smoker" from the Bradley Smoker Forums
Pecan
Wood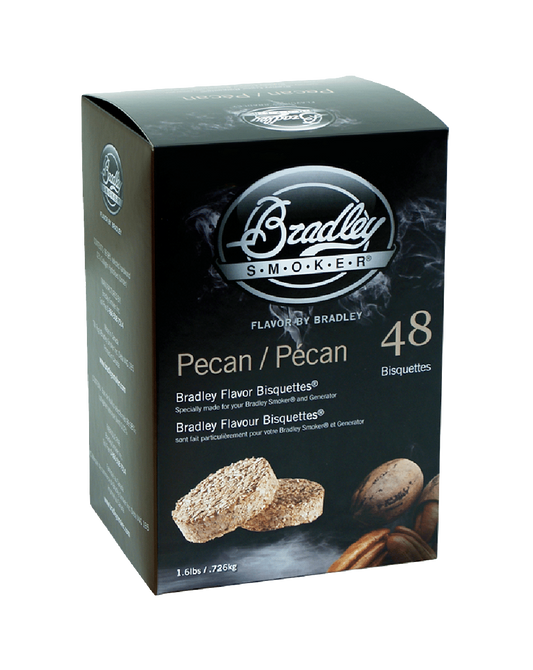 With a sweet and mild flavour, making it the milder cousin to Hickory, Pecan Bisquettes pair well with poultry, beef, pork, lamb, game, and water fowl.
Shop Now