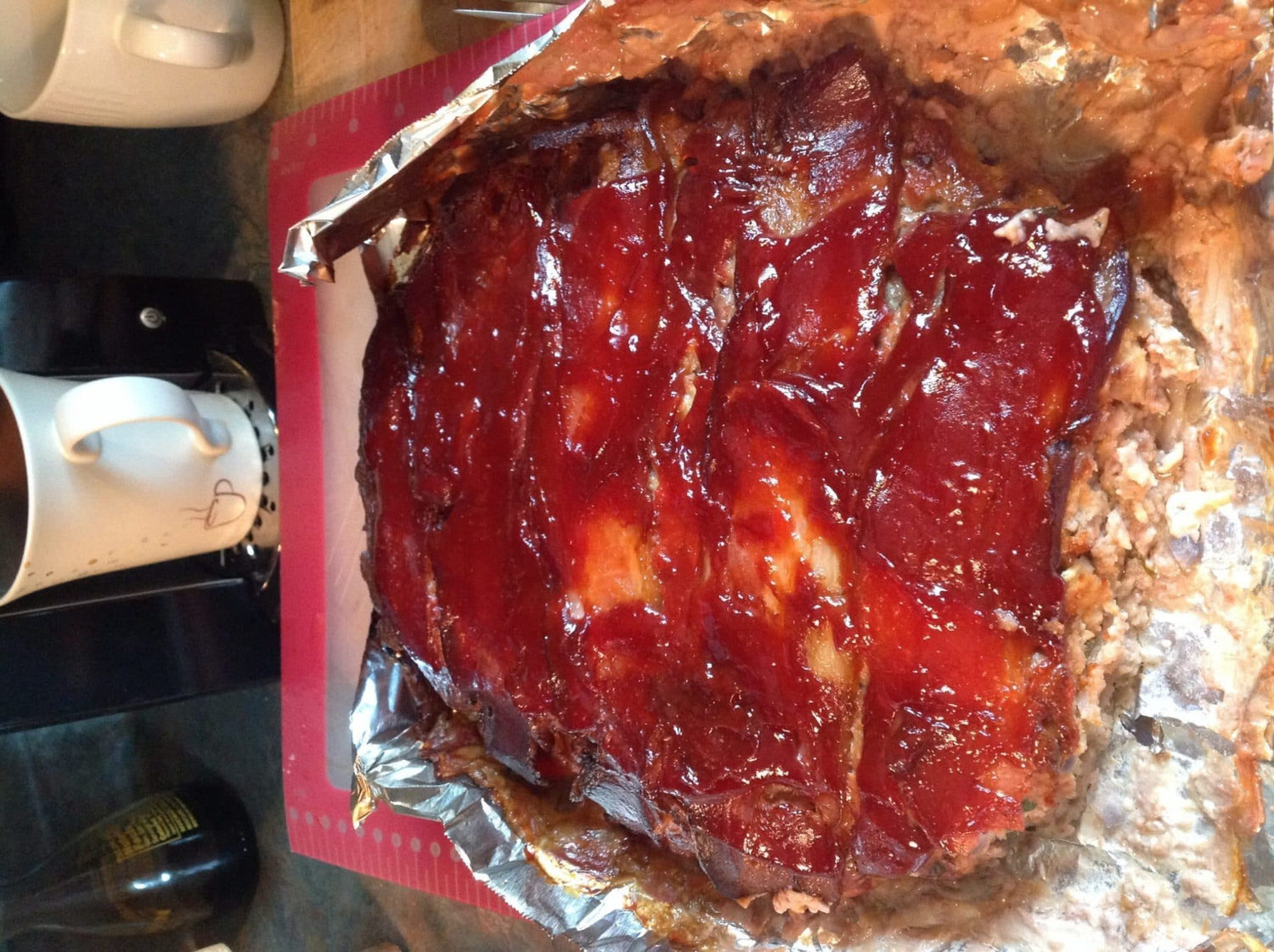 The Best Smoked
Meatloaf

Ever Recipe



This can be baked in the oven, of course, but I did it in our electric smoker. I smoked it for about 30 min, using hickory. Then continued smoking and cooking at 300 for 2-3 hours, or until meat reaches 160ºF.
Ingredients
For the Meatloaf:
6 Slices white bread
1 Cup whole milk
2 Lb ground chuck or 1 lb chuck and 1 lb ground pork
1 Cup (heaping) freshly grated parmesan cheese
¼ Tsp seasoned salt
¾ Tsp salt
Freshly ground black pepper
⅓ Cup minced flat-leaf parsley
1 Med onion, chopped
Chopped garlic, as much as you like
4 Whole eggs, beaten
10 Slices thin/regular bacon (I used Benton's and not as much)
For the Sauce:
1 ½ Cup ketchup
⅓ Cup brown sugar
1 Tsp dry mustard
Tabasco to taste
Preparation
Pour milk over the bread slices. Allow it to soak for several minutes. Place the ground beef, milk-soaked bread, Parmesan, seasoned salt, salt, black pepper, onion, garlic and parsley in a large mixing bowl. Pour in beaten eggs.

With hands, mix the ingredients until well combined. Form the mixture into a loaf shape in a smoke-proof pan. It is a very wet meatloaf, but firms up nicely as it cooks. (Line the bottom of the pan with foil to avoid a big mess!) I used a flat sheet pan instead, and it probably cooked a little faster than a loaf would.

Lay bacon slices over the top, tucking them underneath the meatloaf.

Make the sauce: add ketchup, brown sugar, mustard, and hot sauce in a mixing bowl. Stir together. Pour ⅓ of the mixture over the top of the bacon. Spread with a spoon. Spread ⅓ more halfway through smoking time. Save the rest for serving.