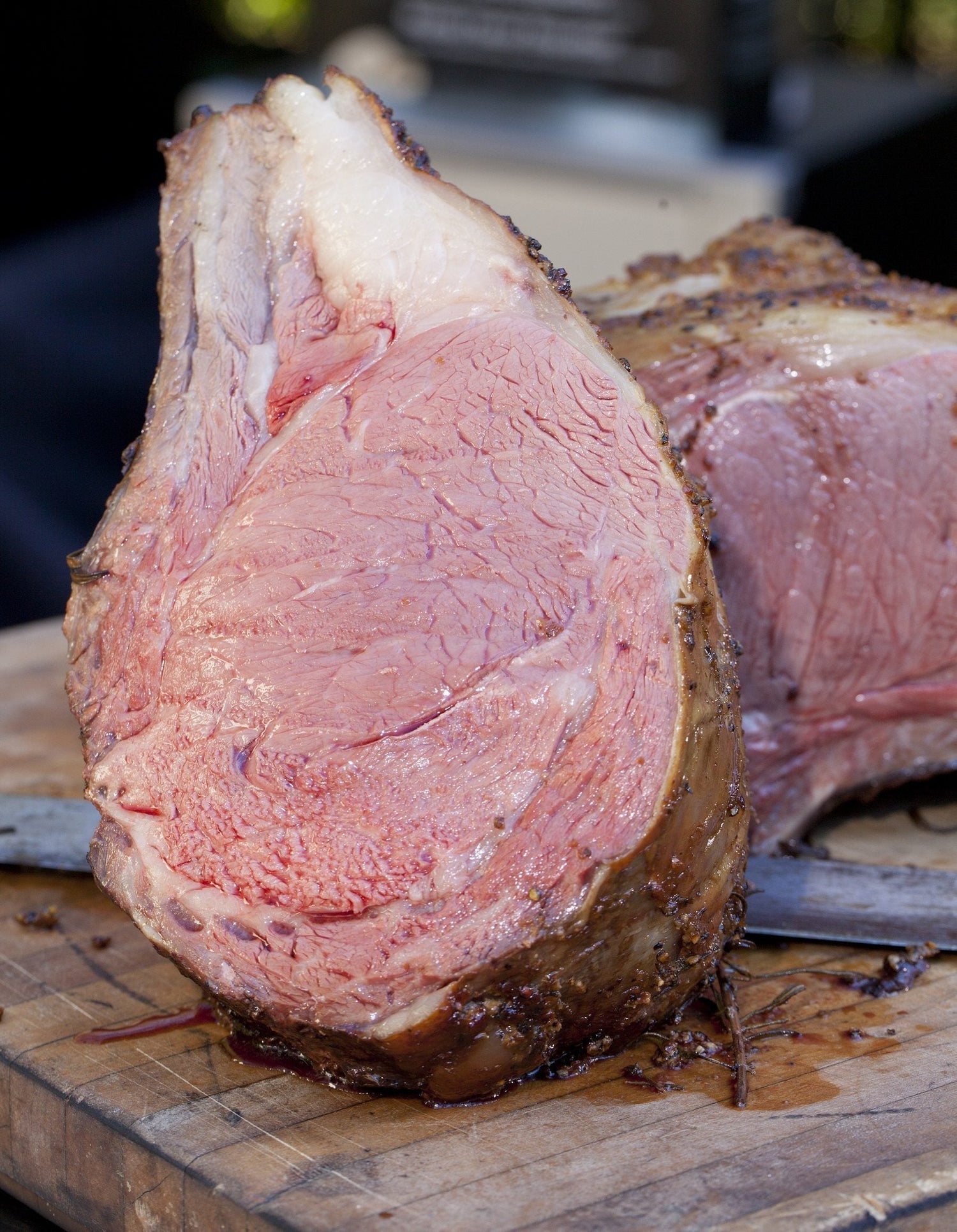 Bradley Smoked
Prime Rib

Recipe by Ted Reader



Indulge in a succulent and flavorful prime rib roast with this delicious smoked recipe. The marinade paste, made with garlic, Worcestershire sauce, and black pepper, infuses into the meat for a rich flavor while the rosemary and extra fat ensure the prime rib stays juicy and tender during the 5-6 hours of smoking.
Ingredients
Marinade Paste:
¾ Cup olive oil
20 Plump cloves fresh garlic (about 4-5 heads)
½ Cup Worcestershire sauce
2 Tbsp kosher salt
3 Tbsp coarsely ground black pepper
Prime Rib:
With this recipe be sure to ask your butcher for some extra fat to cover the top of the prime rib. As the prime rib smokes, this fat will help keep the meat succulent
1½ Cups + ½ cup marinade paste (recipe above)
1 Prime rib of beef roast, 5 bones (about 10-12 pounds)
12 Sprigs fresh rosemary
Kosher salt, to taste
Smoker Temperature: 200ºF
Bisquette Flavor: special blend
Smoke time: 5 to 6 hours
1 Immersion hand blender
1 Bradley Smoker Jerky Rack
1 Thermometer probe
Preparation
Marinade Paste:
In a deep wide mouthed container, combine the olive oil, garlic, Worcestershire sauce, kosher salt and coarsely ground black pepper. Using a hand blender, blend until mixture is smooth. Cover and refrigerate until needed or for up to 2-3 days. Makes about 2 cups.
Prime Rib:
In a large roasting pan, place the prime rib and rub with about 1 ½ cups of Marinade Paste, pressing the mixture into the meat. Be sure to rub it all over. Cover pan with plastic wrap and refrigerate for 24 hours to allow the garlic and Worcestershire sauce flavors to infuse into the meat.
Set up your Bradley Smoker according to manufacturer's instructions and set smoker temperature to 200ºF.
Line the bottom of the Jerky Rack with fresh rosemary. Note: This will add a delicious flavor to the prime rib as it smokes.
Remove prime rib from refrigerator and place bone side down on top of the rosemary on the Jerky Rack. Using the remaining ½ cup of marinade paste, rub the prime rib all over with it to add a fresh boost of flavor.
To Smoke:
Take the fat cap(s) of beef and score it in a diamond pattern about a ¼-inch deep on both sides. Place cap(s) on the top of the prime rib as this will help keep the prime rib moist and juicy. Top with a bit of kosher salt.
Place prime rib into the smoker. Insert a thermometer probe into the center of the prime rib, making sure that it is not touching any bone, and set the temperature to your desired internal doneness.
Note: I personally like to smoke my prime rib to an internal temperature of 135ºF (rare), then let it rest for 10-15 minutes, which ends up making it a perfect medium-rare doneness.
Smoke prime rib for approximately 3-4 hours. After its first phase of smoking, remove cap of fat allowing the prime rib to get some colour on the top, and then smoke for an additional 2-3 hours.
Note: I personally like to increase the smoker's temperature up to 235ºF for the last 2-3 hours of smoking to allow the prime rib to form a crispy bark.
When desired internal temperature is reached, remove the prime rib from the smoker and allow to rest for 10-15 minutes. Some like to tent it with aluminum foil but prime rib tends to get sweaty and too moist on the outside therefore to keep it nice and dry but still warm, lay a few clean kitchen towels over top. These towels will help absorb any excess moisture while keeping the heat in.
Special
Blend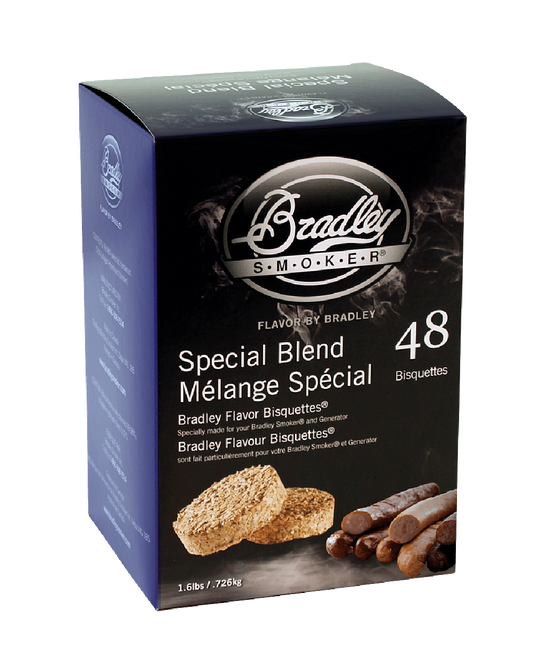 Specially created to add a distinct flavour to any dish, and pairs well with poultry, fish, seafood, beef, pork, lamb, game, and water fowl.
Shop Now