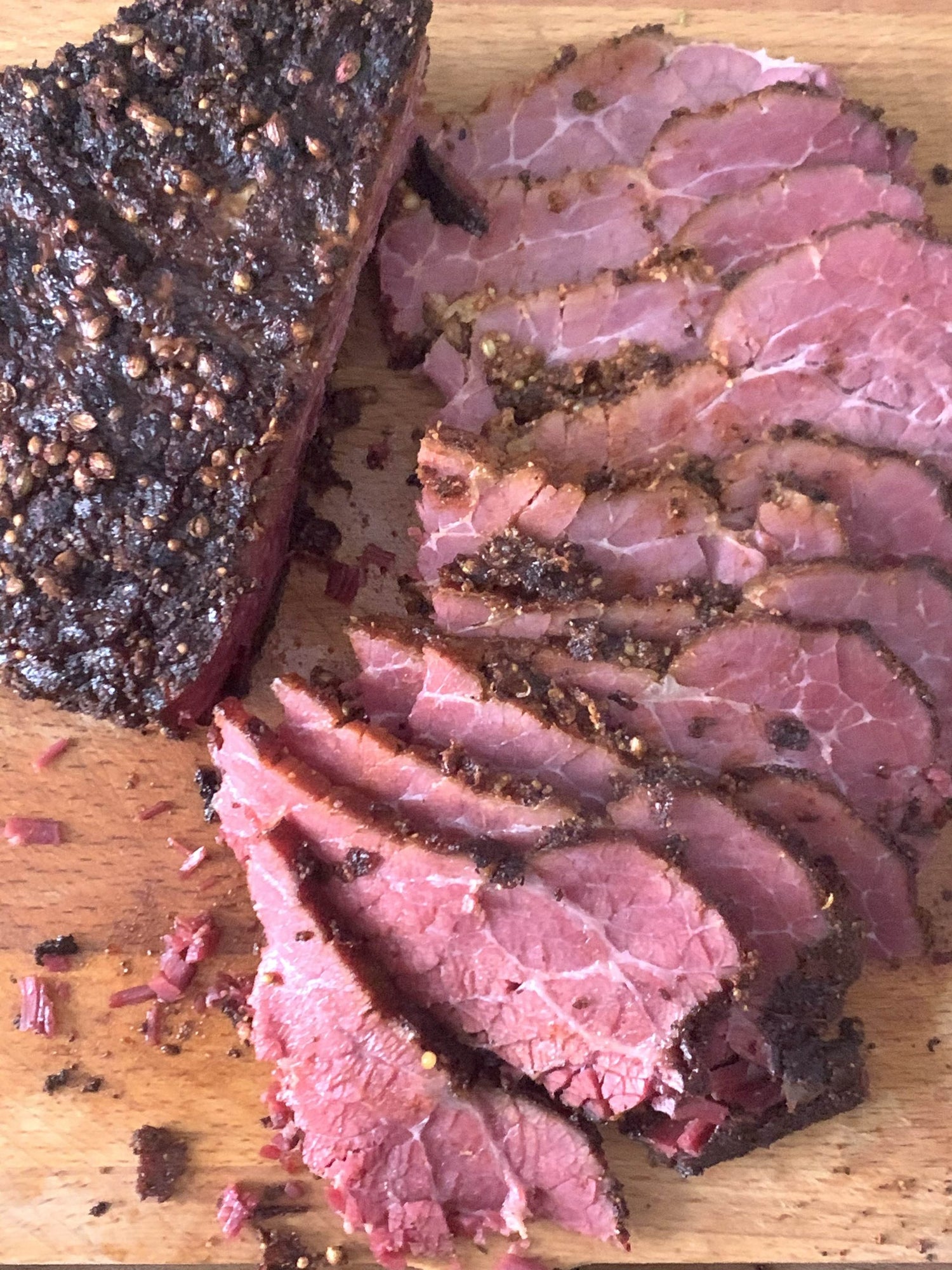 Pastrami
Dan Shahin

Pastrami can be made from goose, goat, and mutton, but most commonly is made from beef brisket.
Ingredients
1.5kg Corned Beef Brisket (or you could make your own see bottom note)
Dry Rub:
2tbsp Coarsely Ground Black Pepper
1tbsp Coriander Seeds, broken a little in a pestle
1tbsp Coriander Powder
1tbsp Soft Brown Sugar
1tbsp Paprika
2tsp Garlic Powder
2tsp Onion Powder
1tsp Mustard Seeds
1tsp Mustard Powder
Make your own :
Corned Beef Brisket 1.5kg Brisket (2 inches thick in a fairly uniformed flat shape)
4.5L Distilled Water
14.4g Instant Cure:
'Prague Powder'
225g Morton's Kosher Salt
225g Dark Brown Sugar
5 tbsp Pickling Spices
5 Garlic Cloves smashed or pressed
Note: do not simply scale this recipe up or down, please use a reputable tested curing calculator or if you do not feel comfortable doing this, buy a corned beef brisket (brined and uncooked).
Preparation
Desalinate the corned beef by soaking it in water for 8 hours.
Combine all rub ingredients together.
Drain and apply the rub liberally all over the corned beef.
Let rest on a wired rack in the fridge with the rub on for another 8hours to overnight.
Set the smoker for 110C and once up to temperature turn the smoke on using Oak Bisquettes. You can use other Bradley Flavour Bisquettes if you wish.
Once up to temperature put the beef into the smoker with a tray on the rack below to catch any drippings and juices and let smoke for approximately 8 hours until an internal temperature of 95-99C is reached and it is extremely tender.
Slice and enjoy.
Make your own:
Find a proper container large enough to handle 1 all of the brine and the meat. Ensure properly cleaned and sterile.
Mix the cure ingredients and the distilled water and stir until dissolved.
Remove as much surface fat as possible.
Add the meat to the curing mixture and weight down if necessary with a non-reactive item to keep it submerged for 5-7 days. If an item was used to hold down the brisket, rotate the meat daily to ensure equal absorption. When done, the exterior of the meat will be pale brown to grey and if sliced into it like normal raw meat but slightly pinker.
Oak
Wood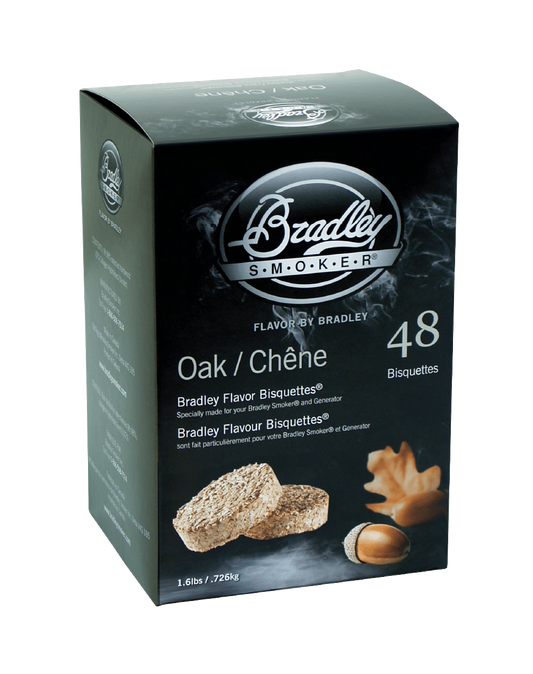 The most versatile wood of them all is Oak. Pairs especially well with poultry, beef, pork, lamb, and game.
Shop Now