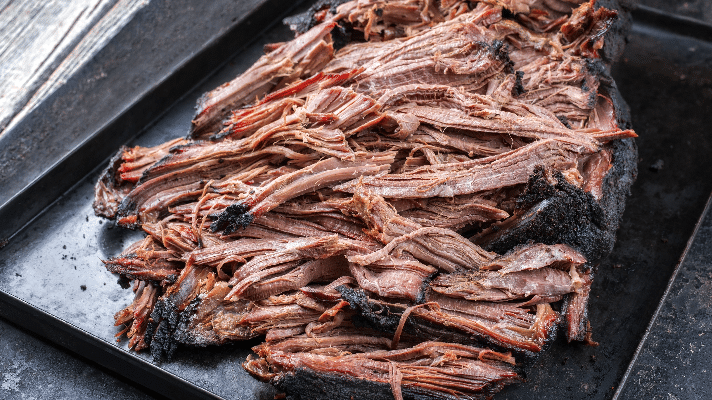 Smoked
Pulled Beef

Recipe



Everybody knows how good pork butts are done in the Bradley! MMMMmmm…Good! I have never got around to trying pulled beef, so I decided to do it this weekend, and I gotta say it was not a disappointment! It turned out fantastic! Here's how it went.
Ingredients
Cider vinegar
6 – 10 lb. beef chuck roast
Dubby'S Rib Rub:
1 C sugar

½ C paprika

¼ C salt (you can use reduced–sodium salt)

3 Tbsp black pepper

2 Tbsp each celery seed powder, garlic powder, onion powder and chilli powder

1 tsp cumin and ½ tsp cayenne
(Make enough for a 10-pound chuck)
Preparation
Combine all dry ingredients in a bowl and mix well.

Any leftover rub can be stored in an air-tight container.

Next, wash the surface of the meat with cider vinegar, and apply the rub.

Place in a 210°F preheated smoker, and apply 4 hours of hickory smoke.

When the internal temperature hits 160°F, remove the meat from the smoker boat it in a foil pan with some apple juice and covered it with foil.

Return to the smoker and continue to cook until the internal temperature reaches 195°F. Remove from smoker and FTC for 3 or more hours.

If you like, you can take the internal temperature up to 200°F – 205°F.

Overall time was around 20 hours, plus FTC for 3 more hours.

Shred with two forks. Serve as part of a main dish, or use for sandwiches.

Freeze leftovers for later use.

From Mr. Walleye
Hickory
Wood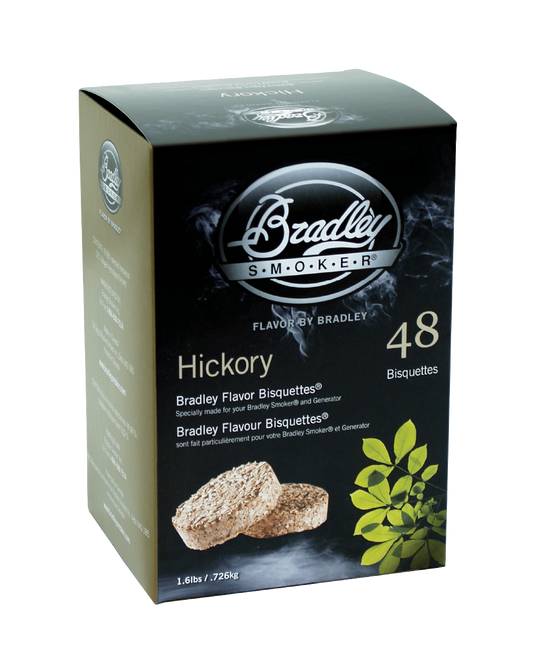 The strong and sweet flavour of Hickory Bisquettes make it one of the more popular woods for smoking, and especially pairs well with poultry, beef, pork, game, water fowl, nuts, and cheese.
Shop Now