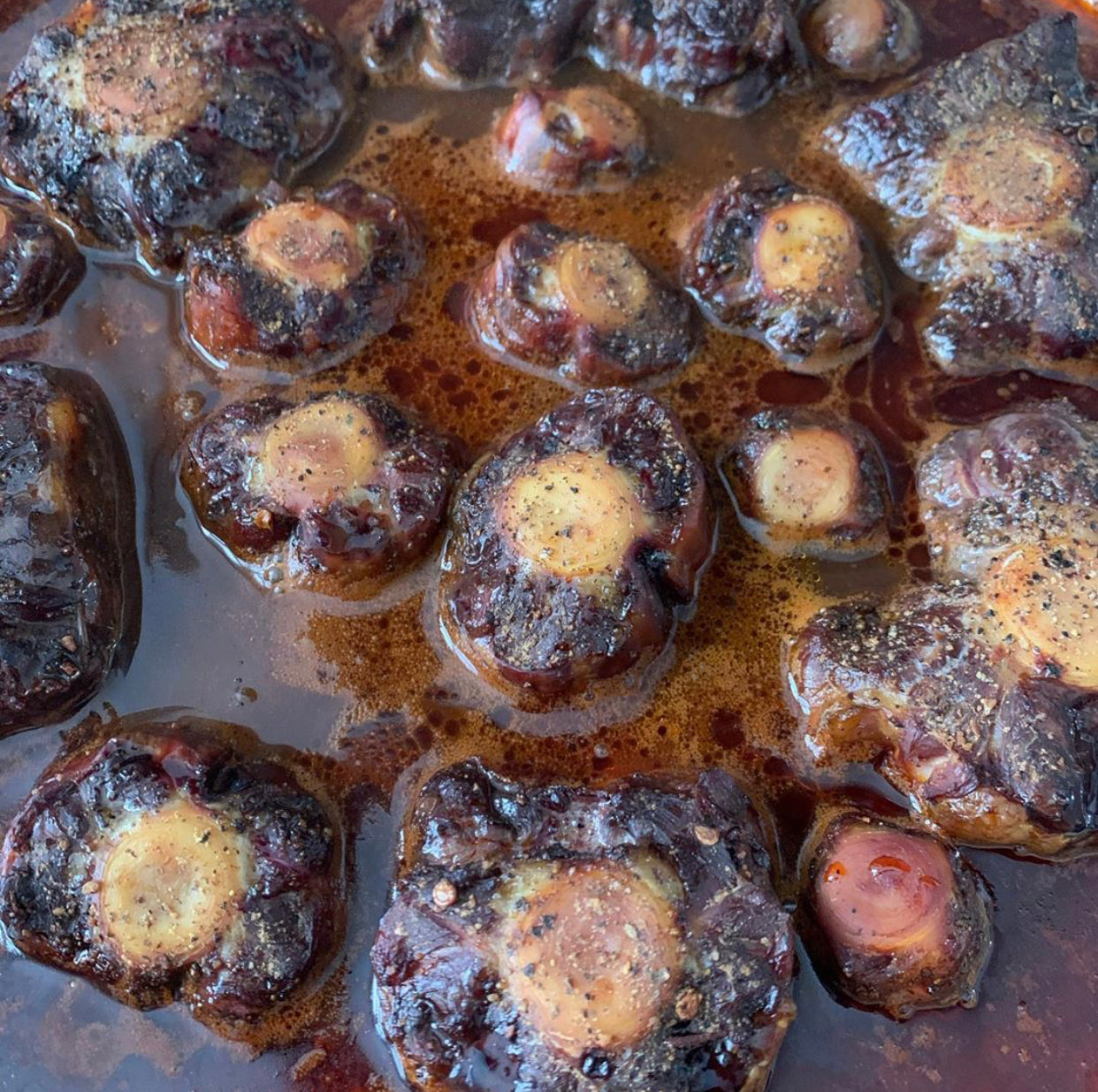 Smoked and Braised
Oxtail
Dan Shahin

Oxtail is rich in Collagen, a vital protein for our body's growth and repair.
Ingredients
2kg Ox Tail
2tbsp Mustard or Hot Sauce
4tbsp Coarse Ground Pepper
2tbsp Sea Salt
2 Onions, finely diced
2 Garlic cloves, finely chopped
2 Carrots, finely diced
2 Celery stalks, finely diced
4–5 sprigs Thyme
2 Bay Leaves
2 sprigs Rosemary
300ml Red Wine
500ml Beef Stock
Preparation
Method:
Apply the mustard or hot sauce as a binder for the rub – this is just a very thin layer all over the oxtail pieces surface.
Pre-Mix the seasoning in a small bowl so that it can be equally distributed when pouring. Give the ribs a good coating of the rub all over on all sides. We like to keep this nice and simple but you can add whatever flavouring's you with to this rub if you would like.
Set the smoker to 110C and once up to temperature set the smoke setting to on using the Bradley Flavour Bisquettes of your choice. We like to use Oak with our oxtail but you can use whichever flavour you wish.
Add the oxtail to the smoker with a tray on the rack below to catch any drippings and juices and smoke for 4 hours.
Approximately 30 minutes before the end of this smoking phase, we make the braising liquid for the second stage of cooking. Gently fry onions, carrots and celery. After 10-15 minutes add garlic and continue to fry for another 5 minutes. Before adding the Rosemary, Thyme and Bay leaves. Next, we add the red wine and cook off the alcohol for 5 minutes, stirring and scraping to deglaze the pan. Add the beef stock and bring to a boil then reduce to a simmer. Hold this at a simmer until the 4 hour smoke has finished.
Turn the smoke setting off and bring the oxtail out of the smoker. Add to a tray or dish which is suitable for the smoker and deep enough for the oxtail pieces and the braising liquid. Add the hot braising liquid into the dish with the oxtail and cover tightly with foil. Return to the smoker to braise for another 3-4 hours until the meat is falling off the bones.
You can now serve this as a delicious braised oxtail but you can also use the leftovers for a fantastic oxtail ragu or oxtail chilli con carne – it is so versatile and delicious to use in many ways.
Oak
Wood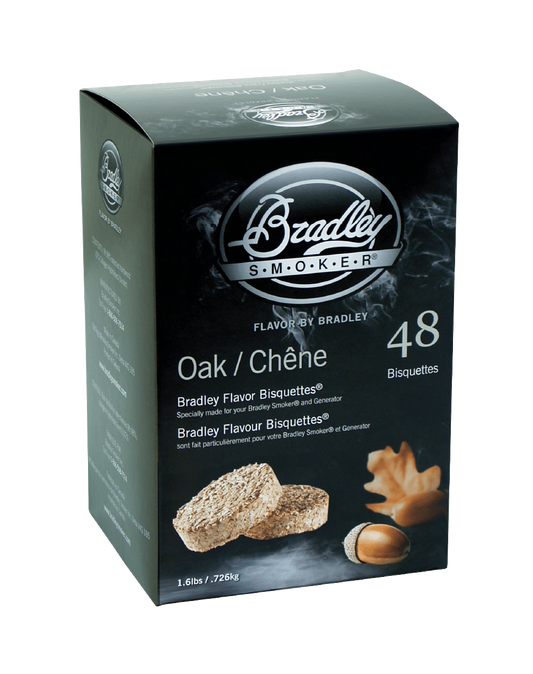 The most versatile wood of them all is Oak. Pairs especially well with poultry, beef, pork, lamb, and game.
Shop Now