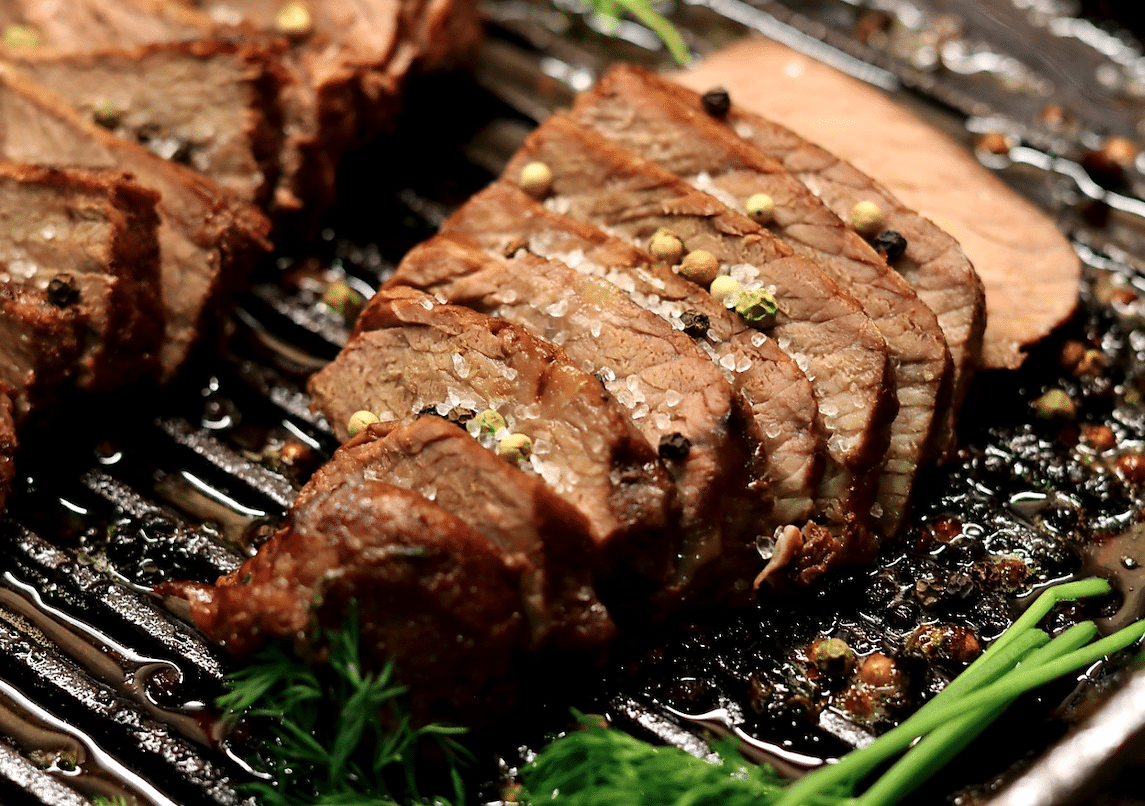 Smokey
Blackberry

Steaks Recipe



Use this recipe to elevate your next steak night. Tender, juicy steaks coated in a rich balsamic blackberry sauce slow-smoked to perfection, creating a dish that's both elegant and bursting with flavor.
Ingredients
Steaks:
2 Filet steaks
4 Tbsp butter
4 Tbsp olive oil
1 Tsp truffle oil
1 Bundle of fresh thyme
1 Bundle of fresh dill
1 Tbsp peppercorn medley
1 Tsp sea salt
Blackberry Balsamic Sauce:
⅓ Cup blackberry wine
2 Tbsp cornstarch
1 Cup cold water (for cornstarch)
¾ Balsamic vinegar
⅔ Cup ketchup
¼ Cup honey
2 Sliced shallots
2 Tbsp Worcestershire sauce
1 Tbsp Dijon mustard
¼ Season salt
1 Tsp salt
1 Tsp pepper
1 Tbsp sugar
Equipment Used:
P10 Bradley Smoker
Bradley Smoker foldable table
Bradley Smoker non-stick silicone mats
Bradley smoker tools
Thermoworks timestick trio
Thermoworks thermapen one
Bradley Smoker Settings:
Bisquettes: Hunter's Blend
Temperature: 256ºF (124.4°C)
Smoke Timer: 60 minutes or 1 hour
Timer: 90 minutes or 1 ½ hours
Preparation
Steaks:
Set your Bradley Smoker to the listed settings above.
Let the steaks sit out of the fridge until the get to room temperature.
Place the steaks into the iron skillet and add 2 tbsp olive oil, 1 tsp truffle oil, 1 tbsp peppercorn medley, and 1 tsp sea aalt.
Add the fresh thyme, dill, and butter around the steaks.
Place into the Bradley Smoker until the internal temperature reaches 145ºF (medium).
Add a drizzle of the blackberry balsamic sauce and enjoy!
Blackberry Balsamic Sauce:
Simmer the balsamic vinegar.
Add the following together with the balsamic vinegar wine, ketchup, honey, shallots, Worcestershire sauce, Dijon mustard, season salt, salt, pepper, and sugar. Stir together on low heat for about 10 minutes.
Strain the sauce into another saucepan. Take 1 cup of cold water and stir in your cornstarch. Once this is mixed well put your sauce back onto the medium heat.
Stir in ½ cup of the cornstarch while whisking rapidly to avoid lumps.
Whisk together for about 1 ½ minutes and only use the remaining ½ cup of cornstarch if the sauce is too thin.
Now it's time to enjoy a yummy sauce to bring some more flavor to your meal.
Recipe by: Bryan Edwards – Moody Foodie Tulsa
Hunter's
Blend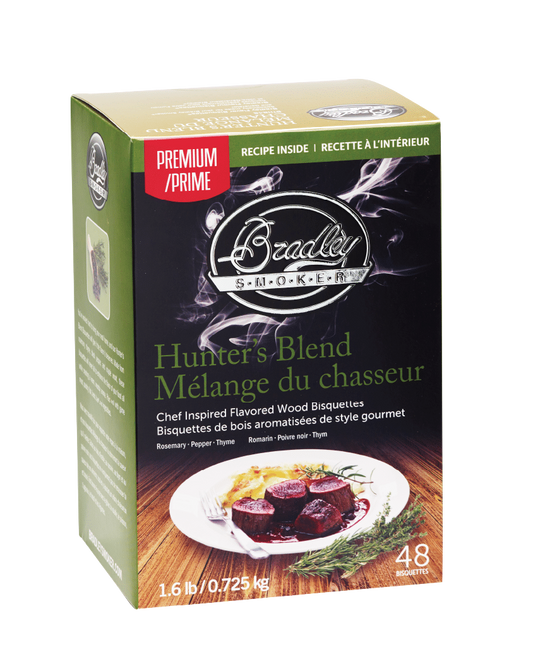 Infused rosemary, thyme, and black pepper with our maple wood bisquette pair with game meat, poultry, fish, lamb, beef, and vegetables.
Shop Now