Smoky
Beef Short Ribs

with Gremolata

Sandra Tate

Short ribs are so very, very delicious, and so very, very cheap - but you'll probably have to ask your butcher in advance for them.
Ingredients
(Serves 4)
4 beef short ribs - around 1.8kg
1 tbsp sea salt
1 tbsp soft brown sugar
black pepper

For the gremolata
large handful flat leaf parsley
grated zest of a small lemon
1 large clove garlic, crushed and finely chopped
handful of fresh breadcrumbs, fried to golden and crunchy in a little olive oil
Preparation
We are extremely lucky to have three brilliant butchers in Totnes but I still had to be patient for a couple of days to get my short ribs. Most have already been stripped of their meat - for stewing I presume - as soon as the carcass is butchered. Ribs weigh in at around 450g each and you'll need one rib per person (or more if the men have their way). The meat is thick on the rib and you'll need to remove the uppermost layer of fat and tendon, again, your butcher will probably oblige.
Short ribs take little more than three hours to achieve a sensational, tender result, and as I have a preference for subtle smoke flavour I divided my cooking time between conventional oven (2 hours) and the Bradley Smoker (1 hour). You may prefer to use the Bradley only.
Method:
Preheat the oven to
170°C
. Mix the salt and sugar and rub into the meat (don't bother with the bone side) then give a good grinding of black pepper.
Sit in a shallow tray (I put roughly chopped leek and celery under the ribs to keep the meat moist) and roast for 2 hours.
By this time the ribs will have released the fat that runs through this cut, and it's worth hanging on to that delicious beef dripping for Sunday's roast potatoes.
Have the Bradley up and running half an hour before the oven cooking is done.
Add oak bisquettes to the stack and set the cabinet temperature to 160°C.
Transfer the ribs from the tray to a Bradley wire rack and place in the preheated cabinet to smoke for a further hour.
By now the rib meat has developed a smoky crust and has all but dropped off the bone.
Remove and allow the meat to rest with you prepare the gremolata.
Make the gremolata by chopping the parsley and combining it with the other ingredients.
This is a vibrant accompaniment that compliments, and cuts through, the richness of the meat.
Remove the rib meat form the bone (if it hasn't already fallen off) and slice. sprinkle liberally with gremolata and enjoy the moment! Lovely with some buttery Jersey Royals and fine beans.
Oak
Wood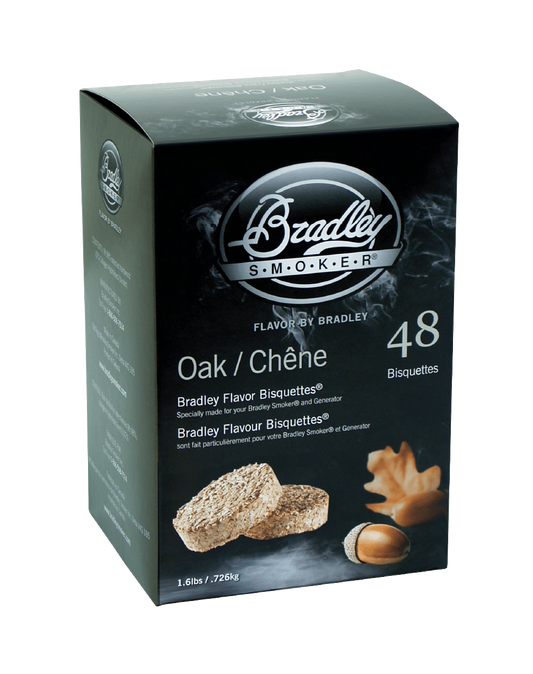 The most versatile wood of them all is Oak. Pairs especially well with poultry, beef, pork, lamb, and game.
Shop Now