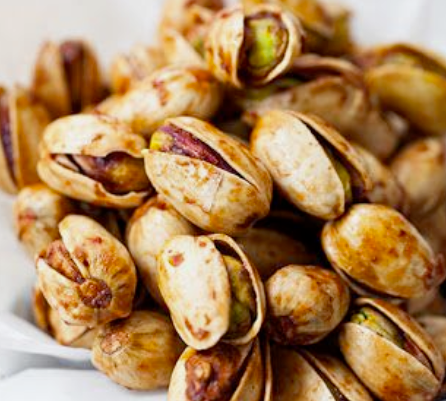 Smoked
Chili Pistachios

Recipe



To start this Smoked Chili Pistachios Recipe, preheat your smoker to 225ºF (107.2°C) and your house oven to 275ºF (135°C). You may increase the brown sugar and cayenne to taste. I only used one puck to smoke them for just 20 minutes at 225ºF (107.2°C). Use the bisquette you like and as many as you want. And use a frogmat on the ham bag, or they will stick. Store in airtight canister or Zip lock.
Ingredients
2 cups salted shelled pistachios
1.5 Tbsp chili powder
1.5 tsp ground cumin
1 tsp ground coriander
1 tsp paprika
1 tsp brown sugar
1.5 Tbsp Worcestershire sauce
1/2 tsp salt
1/2 tsp cayenne
1 Tbsp melted butter
Preparation
Mix all your dry ingredients together.
Put pistachios in larger container and add sauce.
After coating the nuts with the sauce (This needs a sticky delivery host, so i melted 1 Tbsp butter and added to the nuts) Coat good.
Now start to add the dry. Coat with all the dry.
Next, cover the rack with a ham bag. These can be bought at any of the places online. LEM, Allied, Sausage Maker.
And use a frogmat on the ham bag.
Now add the seasoned pistachios.
I only used 1 puck (you can use however many) And in for just the 20 mins @225.
While the nuts are in the 6 Rack, line a cookie sheet with parchment and set the oven to 275*
Nuts from the smoker, now onto the cookie sheet and in oven for 8 mins. Toss the nuts at the 4 min mark.
Store in airtight canister or Zip lock….if they last that long.