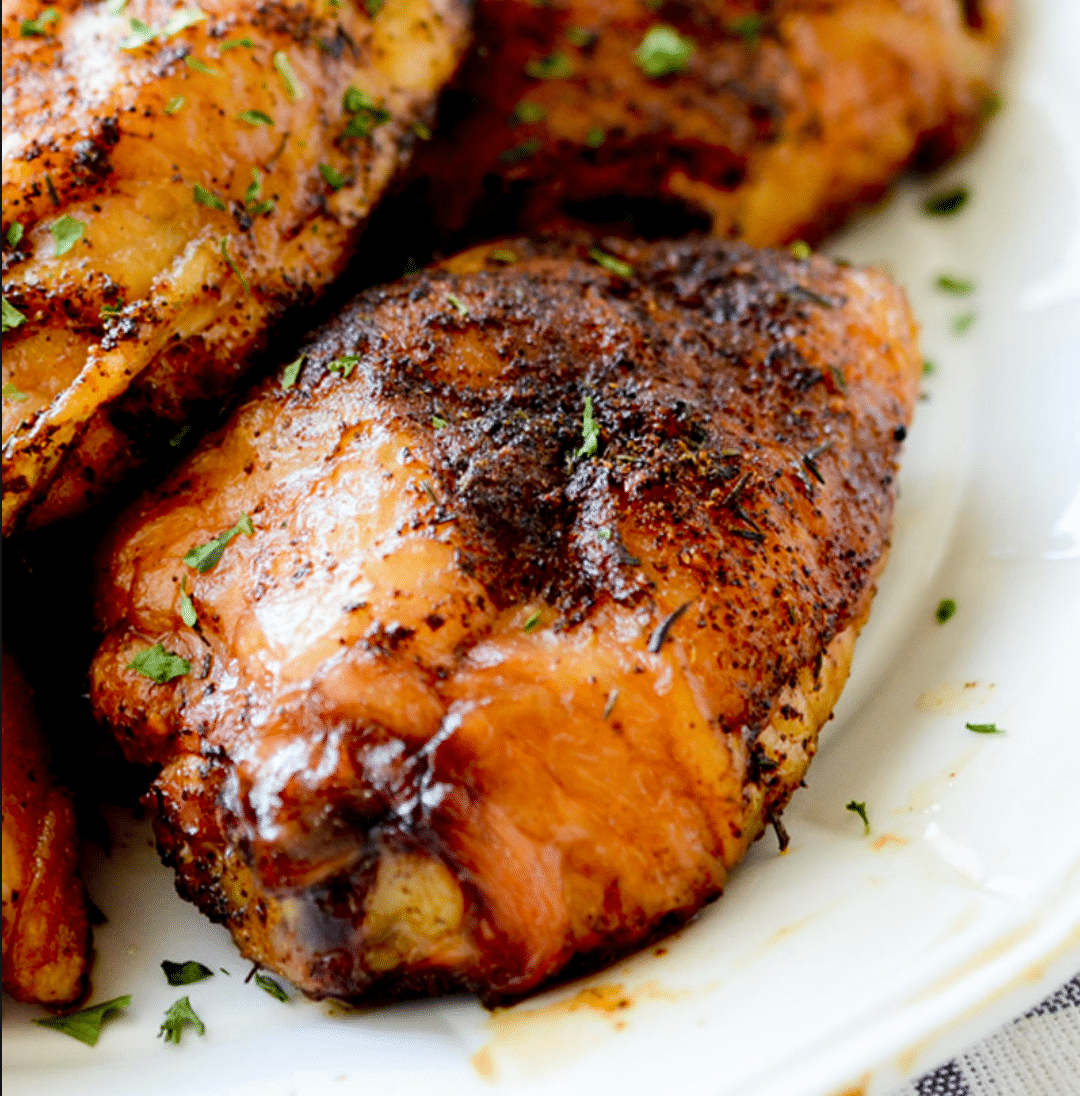 Angelo's Smoked
Chicken Thighs

Recipe



The following is my version of Angelo's Smoked Chicken Thighs. Eel sauce is hard to find and it becomes expensive, if you have to order it online. You can leave it out of the recipe, or substitute it with Oyster sauce. It will still taste good, but different. I did use eel sauce and it makes a big difference. I believe I can make a substitute for eel sauce by using mirin, smoked fish (which is easier for me to get than eel), soy sauce, and a sweetener. But make sure to purchase Chinese soy sauce, as there is a difference between that and the Japanese varieties.

I'm not sure if placing the thighs skin down produces better results. I tried both skin down and skin up and could not detect any difference.
Ingredients
Marinade:
1 Pt apple juice
1 12 oz beer (use a good beer)
2 Tbsp kosher salt
¼ Cup dark brown sugar
¼ Cup Chinese soy sauce
¼ Cup teriyaki sauce
¼ Cup eel sauce (optional)
1 Tbs Worcestershire sauce
Fresh ginger - coarsely chopped (3 inch piece about the diameter of a quarter)
4 Cloves of garlic - crushed
6 Pounds chicken thighs
Preparation
Combine all ingredients in a non-corrosive container, except chicken.

Refrigerate for 1 to 2 hours to allow the flavors to blend. In the meantime, remove any extra fat from the chicken thighs and rinse well.

Pat dry and place thighs in a non-corrosive bowl or plastic bag. Pour marinade over thighs, refrigerate and brine for 7 - 8 hours.

Remove thighs from marinade, and brush off any pieces of ginger or garlic.

Place thighs on oiled inverted racks, skin side down, and let air dry in the refrigerator until the thighs feel tacky to touch (approximately 8 hours or overnight).

Allow thighs to set at room temperature for one hour, prior to smoking.

During this time you can dust them with your favorite rub, or just black pepper. Smoke at 220ºF until meat temperature is 165ºF, using 5 - 6 apple or maple bisquettes for 3-4 hours.

Basque in BBQ/teriyaki sauce if you'd like!