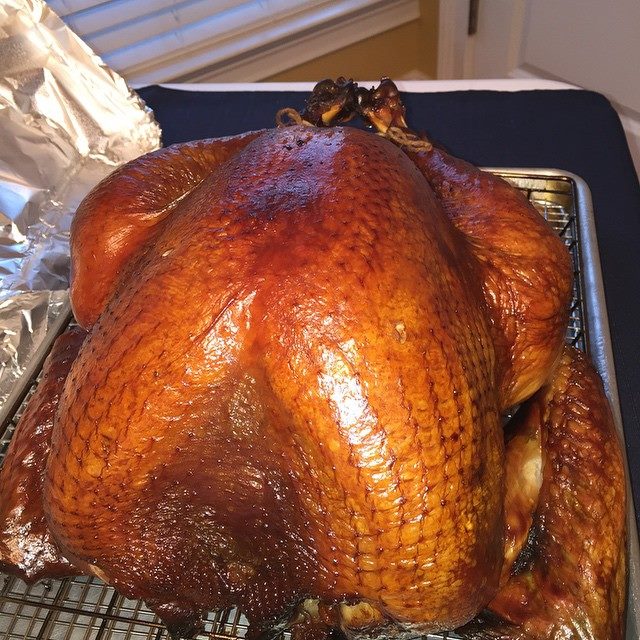 Apple Brined Smoked
Turkey

Recipe



Amazing! When it came out of the smoker everyone started taking pictures of it! The flavor was amazing. Not overly sweet as you would expect. The skin was perfect!
Ingredients
3 Quarts apple juice
1 ½ Pounds brown sugar
1 ½ Cup kosher salt
4 Oranges - quartered
6 Ounces fresh ginger - thinly sliced
15 Whole cloves
6 Bay leaves
1 Clove garlic crushed
14 Pound turkey
Vegetable oil for brushing turkey
Preparation
In a large saucepan over high heat, bring apple juice, brown sugar, and salt to a boil, stirring to dissolve the sugar and salt.

Cook for one minute, remove from heat, and skim off the foam. Allow the mixture to cool to room temperature. In a 5 gallon plastic bucket or other container (I use a cooler) large enough to easily hold the turkey, combine 3 quarts of water, the oranges, ginger, cloves, bay leaves, and garlic. Add the apple juice mixture and stir.
Remove and discard the fat from the turkey cavity. Reserve the neck and giblets for another use. Rinse the turkey inside and out, drain, and submerge the turkey in the brine. If necessary, top with a heavy weight to be sure it is completely immersed. Refrigerate for 24 hours.

Smoke at 230°F for approximately at least 3-4 hours until thigh registers at 180°F and the breast is 165°F. I added apple smoke for the first 90 minutes.