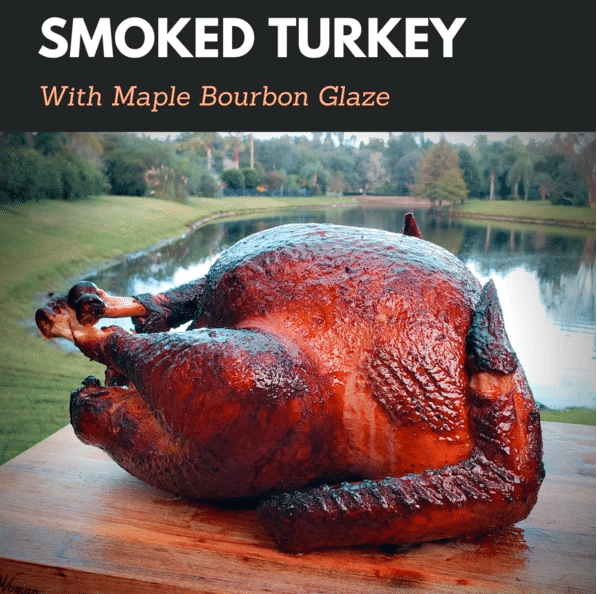 Applewood Smoked
Turkey

Recipe



Today's recipe is an Applewood Smoked Turkey in the Bradley Smoker with a Maple-Bourbon Glaze. To start we will brine the turkey. Brining may be the most important thing you can do in order to keep your turkey juicy.

One of the advantages of dry brining is that it takes up less space in the refrigerator than because you don't need the large pot like when wet brining. The baking powder will help to crispen the skin.
Ingredients
1½ Cups Kentucky Bourbon
1 Cup orange juice
⅓ Cups soy sauce
2-3 Tbsp yellow mustard
2 Tbsp Kosher salt
2 Tsp baking powder
Preparation
To make the dry bring, combine 2 tablespoons kosher salt and 2 teaspoons of baking powder.
Sprinkle this mixture all over the turkey then place it in the refrigerator uncovered on a raised rack for 18 to 24 hours.
The next day, take some paper towels and wipe off the salt and baking powder mixture. You may see some liquid in the pan under the turkey which is totally normal and expected.
Season the turkey with Armadillo Pepper Signature BBQ Rub or your favorite poultry seasoning.
Place in a pre-heater smoker at 275ºF using applewood. I used the Bradley Professional Smoker, so I used apple bisquettes.
After 2 hours increase the temperature to 325ºF which will help crisp up the skin.
To make the glaze mix the bourbon, orange juice, soy sauce and mustard in a pan over medium high heat. Simmer until the mixture is reduced by about 1/3rd. This will take 15 to 30 minutes.
Cook the turkey until it reaches 155ºF to 160ºF and then apply the glaze.
Continue cooking the turkey until it reaches 165ºF.
Remove from the smoker and let rest 20 to 30 minutes.
Carve and serve!
Recipe By: Armadillo Pepper BBQ