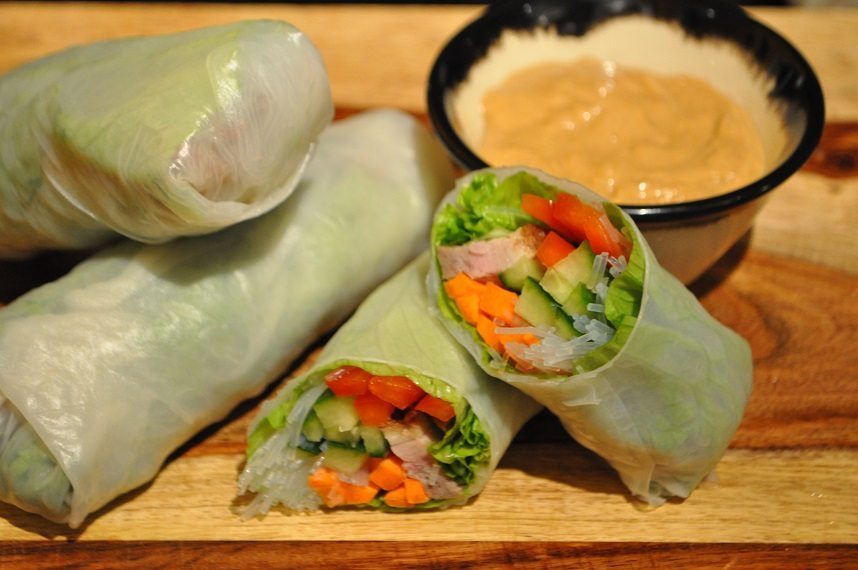 Smoked Asian Marinated
Duck

Salad Rolls Recipe



Before making the rolls, you must smoke the duck and prepare the vegetables that you are going to wrap. For the salad, a mix of of lettuce, red bell pepper, cucumber, carrots and green onions will be enough.

Marinate the duck breasts in Asian seasonings and smoke them with oak wood. Wrap the rolls in thin rice-paper, combining slices of smoked duck, veggies and noodles. Two duck breasts make 8 salad rolls.
Ingredients
For marinade:
¼ Cup vegetable oil
2 Tbsp sesame oil
1 Tbsp rice wine vinegar
¼ Cup soy sauce
1 Tsp grated ginger
1 Tsp Sambal
2 Cloves of garlic - minced
For the salad rolls:
1 Package of rice paper
1 Package of vermicelli "glass" rice noodles
1 Head green leaf lettuce
1 Red bell pepper - julienned
½ English cucumber - julienned
2 Carrots - peeled & julienned
1 Bunch Green onion - thinly sliced
For the dipping sauce:
1 Tbsp red curry paste
2 Tbsp vegetable oil
1 Can of coconut milk
¼ Cup unsalted, natural peanut butter (I used chunky for added texture)
2 Tsp soy sauce
Preparation
Whisk together ingredients for the marinade.
Marinate the duck breasts overnight, skoal the fat cap of the duck breast beforehand.
Place vermicelli noodles in a bowl of water and place in fridge to soak overnight.
Smoke the duck breasts for 1½ - 2 hours in smoker preheated to 225°F with oak bisquettes, or until an internal temperature of 160°F is reached.
Allow duck to cool, slice into strips.
Fill a large baking pan/dish with room temperature water.
Now we begin to assemble the salad rolls! I prefer to double wrap my salad rolls. It saves you from the devastating effects of a torn paper and it means you can put even more tasty stuff in there. Start by dipping one piece of rice paper in the water at a time (leave it submerged for 1 minute) and then flatten out on a clean cutting board. Repeat and lay a second paper directly on top (the double wrap!). The papers should be soft and pliable.
Place a piece of leaf lettuce, a small handful of drained and soaked vermicelli noodles, slices of duck, some bell peppers, cucumber, carrot and green onion in the center of the wrap.
Wrap up the salad roll much like one would wrap a burrito, pulling the edge closest to you over the ingredients. Tuck in the sides and roll away from you to seal the end. If you are having trouble sealing the paper, dab a bit of water on the edge.
Repeat, repeat, repeat!
To make the dipping sauce, place oil and red curry paste in a small saucepan on medium heat
Sauté the paste for 2-3 minutes, stirring constantly
Add in the coconut milk, peanut butter and soy sauce
Simmer for 3 minutes on the stove, be sure to continue stirring to avoid any sauce sticking to the saucepan
Serve the salad rolls with the sauce and enjoy!