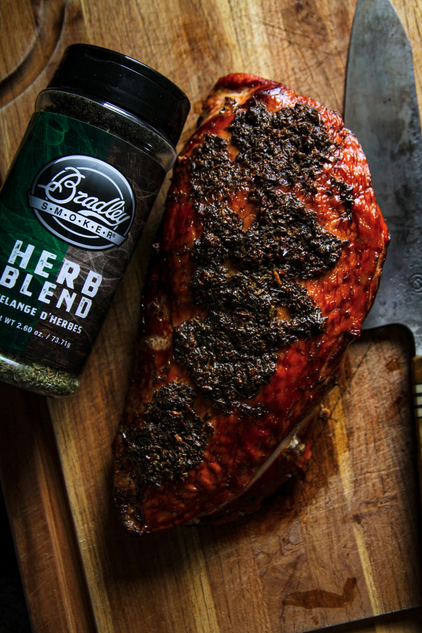 Bradley Herb Seasoning Brined
Turkey Breast


The NEW Bradley Herb Seasoning is perfect for all your poultry brine! This recipe uses the Herb Seasoning twice in the cooking, to add that extra flavor that everyone is going to talk about! Smoked Brined Turkey Breast will definitely be making an appearance on your table soon!
Ingredients
1 Turkey Breast with Skin On
For the Brine:
3 Tbsp Bradley Herb Seasoning
1 Orange - halved
1 Apple - rough chop
10 Peppercorns
4 Tbsp brown sugar
4 Tbsp sea salt
4 Cups water
For the Smoking:
4 Tbsp salted butter
2 Tbsp Bradley Herb Seasoning
1 Garlic clove - fine dice
Preparation
Start by adding all the brine ingredients into a pot and bring up to simmer, allowing the Salt and Sugar to dissolve. Once that has happened, remove from the heat and allow to cool to room temp. If you want to speed this up, add a bunch of ice cubes and this will drop the temp faster. Once the Brine has dropped to a cooler temp, add your turkey breast to a double-lock ziplock bag and top it off with the brine. Close it up and put it in the refrigerator for 4 hours up to 24 hours.
Once the brine time is completed, remove the Turkey Breast from the bag and wash it off to remove any of the leftover brine on it. Allow resting on the counter for 40-50 min to come back to room temp. While this is happening, mix together your butter mixture in a bowl. Slather the butter mix onto the turkey breast over the skin side.
Preheat your Bradley Smoker to 275ºF (135ºC) using apple bisquettes. Once this comes to temp, add your turkey breast to the smoker and allow to cook for 90 min. The cooking process could take a touch less, depending on the size of the breast. Brining speeds up the cooking time a bit, so use a thermometer to check your internal temps. We are looking for 165ºF (74ºC) for the finish here. Remove from the smoker when the internal temp is reached and allow to rest on a grooved cutting board to catch all the juices. Slice thin and enjoy the juiciest bird you'll have ever had!
Enjoy!
Recipe by: Cory Walby