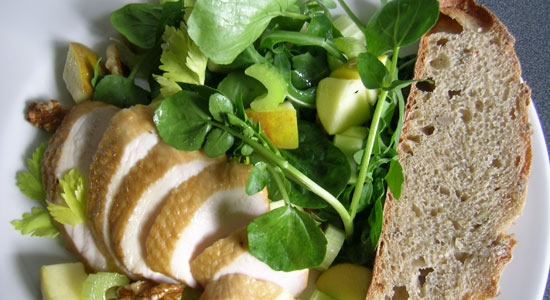 Bradley
Smoked Chicken

Salad

Sandra Tate

Some signs of brighter weather, and salad days are back... What could be better than plump organic chicken supremes, apple wood smoked to a glorious golden brown and served with a crisp, lemony, Waldorf style salad?
Ingredients
(Serves 4)
2 plump smoked chicken breasts
1/2 pack of watercress, spinach & rocket salad leaves
2 tender sticks of celery, trimmed young celery leaves
2 Cox's apples
small handful of walnut pieces
juice of 1/2 a lemon
1 tbsp walnut oil
salt, pepper
Preparation
I used organic chicken, and I prefer to leave the skin on for a more succulent, moist result.
Brine:
Prepare a brine of 500ml water, boiled with a clove of crushed garlic and some fresh rosemary, mixed with 75g salt and 25g brown sugar. Allow to cool completely then immerse 2 chicken supremes in the brine (in a snug plastic container) and leave for 30 minutes.
Remove and rinse (discard the brine).
Smoking Method:
Pat dry and lay on a Bradley wire basket. Heat the Bradley Smoker to 180°F/82°C, load with Apple Bisquettes, and smoke for about 1 - 1½ hours or until cooked. Allow to cool before slicing and serve at room temperature.
Editor's note: Having included fresh herbs and garlic in the brining liquor I was not surprised that the flavours were all but completely lost - as so often happens with marinated meat on a barbecue, the flavours are cooked away. So too with my smoked chicken; the subtle notes from brining were no match for the flavour of apple wood smoke. If you do want to impart a fresh herb flavour to your chicken then consider skewering it with a piece of rosemary immediately before hot smoking. Or you could make an incision into the thickest part of the breast (horizontally) and fill with a paste of garlic, herbs, seasoning and olive oil (made with a pestle and mortar or mini processor), again you would do this immediately before hot smoking.  
To Serve:
Prepare, brine and smoke the chicken supremes as per the instructions above. Once cooled, slice diagonally into 1cm pieces. One supreme is enough to serve two for a delicious light lunch or starter.
Slice the celery sticks. Quarter the apples and remove the core, then cut into 2cm chunks and toss in a bowl with the lemon juice, walnut oil, walnuts, celery and a little salt and pepper. Add some young leaves from the centre of the head of celery and the mixed salad leaves. Turn together briefly and divide between plates. Fan a few slices of smoked chicken over the salad and serve with warmed, crusty bread.
Apple
Wood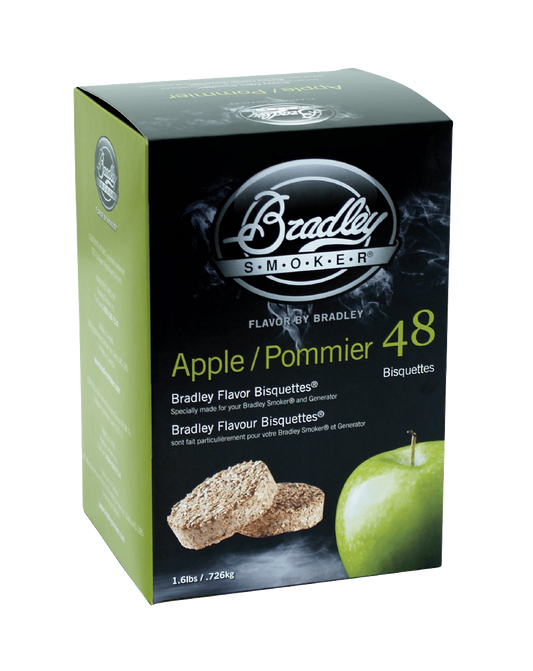 A light, fruity and slightly sweet smoke aroma that pairs with poultry, beef, pork, lamb, and cheese.
Shop Now