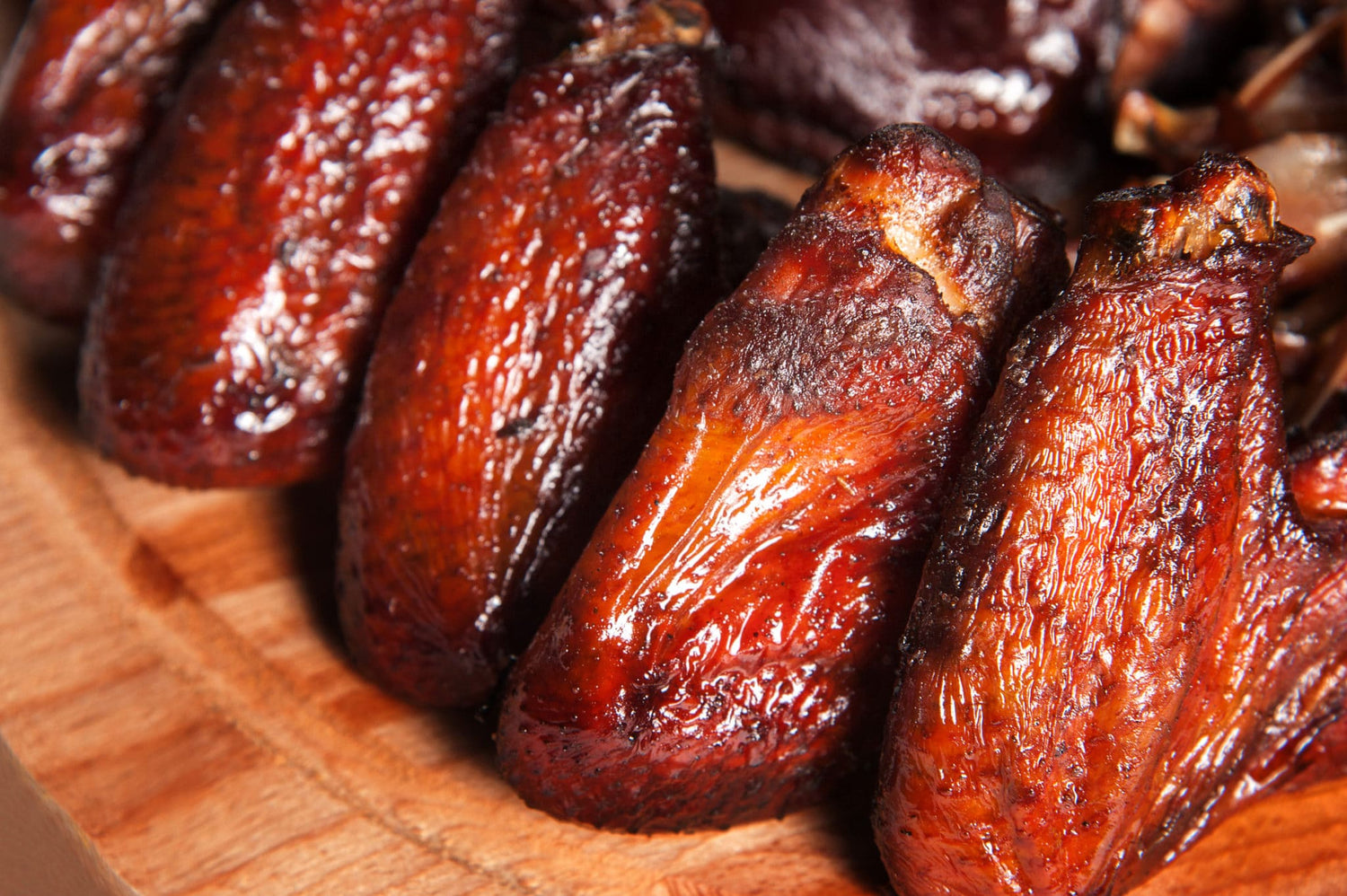 Buffalo-Style
Hickory Smoked Wings


It's that time of the month when we release the Bradley Smoker Recipe series. This month Ted shows us how to Smoke Hickory Smoked Wings (Buffalo-Style). It looks delicious as you can see from the video below! Thanks to our wonderful Chef Ted Reader for the video!

Enjoy!
Ingredients
2 Bradley Smoker Racks
1 bottle Beer
1/2 cup Chipotle chilli hot sauce
4-5 lbs whole jumbo chicken wings (3 pieces winglet, drummette and tip attached), about 30 pieces
6 Tbsp Ted's World Famous BBQ Bone Dust™ BBQ Seasoning
1 Injection Syringe
1/2 cup Chipotle chill hot sauce
1/4 cup Ted's World Famous BBQ Crazy Canuck Sticky Chicken and Rib Sauce
2-3 knobs butter
1/2 – 1 cup crumbled blue cheese
1 stalk celery, finely chopped
2 green onions, finely chopped
Preparation
Cooking Steps:
Open a can or bottle of your favourite beer and pour it into a large glass. With a spoon, give it a stir to remove some of the bubbles. Tip: The less carbonation the easier it is to inject beer into meats.
Pour in 1/2 cup of chipotle chili hot sauce; I like the Tabasco brand best. Stir and set aside.
Place the chicken wings into a large bowl. Season with Bone Dust™ BBQ Seasoning and toss to evenly coat.
Take the injection syringe and suck up enough of the beer/chipotle hot sauce mixture to fill the syringe. Inject a little squirt into each chicken wing, filling the syringe as needed, until all of the wings have been injected. Place in an even layer on 2 smoker racks.
Now the Fun Begins:
Preheat smoker according to manufacturer's instructions, setting the temperature for smoking at 220°F, using Hickory Bisquettes to create the smoke flavour.
Place in smoker. Then, insert the thermometer probe into the center of one big wing. Close door and set internal temperature for 160-170°F, until fully cooked.
This should take about 1 1/2 – 2 hours, or longer if you want them to be crispier.
While the wings are smoking, wash and dry that big bowl. Set aside.
When the wings are fully cooked, moist, juicy and tender, place them in the large cleaned bowl. Drizzle wings with chipotle chili hot sauce, BBQ sauce, butter, blue cheese, celery and green onions. Toss well to mix it all up and the butter melts and the blue cheese melts.
Serve Immediately.