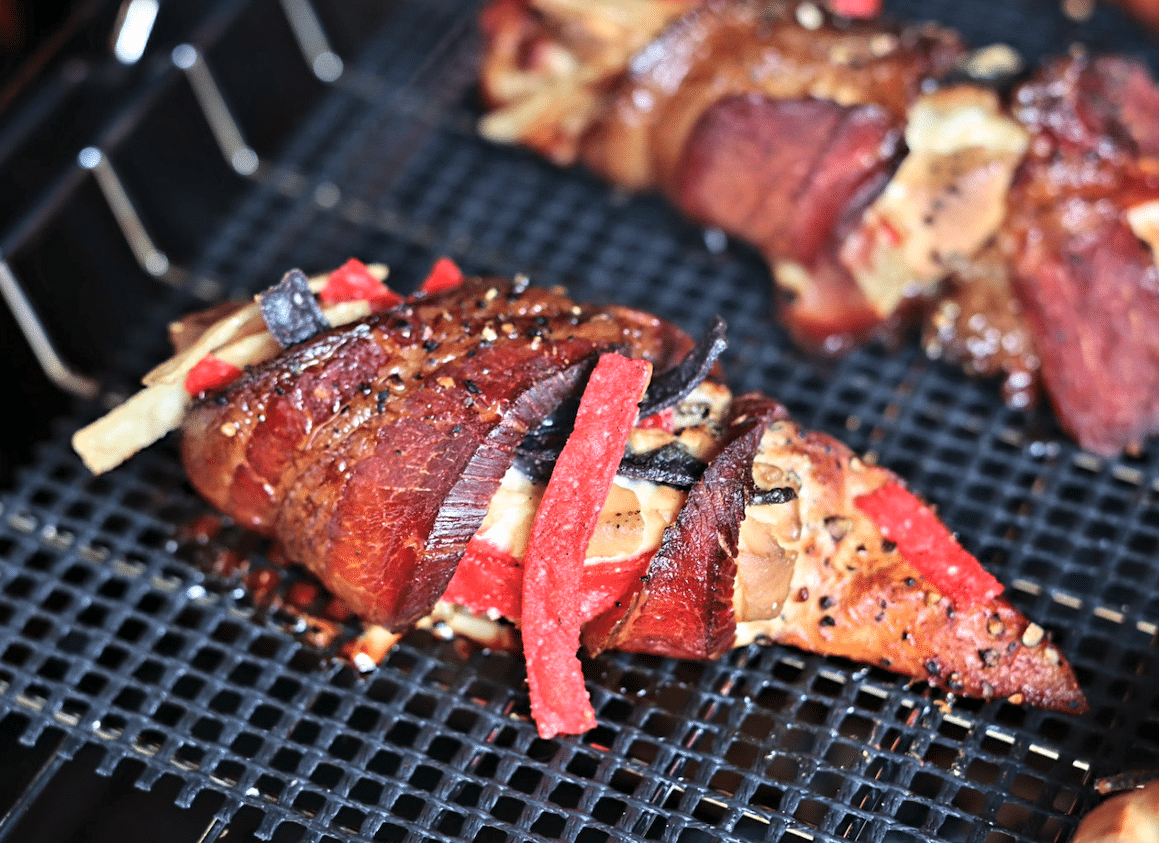 Chicken Tenderloins

Wrapped in Bacon



This bacon-wrapped chicken tenderloin recipe is the perfect combination of creamy and crunchy with a touch of smoky flavor. Seasoned with garlic, onion, and ginger, the chicken is stuffed with cream cheese, tortilla chips, and wrapped in thick cut bacon, then smoked to perfection in a Bradley Smoker.
Ingredients
7 Chicken Tenderloins
1 package thick cut Bacon
1 tsp. Onion Powder
1 tsp. Garlic Powder
1 tsp. Ground Ginger
1 tsp. Salt
1 tsp. Ground Pepper
½ Block Cream Cheese
Tortilla Strips
Garlic & Dill Cheddar Wheel Hennings Cheese
Equipment Used:
P10 Bradley Smoker
Bradley Smoker Foldable Table
Bradley Smoker Non-Stick Silicone Mats
Bradley Smoker Tools
Thermoworks Timestick Trio
Thermoworks Thermapen One
Bradley Smoker Settings:
Wood: Hunter's Blend
Temperature: 226 F (107.8C)
Smoke Timer: 60 minutes
Timer: 105 minutes
Preparation
Set your Bradley Smoker to the listed settings.
Season each chicken tenderloin with the garlic powder, onion powder, ground ginger, salt, and pepper.
Using a knife cut the ½ block cream cheese into long strips. Grade the cheese into a fine shredded cheese.
Take the seasoned chicken and lay one strip of cream cheese in the middle of the chicken. Sprinkle a bit of cheese, tortilla chips, and wrap in bacon strips.
Cook for about 105 minutes or until the internal chicken temperature reaches 165 degrees F (73.9C).
Enjoy!
Recipe by: Bryan Edwards - Moody Foodie Tulsa