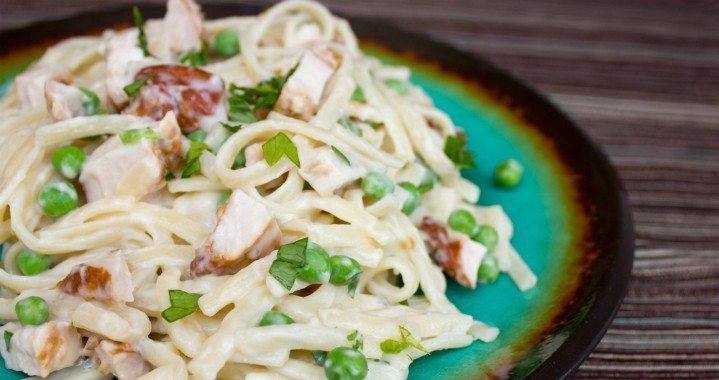 Fettuccine Alfredo With
Smoked Chicken

And Peas



Use your wood of choice to smoke the chicken breasts. After that, this Fettuccine Alfredo recipe couldn't be easier to prepare. It's the most basic and most delicious dish to prepare.
Ingredients
4 boneless skinless chicken breasts
1 tsp salt
1 tsp garlic powder
1 tsp oregano
1/2 tsp ground black pepper
1/4 cup butter
3 cloves garlic, minced
1/2 brick of cream cheese
1/3 cup Parmesan cheese
1 cup half and half cream
1 cup frozen peas
5-6 cups of cooked fettuccine pasta
3 tbsp fresh parsley, minced
Preparation
Mix together the salt, garlic powder, oregano and black pepper. Rub all over the chicken breasts. Place them on a smoker rack.
Set the smoker to 250 F using wood bisquettes of choice.
Smoke the chicken until they reach an internal temperature of 165 F. Cut the
Chicken breasts into small chunks (around 1/2 – 1 inch cubes).
In a saucepan melt the butter then add garlic. Sauté for a few minutes.
Stir in the cheeses and cream. The cream cheese will melt and blend into the cream creating a smooth sauce.
Add the frozen peas and let the sauce simmer, just under the boiling point, for 5 more minutes.
Stir in the cooked pasta, cubed chicken breasts and parsley. Serve.