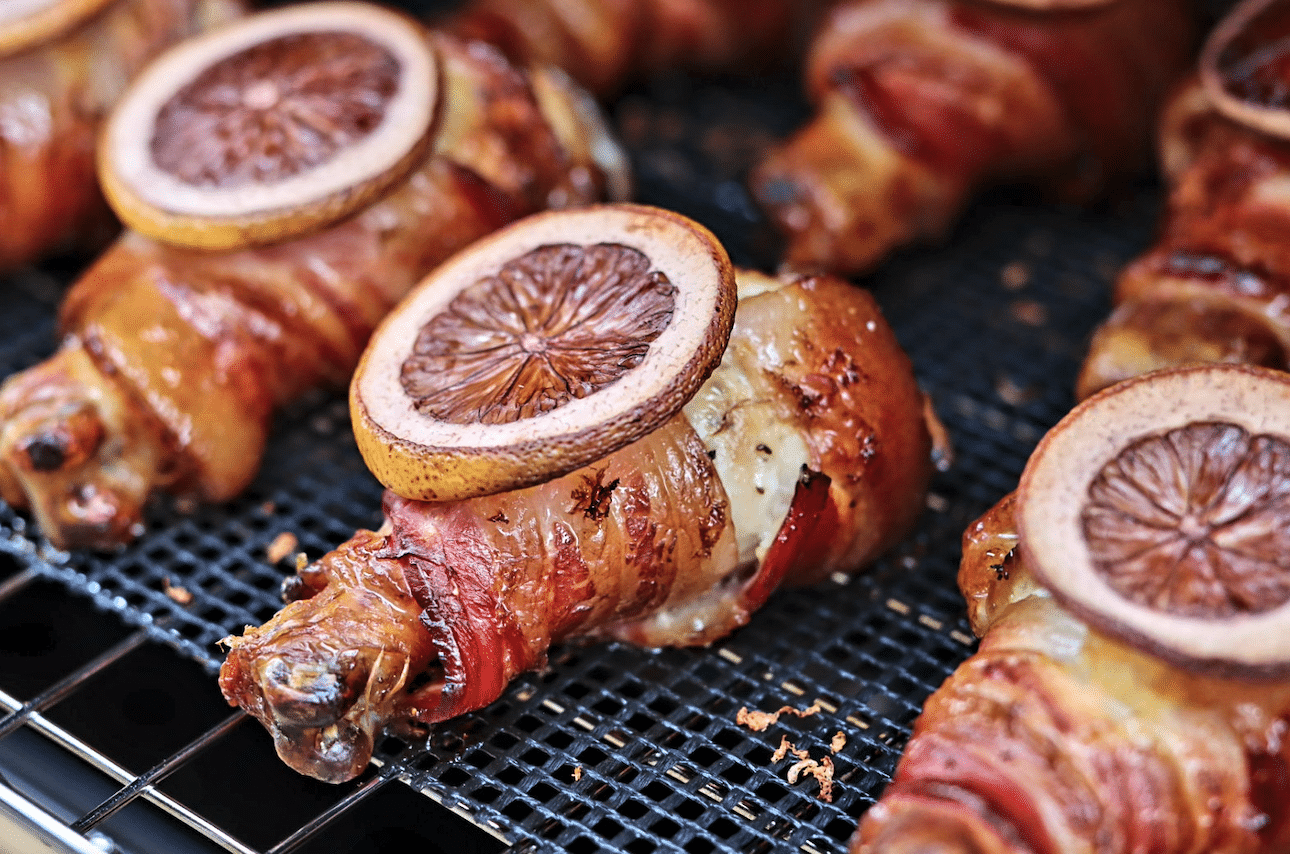 Garlic Aioli
Drumsticks


Indulge in the smoky goodness of bacon-wrapped chicken drumsticks flavored with roasted garlic aioli and zesty lemon pepper seasoning, cooked to perfection in the Bradley Smoker. Squeeze some smoked lemon juice on top and savor every bite of this delicious recipe by Bryan Edwards - Moody Foodie Tulsa.
Ingredients
8 Chicken drumsticks
Lemon pepper seasoning
5 Tbsp roasted garlic aioli (stonewall kitchen)
2 Lemons
1 Package thick cut bacon
Equipment Used:
P10 Bradley Smoker
Bradley Smoker foldable table
Bradley Smoker non-stick silicone mats
Bradley Smoker tools
Thermoworks Timestick Trio
Thermoworks Thermapen One
Bradley Smoker Settings:
Wood: Hunter's Blend
Temperature: 226ºF (107.8ºC)
Smoke timer: 180 minutes or 3 hours
Timer: 180 minutes or 3 hours
Preparation
Set your Bradley Smoker to the listed settings.
On each drumstick pull back the additional skin. Now in a bowl, add the roasted garlic aioli and brush onto the chicken. Make sure to get a thick coating of garlic aioli onto the chicken, then season with lemon pepper seasoning.
Replace the skin back to the top of the drumstick and repeat the process (brush on garlic aioli and lemon pepper seasoning.
Using the bacon, wrap each drumstick in 1 slice of bacon.
Using a zester, zest the outside of the lemon on top of the chicken. Tip: this will add a little bit of flavor from the lemon peel.
Cut the remaining lemons into slices and add on top of the chicken drumsticks.
Place into the Bradley Smoker to cook for 180 minutes (or 3 hours), once the internal temperature of the chicken reaches 165ºF (73.9ºC). then remove the chicken from the smoker.
Squeeze the smoked lemon on top of the chicken and bite in! Enjoy!
Recipe by: Bryan Edwards - Moody Foodie Tulsa