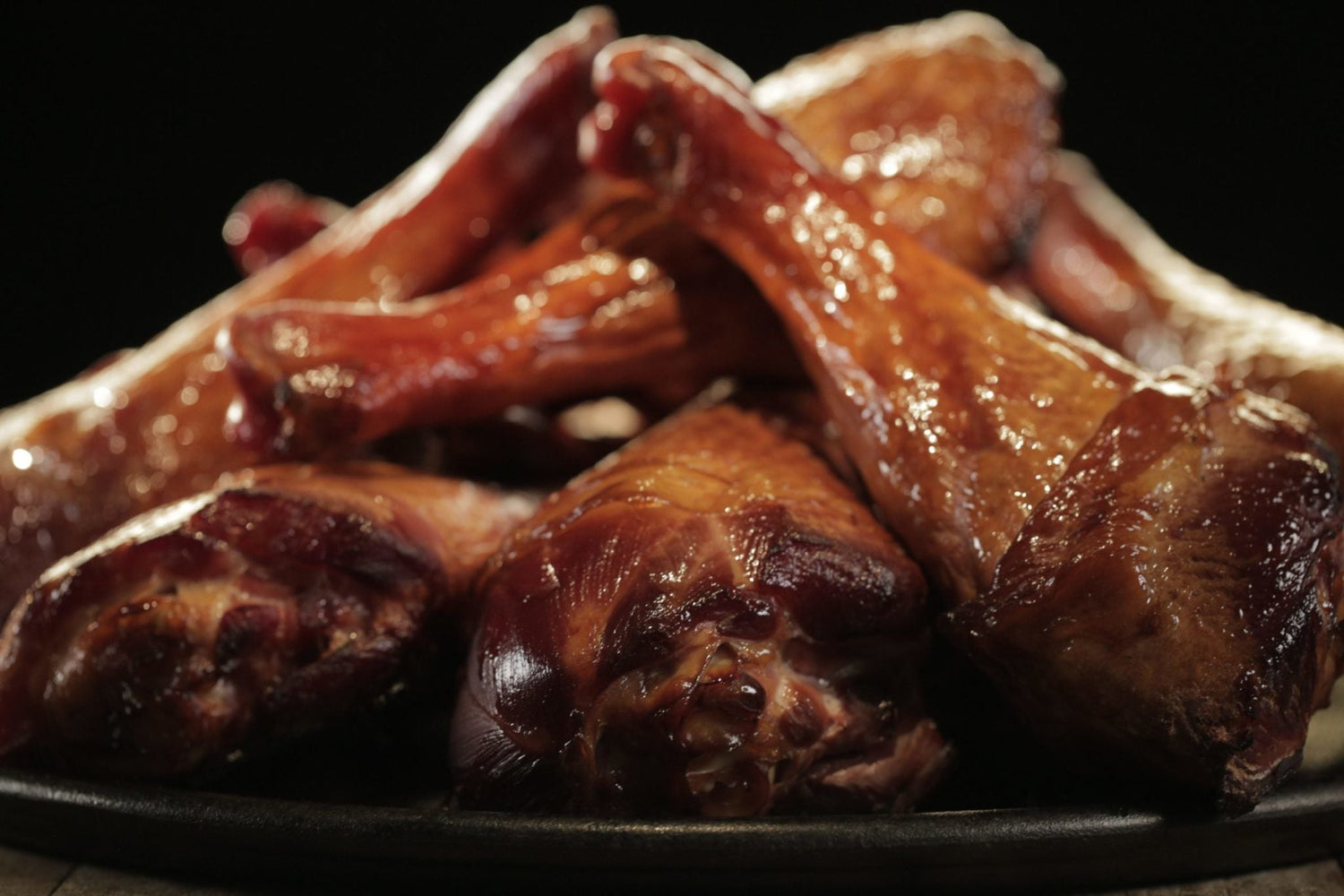 Honey Orange Smoked
Turkey Legs

Recipe



You don't have to wait for Thanksgiving to eat turkey. Turkey Legs are a great choice for a family dinner. They have tender and moist meat, packed with flavour.

Note: For this recipe, you'll need one special ingredient: a sodium nitrite-based curing salt called pink salt, Prague Powder, or Insta Cure No. 1.
Ingredients
6 Turkey legs (1 to 1 ½ pounds each)
4 Quarts (1 gallon) water
¾ Cup honey
¾ Cup coarse salt (sea or kosher)
1 Tbsp pink curing salt (Prague Powder or Insta Cure No.1)
The zest (remove it in strips with a vegetable peeler) and juice of 1 orange
4 Whole cloves
4 Allspice berries, lightly crushed with the side of a cleaver
2 Bay leaves
2 Cinnamon sticks (3 inches each)
1 Tbsp whole black peppercorns
Bradley Flavor Bisquettes
Preparation
Make the brine: Combine 2 quarts of water, the honey, salt, curing salt, orange zest and juice, cloves, allspice, bay leaves, cinnamon sticks, and peppercorns in a large stockpot. Bring to a boil over high heat, whisking to dissolve the salt and sugar. Remove from the heat and add the remaining 2 quarts water. Let cool to room temperature, then refrigerate until thoroughly chilled.
Rinse the turkey drumsticks in a colander under cold running water. Prick the skin on all sides with a for or needle.
Add the turkey drumsticks to the brine, making sure they're completely submerged. You can hold them down with a dinner plate or a resealable plastic bag filled with ice. Brine the drumsticks in the refrigerator for 48 hours.
When you're ready to smoke, drain the drumsticks and discard the brine. Pick off and discard any clinging spices. Blot the drumsticks dry with paper towels.
Set up your Bradley Smoker and preheat to 250°F. (I like to smoke the turkey with cherry)
Place the drumsticks on the wire grates in the smoker. Smoke the turkey legs until darkly browned and very tender (3 to 4 hours). You're looking for an internal temperature of 170°F on an instant-read thermometer.
Do not be alarmed (on the contrary-be proud) if the meat under the skin is pinkish: That's a chemical reaction to the cure and the smoke. Serve hot or at room temperature.
Recipe by: Steven Raichlen
Photo courtesy of Richard Dallett