Oriental Noodle Soup with Hot
Smoked Duck

Breast

Sandra Tate

A little goes a long way. Just one smoked duck breast is sufficient to make this sensational Oriental noodle soup for 4.
Ingredients
Cure :
2 duck breasts
30g sea salt
30g soft brown sugar
(Serves 4)
12 dried shitake mushrooms
1 red finger chilli
2 cloves garlic
2.5cm of fresh ginger root
half a small savoy cabbage
6 spring onions
1 tbsp sesame oil
1 tsp salt
2 tbsp light soy sauce
1 tbsp Mirin
1 star anise
1 pack of fresh fine egg noodles
Preparation
Hot smoking duck breast is a breeze with the Bradley Smoker.
Breasts usually come in pairs so smoke at least one pair and have plenty left for thin slicing and eating cold.
For 2 duck breasts you will need a cure of 30g sea salt mixed with 30g soft brown sugar - rub the meat side especially and lightly over the skin then wrap in cling film and leave for an hour.
Unwrap and rinse well then pat completely dry with kitchen paper.
Preheat the Bradley cabinet to 100°C /225°F and add cherry wood bisquettes to the stack.
Place the dry breasts on a Bradley wire rack and have a drip tray beneath it in the cabinet.
Hot smoke for 2 hours then remove, wrap in foil and leave to stand while you make the soup. 
First prepare your vegetables.
Generously cover 12 dried shitake mushrooms in boiling water and leave to stand for an hour; finely slice 1 red finger chilli; peel and finely slice 2 cloves garlic; peel and shred 2.5cm of fresh ginger root; slice half a small savoy cabbage into 1cm strips (discarding the core of the cabbage); wash and trim 6 spring onions and slice diagonally int 1 cm pieces.
Once the shitake are soaked, remove them and slice.
Reserve the liquid.
Using boiling water , the shitake stock and a good quality chicken bouillon make 1 litre of stock.
Now add 1 tbsp sesame oil to a large wok and stir fry the chilli, ginger and garlic for 1 minute.
Pour in the stock together with 1 tsp salt; 2 tbsp light soy sauce; 1 tbsp Mirin or rice wine; and 1 star anise.
Bring this to simmering and add the sliced cabbage and shitake mushrooms, cook for a further 3 minutes the add 1 pack of fresh fine egg noodles and a thinly sliced smoked duck breast.
Remove from the heat after 2 minutes and sprinkle with sliced spring onions.
Divide between 4 deep, warmed bowls and serve immediately. 
Cherry
Wood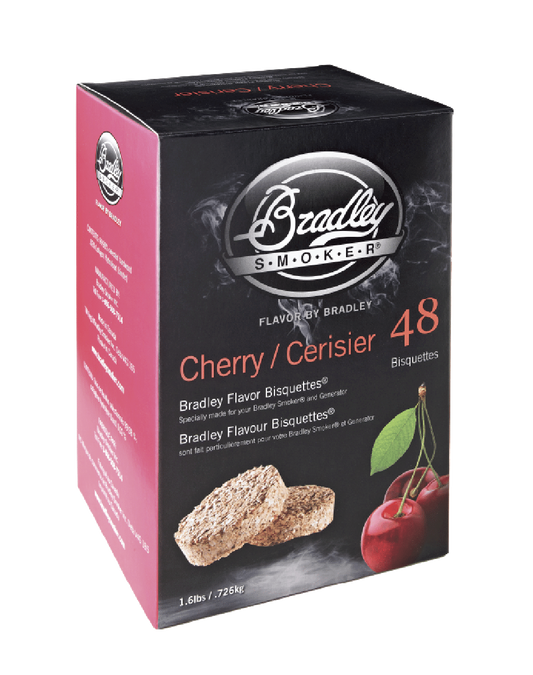 Cherry Bisquettes provide a mild, sweet, and fruity aroma perfect for smoking poultry, fish, seafood, beef, pork, lamb, water fowl, vegetables, and cheese.
Shop Now