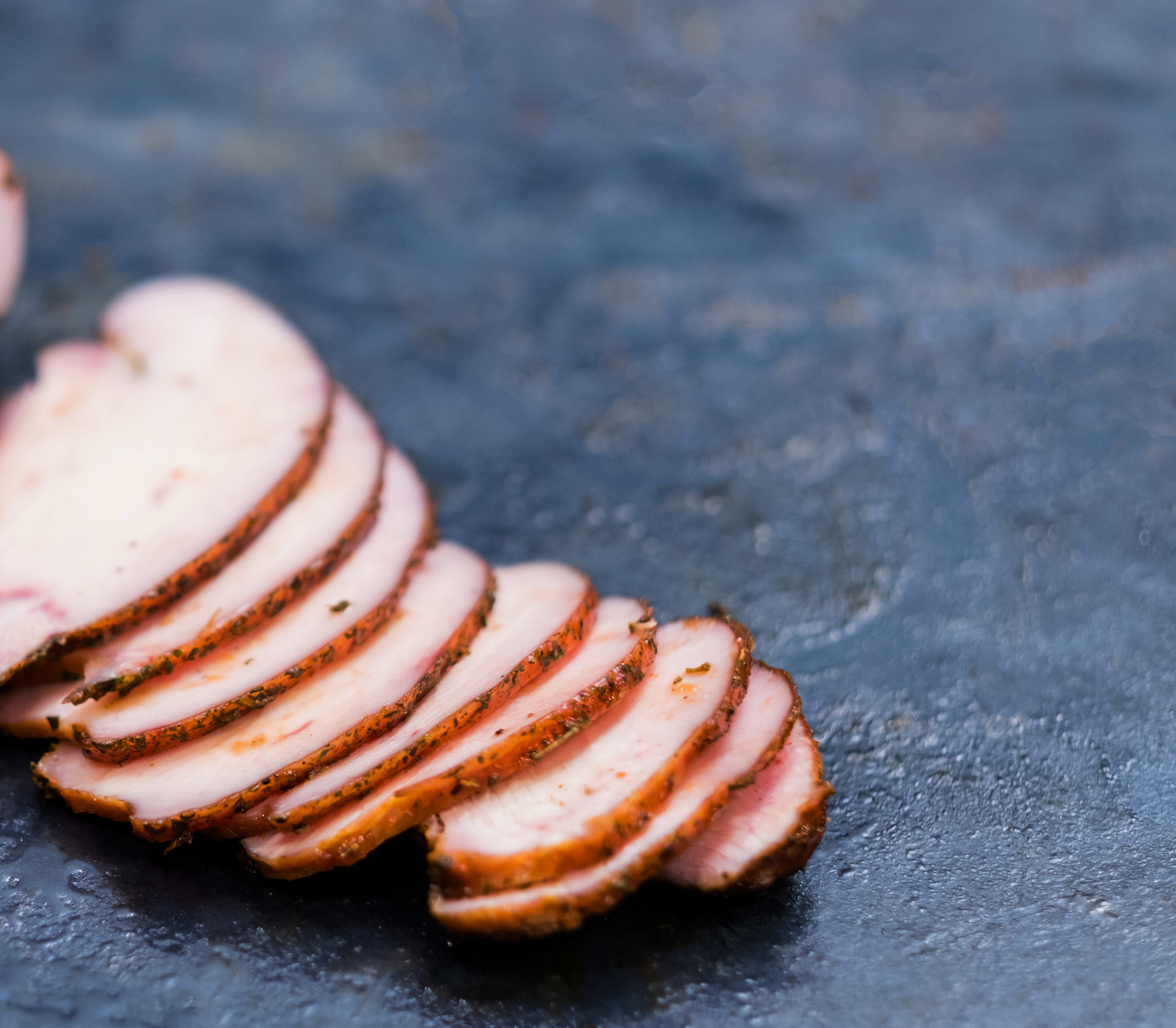 Reworked Smoked
Turkey Pastrami

Recipe



Making your own Smoked Turkey Pastrami at home isn't quite as complicated as you may think, and is so rewarding! Check out how it's done…

Here is the result of my Reworked Smoked Turkey Pastrami Recipe. This batch was a big improvement, and came out much better than the first time. I reworked the recipe, and like this much better. The skin was a little tough, but it is so thin it is really not a factor. It will not have the taste of your deli turkey pastrami, but for my taste, the flavors were well balanced. I made two batches of brine, one batch I added Instacure #1 to give the turkey a ham like flavor.

Tip: the volume and weight of water are equal, so the weight of 8 ounces of ice equals the volume of one cup of water.

Note: To give the turkey pastrami a ham like flavor, add 3/8 cup (6 Tablespoons) of Instacure #1. If weighing, use 3.2oz (91g). For less ham-like flavor, you can use 1.5oz (43g). Add the cure after you remove the brine mixture from the heat and the brine had cooled.

I have also made some turkey pastrami out of boneless whole turkey thighs. I used the same method described above, but brought the internal temperature to 160°F-165°F. After boning and seasoning the thigh, it needs to be folded together, and snuggly tied with butcher's string. Making turkey pastrami from the thighs is additional work, but more rewarding.
Ingredients
Two 2 ½ pound boneless turkey breast with skin, fresh or minimally processed
Brine:
1 Quart water (divided)
½ Cup tightly-packed dark brown sugar
½ Cup Morton kosher salt (4 oz.)
6 Cloves of garlic coarsely chopped
1 Tbsp black peppercorns
1½ Tbsp of pickling spice
Instead of pickling spice add:
1 Tbsp juniper berries, bruised
1 Tsp mustard seed
2 Bay leaves - crumbled
Makes enough to brine up to 6 pounds of meat
Dry Rub:
¼ Cup dark brown sugar
3 Tbsp toasted coriander seeds
3 Tbsp cracked black peppercorns
1 Tbsp mustard seeds
2 Tbsp sweet paprika
2 Tbsp granulated garlic
2 Tbsp onion powder
2 Tbsp dried thyme leaves
Makes enough rub to cover approximately four 2½ pound turkey breasts.
Preparation
To make the Brine:
Place all ingredients in a non-reactive 1.5 quart sauce pan and add one pint of water.
I have a preference to using the juniper berries, mustard seed and bay leaves instead of the pickling spice.
Bring to a boil, stirring until all salt and sugar is dissolved. Reduce heat and let simmer for 15 minutes.
Remove from heat, and add cold water or ice to bring the amount of brine to one quart.
Let cool to at least 40°F before using the brine. Once brine has cooled, a one gallon zip lock bag works fine to brine both breasts in.
Remove any excess fat from the breasts; you may need to trim some of the skin also. If the breasts still have the tenderloins attached, you can leave it own. I like to take it off, because it generally comes loose during the brining process, or during smoking.
Place turkey breast in the brine, making sure that they are completely covered.
Refrigerate for 48 hours; about every 12 hours stir the breast around.
Remove turkey from brine, and rinse. Make sure you rinse off all spices that may be clinging to the meat.
Place turkey in a container, cover with cold water (at least 1 quart per pound) and let the meat soak for 30 minutes; turning meat over after 15 minutes.
Remove from water, give breasts a quick rinse, and wipe off excessive water with paper towels.
Slice off a small piece, sauté in a small pan, and taste. If the turkey is too salty for your taste, change the water and let it soak for another 30 minutes.
After soaking, I like to place the brined meat into an empty container or plastic bag, and let it rest for 24 hour in the refrigerator. This step is optional; you can apply the rub right after you dry the breast with paper towels.
To make the Dry Rub:
Combine coriander seeds and peppercorns, and coarsely grind in a spice grinder or coffee grinder.
Next, coarsely grind the mustard seeds. Pour ground spices into a bowl, add the remaining ingredients, and mix well.
As an extra "kick", substitute 1 tablespoon of red pepper flakes for 1 tablespoon of the black peppercorns, before grinding the mixture.
Generously apply the dry rub to all sides of the turkey breast. You may have to remix the rub as you work, as this rub tends to separate easily.
Apply rub, and work the rub into the meat by pressing it in with the palms of your hands, especially on the skin side.
Place uncovered in the refrigerator and allow to air dry overnight. Placing the rub on prior to air drying helps the rub stick better.
Remove turkey breasts from the refrigerator, and let rest at room temperature for 1 to 2 hours.
Place turkey breasts on a smoking tray skin side down, and place in a preheated Bradley Smoker, at 200°F.
Apply 2 hours of smoke; I used 2 hours of apple. Additional smoke can be used, but I found two hours of apple was sufficient. If you want additional smoke, I suggest another hour of apple, or finish off with an hour of maple.
After smoke has been applied, raise the temperature to 225°F.
If you want, you can rotate the trays at this time. Cook until the internal temperature reaches 150°F – 155°F.
Remove from smoker, turn breast skin side up. Loosely tent with aluminum foil, and allow to rest.
When cool enough to handle, wrap in plastic, and refrigerate skin side up.
Allow to age at least 2 days. It gains flavor over time. Adding a layer of foil over the plastic will help keep the plastic tight against the meat. When ready to eat slice thin like deli meat, and serve either cold or warm.