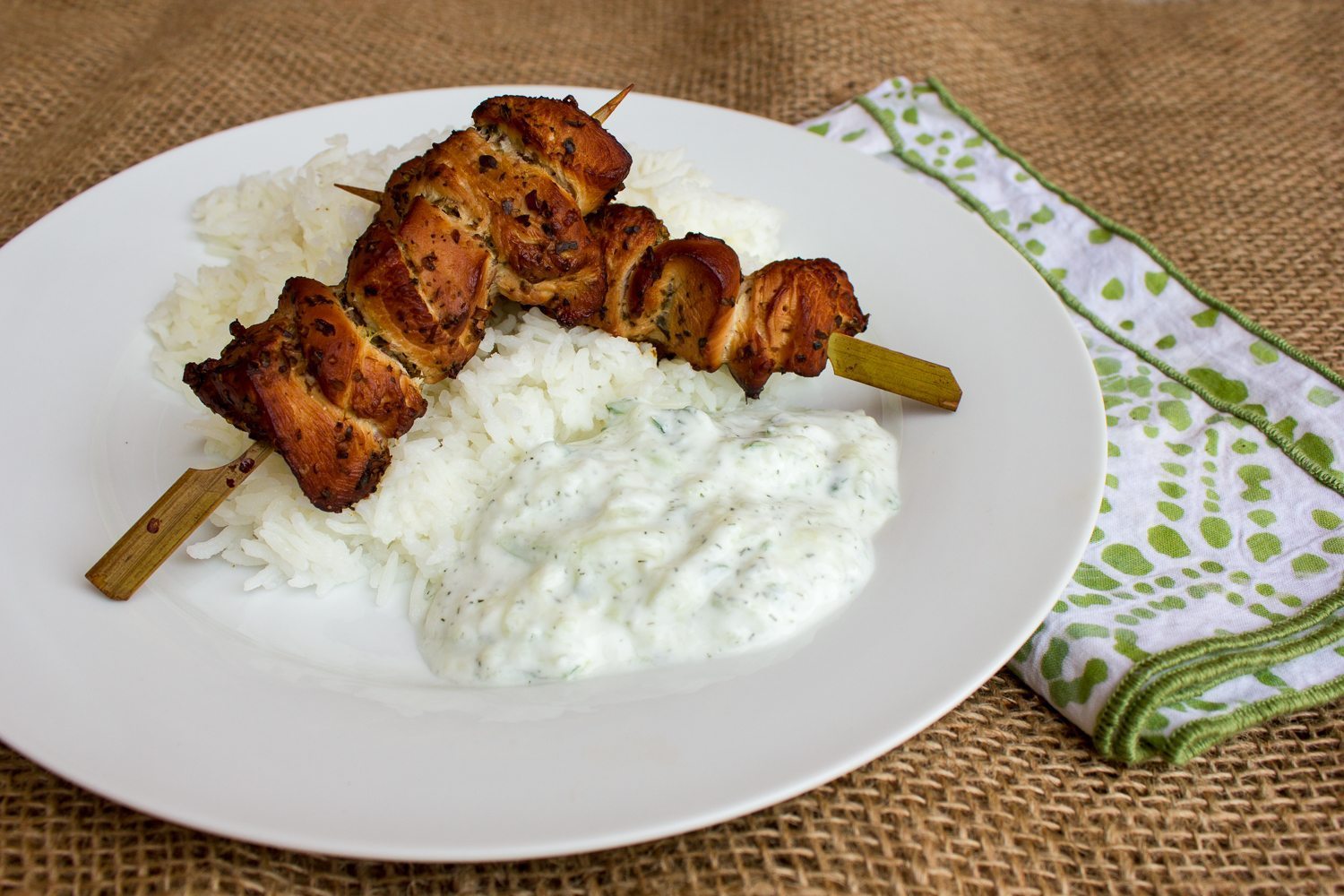 Smoked
Chicken Souvlaki

and Tzatziki Recipe



Start with a simple marinade with olive oil, lemon juice and red wine vinegar. Then, smoke the chicken using maple or oak wood and prepare the dip. You can also consider adding salads, rice and a pita.
Ingredients
Chicken Souvlaki:
4 Boneless skinless chicken breasts, cut into cubes
⅓ Cup olive oil
¼ Cup red wine vinegar
Juice of 1 lemon
4 Garlic cloves, minced
1 Tbsp oregano
2 Tsp thyme
1 Tsp salt
1 Tsp ground black pepper
Wooden skewers
Tzatziki Dip:
2 Cups plain yogurt
½ English cucumber
1 Tbsp lemon juice
1 Garlic clove, minced
2 Tbsp fresh dill, finely chopped
Preparation
Chicken Souvlaki:
Mix all the ingredients, minus the chicken breast and skewers in a bowl. Place the chicken breast cubes in a dish and pour the marinade over them, turning them in the marinade to ensure that they are completely coated. Cover the dish with a lid or plastic wrap and place in the fridge for at least an hour.
Soak wooden skewers in water for 20-30 minutes
Thread the marinated chicken cubes onto the skewers. Place the skewers, side by side on smoker racks, making sure they are not touching each other.
Start up the smoker, using wood bisquettes of choice (maple or oak works very well!). Bring the smoker up to a temperature of 250ºF.
Place the chicken skewers in the smoker and cook until the internal temperature reaches 165ºF, about 3 hours.
Tzatziki Dip:
Peel the English cucumber. Grate the cucumber and, using your hands, squeeze as much of the juice from the grated cucumber as possible. Discard the juice and the peel.
Mix the grated cucumber with the remaining ingredients.
Place the tzatziki in the fridge for 30-60 minutes to allow the flavours to blend.
Serve with the smoked chicken souvlaki along with rice or a pita.