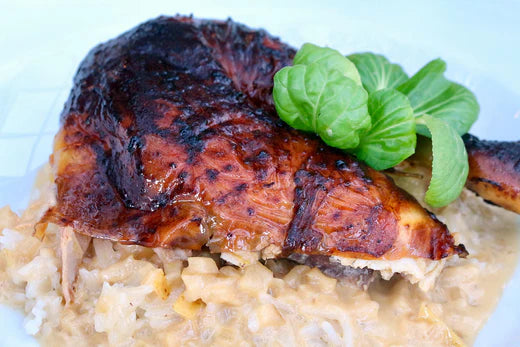 Smoked corn chicken

with creamy applesauce

Thomas Karlstein

As with other things, it is with chicken. You can succeed and fail. If you do the former, it can be magical. If you do it later and overcook.
Ingredients
1 whole corn chicken
3 dl garlic marinade
Creamy applesauce:
25 g butter
1 red-green Katja-type apple
3/4 finely chopped yellow onion
1.5 tbsp dark muscovado sugar
2 tbsp apple cider vinegar
4 dl chicken broth
5 dl whipped cream
Preparation
Ready-made parts can sometimes be handy, such as thigh fillet for a barbecue or just straight into the pot. However, I prefer to cook my chicken whole.
In the past I have often done my chicken in a crock pot, but in the Bradley I can cook as many as eight chickens or more. You can cook more. If you have time, you can smoke the chicken more slowly at a low temperature. If you are in more of a hurry, you can maximize the temperature and give the chicken a crispy skin and a smoky flavor that becomes magic in the mouth.
The fact that it is spring means that I can lie and sunbathe while the smoke takes care of the rest. There is something certain about having a smoke that stands and pumps out scents while the day goes on and various activities take place in the meantime.
When serving, it feels like time and love have been put in, while everything has really just taken care of itself in the smoke. It's just a matter of not peeking in the meantime. - "...cause If you're looking it ain't cooking."
For the smoked chicken I serve one of my favorite sauces. It is a slightly sweet and creamy applesauce with some acidity. Personally, I prefer it with rice or steamed new potatoes. If you have the opportunity, I think you should treat yourself to corn chicken. It is both juicier and tastes better. If I'm going to cook just a few, I prefer to cook two smaller chickens rather than one large one. I think it's because the smaller ones are fried more evenly and it's easier not to overcook certain parts. Or it is just an advantage that you then get four clubs and not two. There will be less fighting around the table then.
Method:
Start the Bradley cabinet half an hour in advance. Set the temperature to 160 degrees C.
Brush the chicken with any marinade in the meantime. (Personally, I used a purchased garlic flavored marinade).
Then run the chicken in the smoking cabinet with apple briquettes for approximately 1.5-2 hours depending on the size.
When the time is up, I lower the temperature to around 100 degrees C and run for another half hour.
When the thighs detach easily from the body and the chicken juices run clear, the chicken is ready.
Creamy applesauce Method:
Chop apple and onion relatively fine.
Fry with butter in a tractor pan and add the sugar.
Allow to fry gently for another moment until the sugar has completely melted.
Put down the vinegar.
Add the stock and then reduce to about half.
Remove from the plate and add the cream.
Then allow to reduce to the desired consistency. If you want a completely smooth sauce, strain it just before serving.
Apple
Wood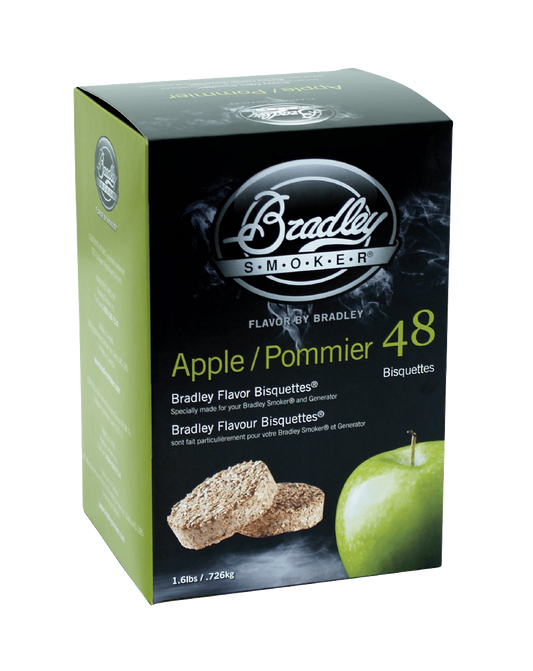 A light, fruity and slightly sweet smoke aroma that pairs with poultry, beef, pork, lamb, and cheese.
Shop Now