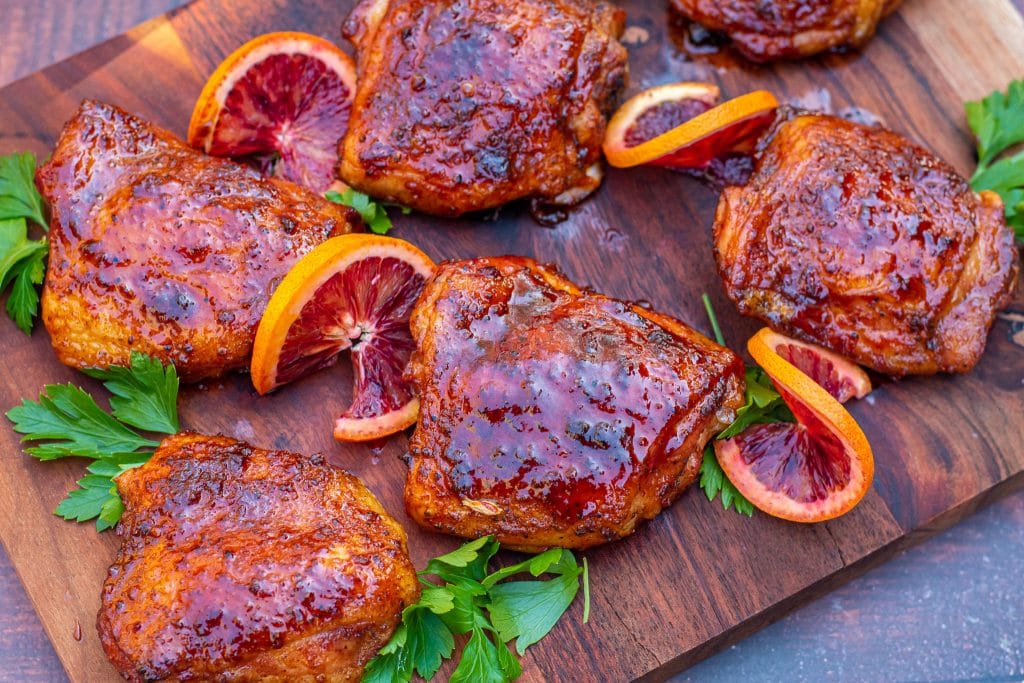 Smoked Glazed
Chicken Jerky

Recipe



Most importantly: this Smoked Glazed Chicken Jerky recipe does not contain a cure so, DON'T FORGET to use the proper amount of cure for meat.
Ingredients
6 (2 to 3 ounces each) boneless, skinless chicken breasts
Marinade:
¼ Cup purple grape syrup
2 Tbsp rice or white vinegar
2 Tbsp tamari or good quality soy sauce
2 Tbsp white wine Worcestershire sauce
¼ Cup chopped currants
2 Tsp onion powder
2 Tsp crushed red pepper
4 (1 gram) packets artificial sweetener
1 Tsp garlic powder
Preparation
Purple Grape Syrup:
Place 1 (12 ounce) can of purple grape juice concentrate in a 10 inch nonstick skillet over high heat. Bring to a boil and cook for 5 minutes.
Reduce the heat to medium and continue to cook until the juice is reduced to 1 cup, about 10 minutes more. Because of the consistency of the grape juice concentrate, occasional light sticking may occur, so use a wooden spoon to check and clear the bottom of the skillet two or three times during the reduction. Let cool, place in a covered container and refrigerate.
Chicken Jerky:
Combine all marinade ingredients in a small bowl and mix well to form a paste. Lay the chicken breasts on a hard surface, cover with waxed parchment paper, and gently pound the breasts until they are about ¼ inch thick. The thinner the meat is, the easier it will be to eat later.
Remove the paper from the chicken breasts, divide the marinade evenly among them, and gently rub on both sides. Refrigerate overnight in a covered container.

Drain the excess liquid from the chicken breasts and lay them evenly around the dehydrator trays. Place in machine and dehydrate until the chicken is
cooked and has dried out, about 20 to 22 hours. During this time, turn the pieces over 3 or 4 times.