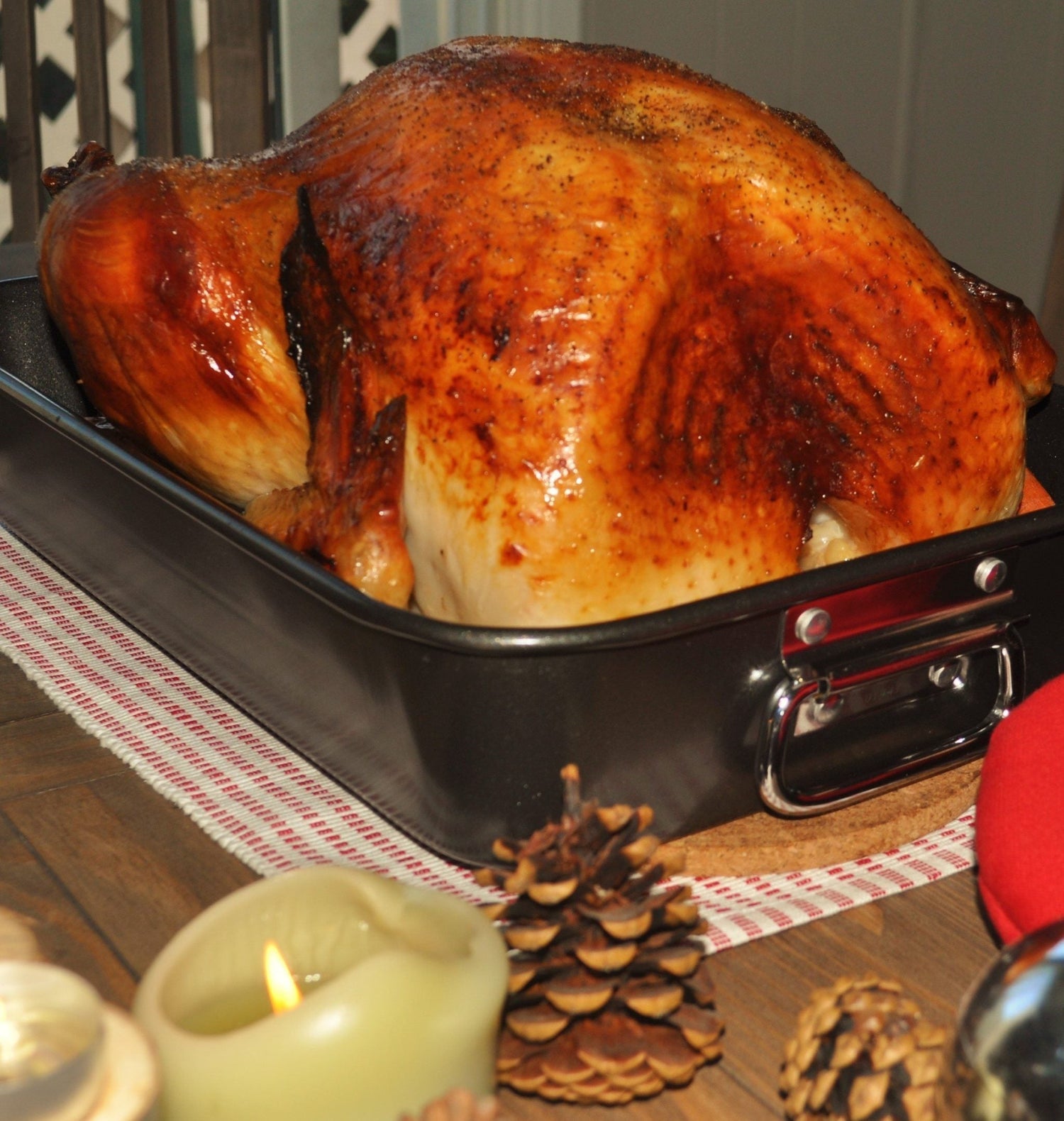 Smoked
Turkey

Recipe



Smoking a whole turkey is a long process and will take at least 8 hours, if you want it tender and juicy. So, you'd better start the night before cooking. However, this Smoked Turkey recipe is so easy and sure to impress your family and guests.
Ingredients
For the brine:
1 Cup kosher salt
1 ¼ Cups brown sugar
3 Tbsp whole black peppercorns
4-6 Bay leaves
2 Cinnamon sticks
Zest and juice of 1 orange
2 Gallons cold water
For the bird:
1 Fresh turkey, thawed if frozen (12-15 pounds)
1 Medium onion, quartered
1 Apple, quartered
2 Carrots, chopped into approximately 4″ pieces
3 Stalks celery, chopped in half
1 Head of garlic, top sliced off and loose peel removed
6 Tablespoons unsalted butter (3/4 stick), softened
Bradley Premium Bisquettes – Sage
Preparation
The night before cooking, combine the ingredients for the brine in a large pot over medium heat, until salt and sugar are dissolved.
Set aside brine and allow to cool.
Remove giblets and neck from the turkey. Reserve and refrigerate for gravy.
Rinse the turkey inside and out with cold water.
Submerge the turkey into the cooled brine.
Cover and refrigerate overnight.
The next day, remove the turkey from the brine, rinse with cold water and pat dry with paper towels.
Refrigerate, uncovered for at least 2 hours to allow to dry.
Preheat smoker to 225°F with Bradley Premium Sage Bisquettes.
Place the turkey in an aluminum roasting pan.
Rub the cavity of the turkey with 2 Tbsp of butter and stuff with chopped apple and vegetables.
Rub 2 Tbsp of butter on the outside of the bird.
Place in smoker and smoke for approximately 8 hours, or until the internal temperature of the thickest part of the thigh reaches 180°F.
Halfway through the cooking process baste turkey with remaining butter.
Recipe by: Lena Clayton