Smoked Turkey

, Asparagus & Goat's Cheese Tart

Sandra Tate

Turkey thighs, weighing in at a mighty 800g are a bargain - and great for hot smoking.
Ingredients
Pack of shortcrust pastry
Bunch of asparagus
35g butter
35g plain flour
300ml milk
3 large eggs
Capricorn goat's cheese
Salt and Pepper
Preparation
Enough time has passed for me to be able to face turkey again! Turkey thighs, weighing in at a mighty 800g are a bargain - and great for hot smoking . I smoked one of these bruisers and it yielded a generous quantity of meat for this super delicious tart, next time I will smoke extra as the boys were quite put out that there wasn't any left for slicing.
To Cure and Smoke:
Mix 50g sea salt with 20g light brown sugar in a small quantity of boiling water.
Once dissolved add enough cold water to be able to cover the turkey thigh in a snug container.
Leave for an hour then drain, rinse and dry on kitchen paper.
Add 10 oak bisquettes to the Bradley Smoker feed and set the cabinet temperature to 115°C/240°F and smoke for 2hrs, check the internal temperature is 72°C or over when probed to the bone.
Remove, cool and wrap before refrigerating until needed.
To Make the Tart :
Preheat the oven to 180°C/350°F
Remove the smoked turkey meat from the bone, chop roughly into cubes and pulse in a food processor to a coarse mince, set aside.
Roll a pack of shortcrust pastry to thin and line a 26cm tart tin.
Prick the base and bake blind for 10 - 12 minutes until the surface of the pastry look dry.
Remove from the oven and scatter the base with the smoked turkey.
Take a bunch of asparagus, trim and cut into 1-5cm lengths.
Blanch in boiling salted water for 2 minutes then drain and scatter over the turkey in the tart case.
For the topping, place 35g butter & 35g plain flour in a pan and cook to foaming, now add 300ml milk and whisk over medium heat until you have a smooth , thick sauce.
Separate 3 large eggs.
Beat in the egg yolks and a roughly chopped Capricorn goat's cheese together with salt and pepper to taste.
Now whisk the egg whites into stiff peaks and fold into the sauce base.
Pour over the tart to fill and bake for 25-30 minutes until golden and risen.
Serve immediately with salad or steamed green vegetables.
Oak
Wood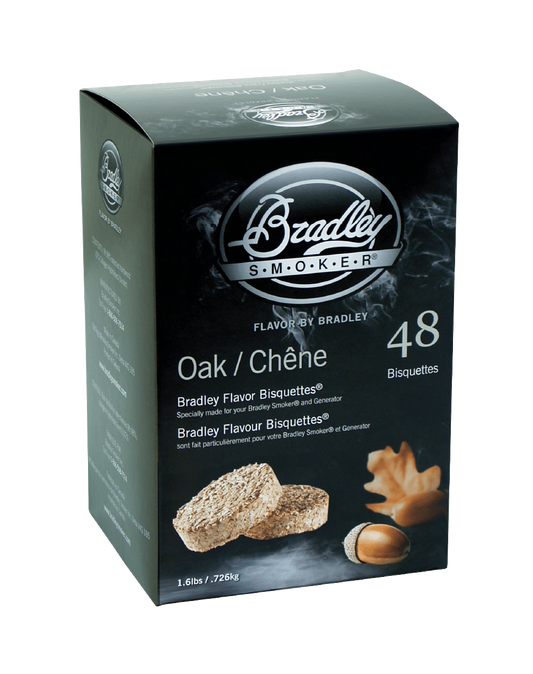 The most versatile wood of them all is Oak. Pairs especially well with poultry, beef, pork, lamb, and game.
Shop Now