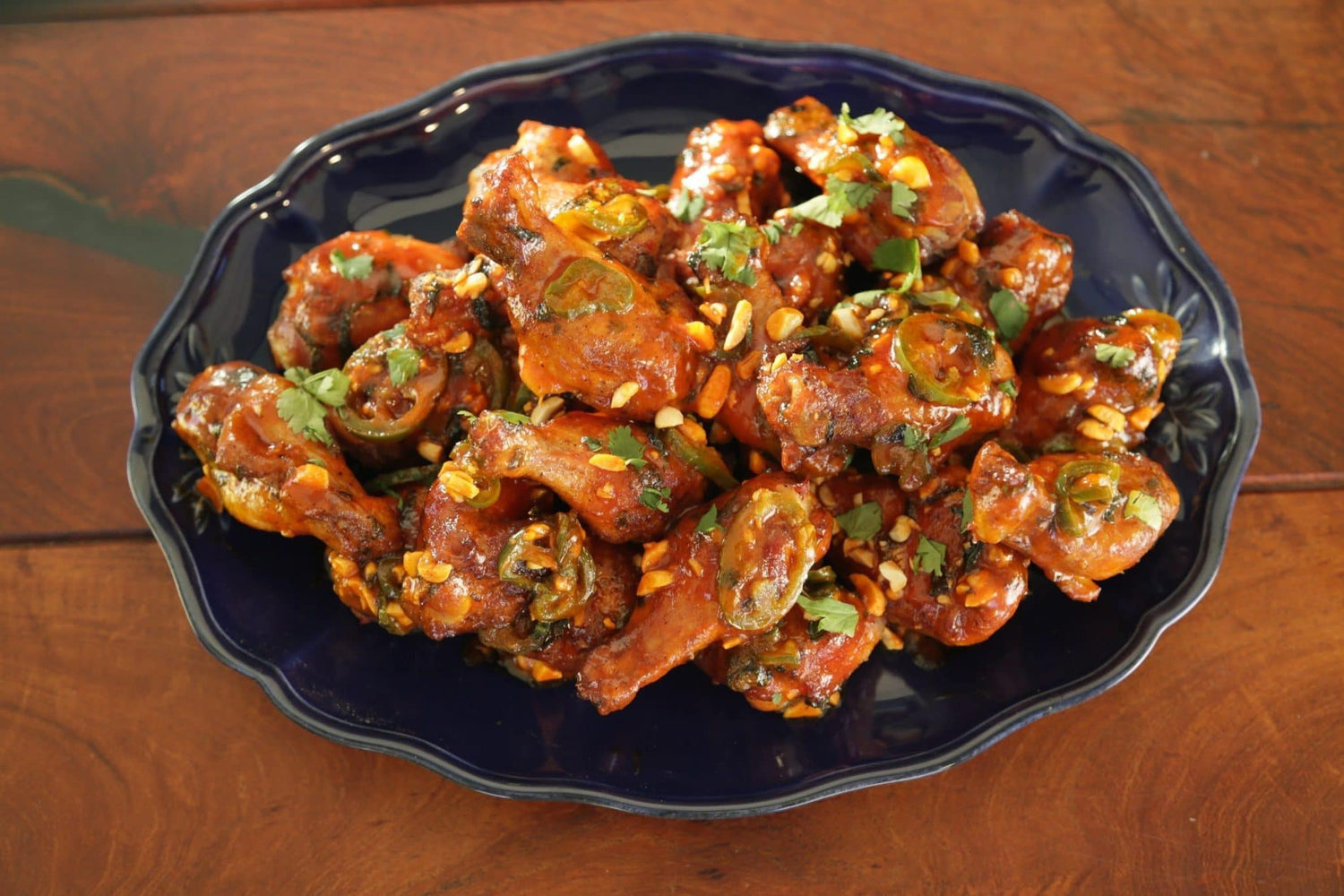 Smokehouse
Wings

Recipe



Take a break from the traditional hot wings and try our smoked wing recipe for a new and exciting twist! Our slow-cooked wings are infused with smoky flavor and can be dressed up with a variety of sauces to suit any taste preference.
Ingredients
For the Smokehouse wings:
3 Pounds chicken drumettes (about 2 dozen)
2 Tbsp finely chopped cilantro, plus 4 tablespoons for serving
2 Tsp sea salt
2 Tsp cracked black peppercorns
2 Tsp ground coriander (optional)
2 Tbsp sesame oil
For serving:
6 Tbsp butter
3 Jalapeno chillies, thinly sliced crosswise
6 Tbsp Sriracha (or other favorite hot sauce)
¼ Cup chopped dry roasted peanuts
Preparation
Place the chicken wings in a mixing bowl. Sprinkle in the cilantro, salt, pepper, and coriander and stir to mix. Stir in the sesame oil. Marinate for 15 to 60 minutes, the longer, the richer the flavour.

Meanwhile, light your smoker according to the manufacturer's instructions and preheat to 250 degrees. Add the wood as specified by the manufacturer.

Arrange the wings on the wire rack in the smoke chamber. Smoke the wings until golden brown with smoke and cooked through, 1 to 1½ hours. In some smokers, the wings closest to the fire will cook faster; if this is the case, rotate the wings so they all cook evenly. If your smoker allows heat increase, raise the temperature to 400 degrees for the last 20 minutes to crisp the skin. To check for doneness, make a tiny cut in the thickest part of a few of the wings. The meat at the bone should be white, with no traces of red. Do not overcook.

Just before serving, melt the butter in a cast iron skillet on a grill set up for direct grilling, or on a stove burner. Add the jalapenos and cook until lightly browned. Stir in the Sriracha.

Mound the chicken wings on a platter or in a cast iron skillet. Pour the jalapeno sauce over them. Sprinkle the wings with chopped cilantro and peanuts and dig in. Napkins and cold beer required.