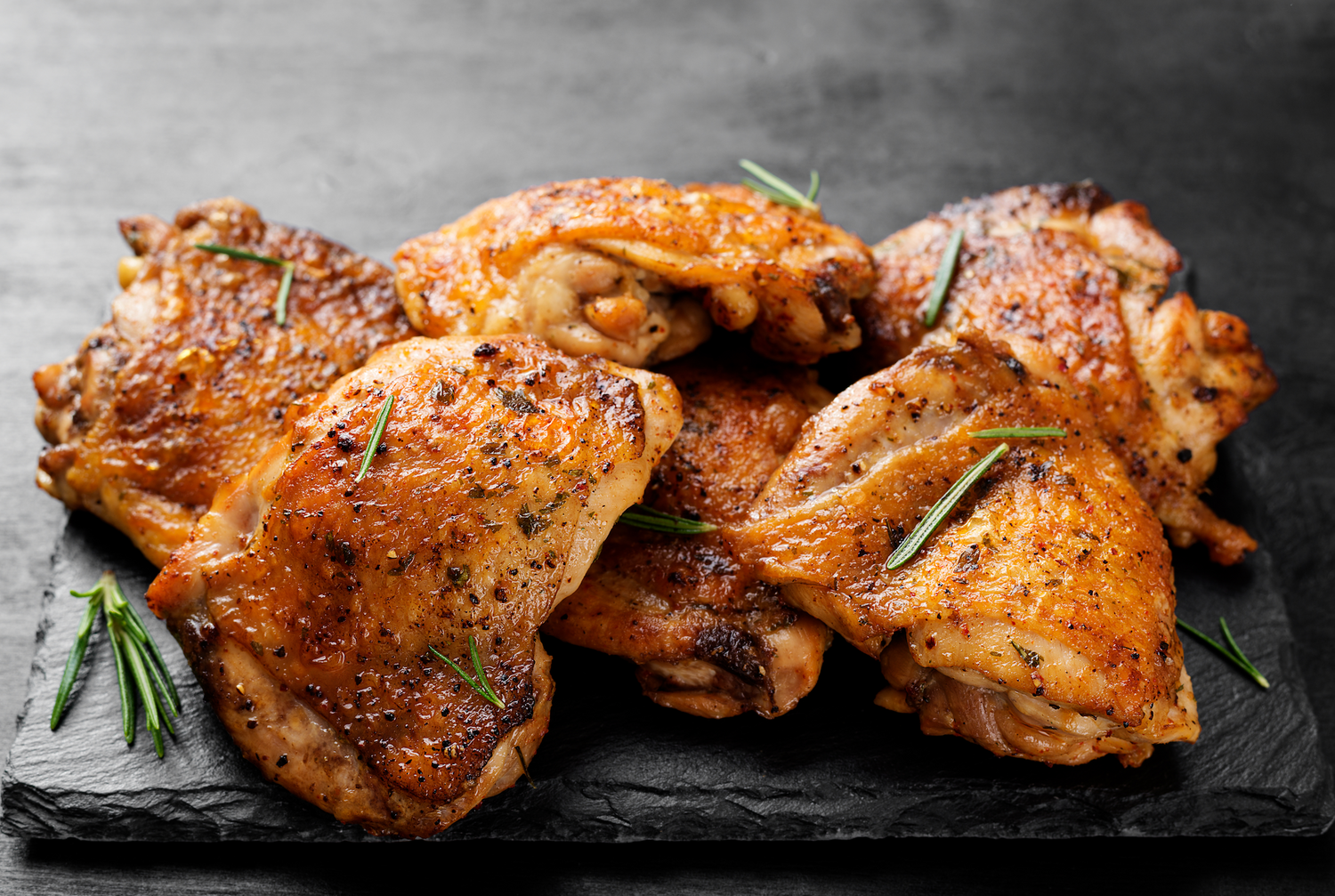 Whiskey Barrel Smoked
Chicken Thighs

Recipe



Smoked chicken thighs done right! Chef Ted Reader gives step by step instructions on creating the best Whiskey Barrel Smoked Chicken Thighs using the Bradley Smoker.

Marinate the chicken thighs (with the skin on and bone in) in Tennessee whiskey for about 24 hours. Then peel back the chicken skin and season lightly. Wrap the chicken skin back around the chicken thigh, so it creates a seal around the chicken to help lock in all the juices. Put the seasoned chicken thighs in the smoker using Whiskey Oak flavoured bisquettes and smoke for about 3 hours. Remove the smoked chicken thighs from the Bradley Smoker then cover the thighs in Chef Reader's Crazy Canuck barbecue sauce. Roll them in a mixture of crispy fried onions, potato chips and bread crumbs. Lastly, enjoy the best smoked chicken thigh you've ever tasted!
Ingredients
12 Chicken thighs
3 Tbsp Ted's World Famous BBQ Bone Dust™ BBQ Seasoning
2 Cups Ted's World Famous BBQ Crazy Canuck Sticky Chicken and Rib Sauce
½ Cup maple syrup
2 Oz Tennessee whiskey
2 Cups coarsely crushed potato chips (regular or whatever flavour you like)
1 Cup Panko breadcrumbs
1 Cup crispy fried onions
Preparation
Bradley Smoker Temperature: 220°F
Set up Bradley Smoker according to manufacturer's instructions, with Whiskey Oak Bisquettes and set temperature for 220°F.
Peel back the skin from the chicken thighs, making sure it stays attached on one side. Season the meat of the chicken thighs with a light sprinkling of Bone Dust™ BBQ Seasoning rub. Fold the skin back over the seasoned thighs pulling it tightly around the meat. Season the outside of the thighs with more BBQ Seasoning.
Place thighs onto smoker rack, evenly spaced. Place thighs into the smoker and insert the thermometer probe into the center of one of the chicken thighs. Close door and set thermometer temperature to 170°F, for fully cooked. Smoke thighs for 2 1/2 – 3 hours until fully cooked.
Meanwhile prepare the BBQ sauce for dunking. In a medium pot, combine Crazy Canuck Sauce, maple syrup and whiskey. Heat slowly to a low boil over medium heat, reduce heat to low, add butter and whisk gently until fully incorporated. Set aside, keeping warm, stirring occasionally.
Meanwhile in a bowl, mix together the potato chips, Panko breadcrumbs and crispy fried onions. Set aside.
When the chicken is fully cooked and the skin is crispy remove thighs from the smoker and dunk the smoked thighs one at a time into the warm BBQ sauce mixture remove from the sauce an immediately roll into crushed potato chip mixture coating evenly.
Serve immediately.