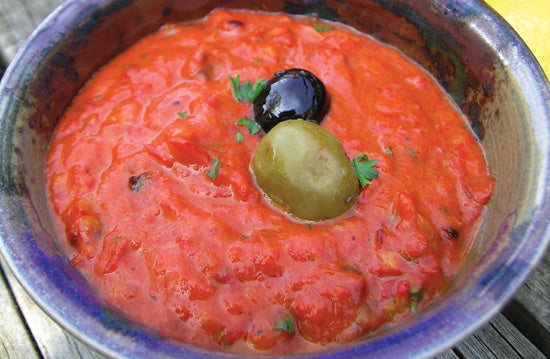 Bradley
Smoked Red Pepper, Tomato & Chilli

Dip

Sandra Tate

At last we have sunshine and warmth, and what better way to kick off the BBQ than some delicious dips? For vibrant colour and flavour this one is difficult to beat.
Ingredients
3 large red ramiro peppers
4 large ripe tomatoes
1 red chilli
3 tbsp olive oil
1 clove garlic, peeled & crushed
juice of ½ lemon
1 tbsp chopped parsley
salt, pepper
Preparation
For a more intense flavour, grill the peppers and chilli prior to smoking - this means grilling to black, if you don't grill as harshly as this the skins will not come off.
Also, if you fail to cover completely in plastic, the skins, again, will not come off. This much I know from bitter experience and I have explained the method at length below.
Whilst the vegetables are smoking, I also smoked some sea salt to season this and for later use - keep in a separate, labeled, jar.
Method:
Start the Bradley Smoker with just 2-3 oak bisquettes in the stack.
Meanwhile, preheat the grill to hot. Place the peppers and chilli on a roasting tray and grill until the skin blackens, turning occasionally until the entire surface is blackened and the peppers are collapsing. Transfer immediately to a plastic bag, loosely fasten and leave until cool enough to handle. Now remove the skin (it will come away easily) and then split the soft flesh to remove seeds and core, discard. After similarly removing the skin from the chilli you may wish to leave the seeds, or at least some of them, for a good heat to the dish. Place the flesh of the chilli and peppers in a shallow bowl.
Make a small incision through the skin of the tomatoes at the top, and bottom. Place in a bowl and scald with boiling water. After 3 minutes, drain the tomatoes and peel away the skin, which will by now be loosened. Cut each in half and push out the seeds with your thumbs, discard. Add the tomato halves to the red peppers and chilli, drizzle with some of the olive oil and transfer to a shelf in the Bradley Smoker. Smoke for up to an hour (I smoked mine for 30 minutes, but then I like a subtle smokiness to mine).
Place the smoked pepper, tomatoes and chilli into a small food processor and add the garlic, together with the lemon juice, salt, pepper and the remaining olive oil. Process to a thick paste then add chopped parsley and check the seasoning, adjust if necessary. The dip should be allowed to mellow for a few hours before serving with hot pitta breads and other mezze dishes.
Oak
Wood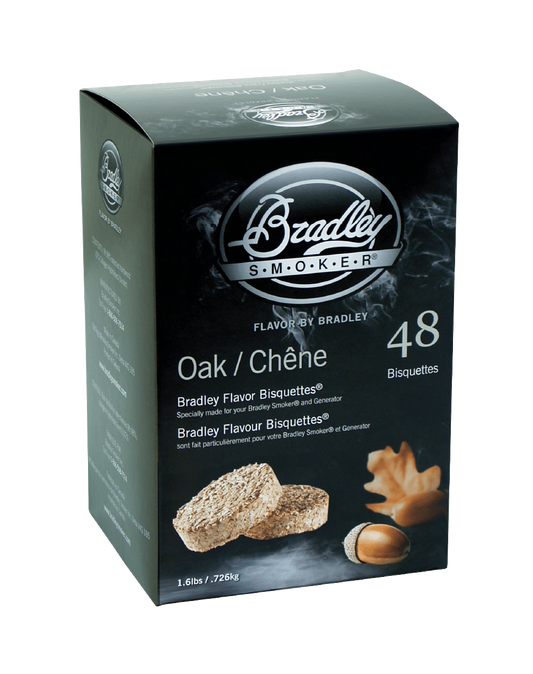 The most versatile wood of them all is Oak. Pairs especially well with poultry, beef, pork, lamb, and game.
Shop Now