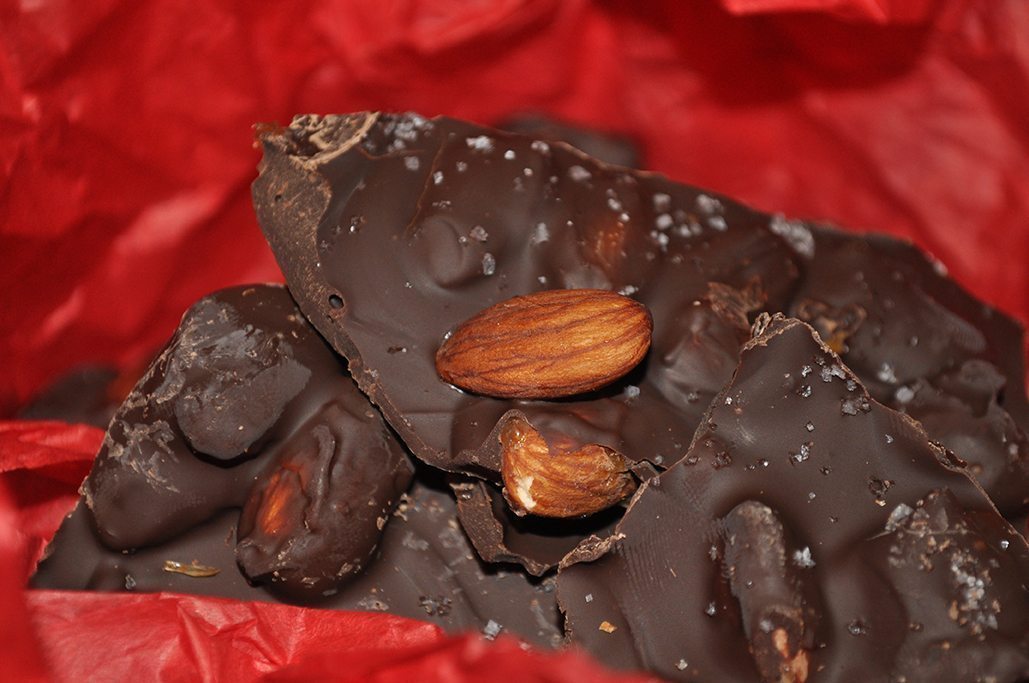 Dark Chocolate Smoked
Almond Bark

Recipe



A treat that's the perfect mix of sweet and salty, plus smoky hickory and rich dark chocolate.
Ingredients
For smoking the almonds:
1 Cup water
2 Tbsp salt
2 Cups whole raw almonds
Bradley Smoker Hickory bisquettes
For making the bark:
½ Cup granulated sugar
2 Tbsp water
1 Tbsp butter
1 Lb dark chocolate
Pinch of coarse sea salt
Preparation
Stir salt and water together.
Soak almonds in brine overnight at room temperature.
Remove from brine and allow to air dry.
Smoke almonds with Bradley Smoker Hickory bisquettes for 60 minutes.
Heat sugar and water in saucepan on low-medium heat until dark amber in colour (approximately 5 minutes).
Remove from heat and add butter, then stir quickly.
Add almonds and coat evenly with sugar mixture.
Pour over silpat or baking sheet with parchment paper, keeping the almonds separate from each other, so they don't stick together. Remove once sugar coating is hardened.
Melt dark chocolate in double boiler, mix in smoked almonds and pour over silpat, or baking sheet with parchment paper.
Sprinkle with coarse sea salt.
Chill for a minimum of 3 hours, then cut into rough pieces and serve.