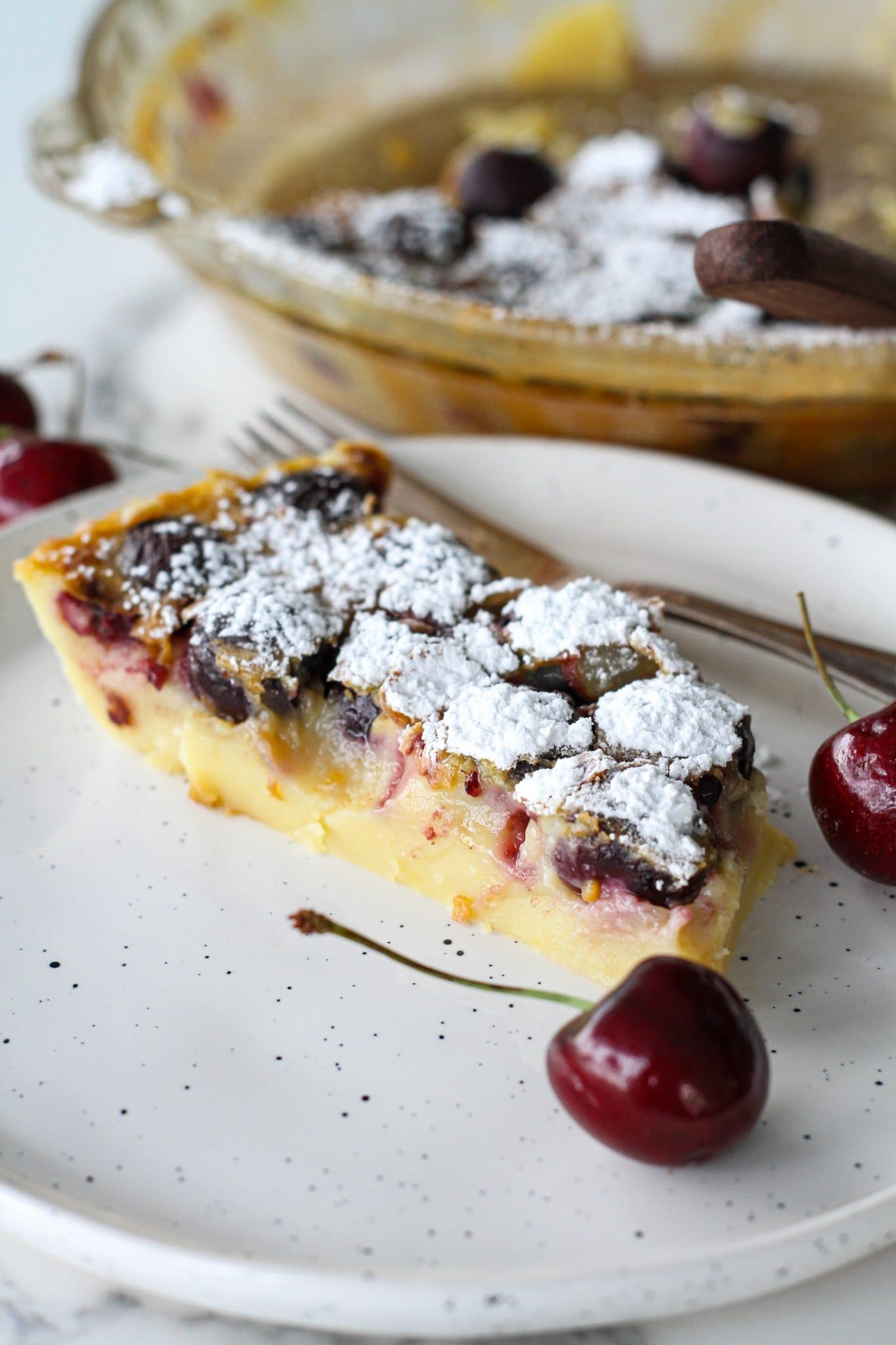 Smoked
Cherry

Clafoutis



Who says you shouldn't bake in the summer? Why not make it easy on yourself and do it in the smoker? This dessert goes together in minutes and bakes beautifully in the Bradley. Fancy desserts never seemed so good till the smoke got on em!
Ingredients
2 Tbsp butter
2 Tbsp flour
2 Cups of fresh cherries - pitted
2 Tbsp slivered almonds
3 Eggs
¼ Cup white sugar
2 Tbsp brown sugar
½ Cup of all-purpose flour
Pinch of sea salt
½ Cup skim milk
½ Cup half and half cream
1 Tbsp almond extract
1 Tbsp vanilla extract
Finish with icing sugar on top!
Preparation
Start by loading your Bradley Smoker with Apple or Cherry pucks and preheat to 320ºF (160°C).
In a deep pie dish, use the butter and cover the dish with it. Then, take the 2 tbsp of flour and dust the butter. This will help you pull the dessert out when its time to eat!
In a medium sized bowl, add all the dry ingredients and mix with a fork. Then add all your wet ingredients and mix together. It will be a thin batter. Don't worry.
In your dish, add your cherries and almonds and spread out. Pour the batter over it all and let sit for a couple minutes to let the bubbles raise up and out of the batter.
Once the Bradley Smoker has come to temp, Place the pie dish on a rack and set it into the middle of the smoker. This will cook for 35-40 min. After the time is up, open the door and give it the wiggle test. It should still have a very small amount of wiggle, but be set in place. Once this achieved, pull from the smoker and set on a cooling rack. It will have puffed up while cooking, but expect it to deflate while cooling. That's ok!
When its cooled and you are ready to serve, dust with Icing Sugar and serve!
Enjoy!
Recipe by: Cory Walby – Saturday Night Test Kitchen