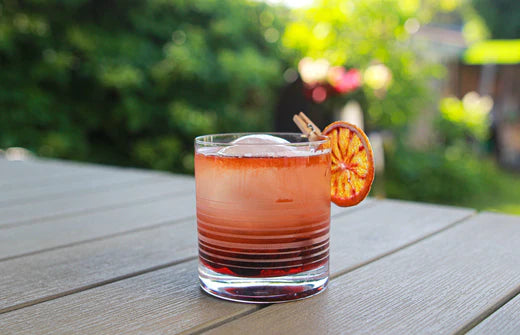 Smoked
Cherry

Old Fashioned

Thomas Karlstein

Today we will go outside the usual smoking framework.
Ingredients
4-5 smoked cherries or raw bigar (70°C/1h)
5 cl Woodford Reserve Bourbon (Kentucky straight)
2 cl sugar syrup
a few splashes of Angostura
a small splash of soda water
Preparation
There will be no bacon. Not any brisket, not even a moose heart, smoked vanilla ice cream or salt licorice.
Today is Friday and on Fridays you enjoy a Friday drink, a TGIF cocktail if you want - Smoked Cherry Old Fashioned. I added the TGIF cocktail thing just so that Bradley HQ in England will at least someday understand what is really being written here. Here in Sweden, we already know that it's called a Friday drink.
At first I was going to tell you a little cleverly that the Old Fashioned is one of the few drinks that gave a name to a glass; the old fashioned glass. Then it struck me that there are champagne, beer and wine glasses. I was unlucky thinking. Minor fault is that there are few cocktails that have glasses named after them. Tom Collins maybe, but there I feel that the highball glass feels more accepted. This makes me wonder, what came first? The cocktail Old Fashioned or the glass Old Fashioned? The correct answer is the glass. It was just called something else - "a rocks ice cream".
The Old Fashioned is said to have been first served in the late 19th century in the United States. Earlier, at the beginning of this century, people had started talking about "cocktails", but this was long before bartenders and bloggers made mixology of the whole thing.
The ingredients were still simple and few and what defined a cocktail was still unclear. A newspaper editor asked to explain the word cocktail wrote: "...a potent concussion of spirits, bitters, water, and sugar." An Old Fashioned. Where exactly the drink was first served is unclear, opinions differ. Fun fact, though, is that the city of Louisville has named the drink its official city drink. Every year during the first two weeks of June, the "Old Fashioned Fortnight" is celebrated. The two weeks preceding National bourbon day on June 14. The Old Fashioned as a phenomenon and cocktail also received a huge boost when the main character of Mad Men was almost constantly seen sipping one.
Countless variations of the Old Fashioned have been made. While some debate whether it should be bourbon or rye whiskey, in the meantime I'm happy to sit back and sip on a gin in place of the whiskey. However, our Old Fashioned of today is something out of the ordinary.
In this cocktail I have muddled smoked bigaras directly from the Bradley smoker. Imagine a maraschino 2.0. The Bigar raws are smoked at 70°C for an hour, of course with cherry briquettes.
I use Woodford Reserve Bourbon as a base, add a little sugar syrup, a few splashes of Angostura bitters and a splash of soda. This Old Fashioned is terribly exciting in the mouth.
Now I have to sit down and take a sip, because if I write Old Fashioned one more time my eyes will start bleeding.
Method:
Start the Bradley smoker and set the temperature to 70°C.
Core the cherries, the easiest way is with a cherry corer.
When the smoke is hot, smoke the cherries for an hour.
Then let cool.
Muddle 6-8 cherries in the bottom of an Old Fashioned glass.
In a mixing glass with ice - mix bourbon, sugar syrup and Angostura.
Add ice to the Old Fashioned glass, strain the drink, top with a splash of soda and stir with a bar spoon.
Better to increase the amount of soda water gradually, than to have too much down at once.
Cherry
Wood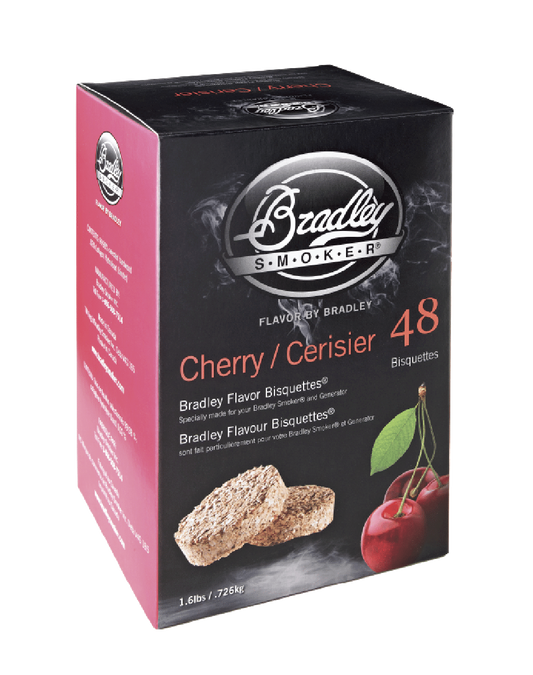 Cherry Bisquettes provide a mild, sweet, and fruity aroma perfect for smoking poultry, fish, seafood, beef, pork, lamb, water fowl, vegetables, and cheese.
Shop Now