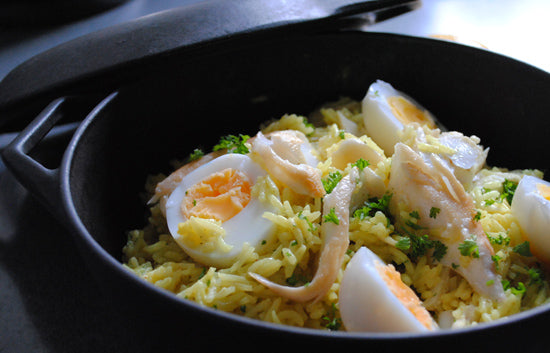 A
Kedgeree Breakfast

with Bradley Smoked Ling

Sandra Tate

We are constantly being reminded by the environmentalists to try different fish to help preserve our fish stocks. Here we get creative with ling...
Ingredients
for the kedgeree (enough for four):
750g cold smoked fillet of ling
50g butter
1 small onion, peeled & finely chopped
2cm cube fresh ginger, peeled & finely chopped
1 tsp turmeric
1 tsp Madras curry powder
300ml basmati rice
600ml chicken stock
salt, pepper
to finish:
4 eggs, boiled for 6 minutes, cooled, shelled & halved
1 tbsp finely chopped parsley
juice of a lemon, to taste
Preparation
This month we feature ling - not familiar with it? Well, it is close to cod or haddock in looks; a lovely white, flaky fish that is both delicate and juicy when smoked. We are constantly being reminded by the environmentalists to try different fish to help preserve our fish stocks. To be perfectly honest, I would be hard pushed to tell the difference between ling and haddock, but as the fillets on offer at my fishmonger were the thickest and best lookers on the day, I bought ling. I cold smoked a fillet that weighed in at 750g and decided to treat the family to one of the best Sunday breakfasts I know, kedgeree. It could only be improved by having someone else do the cooking. Just look at those gorgeously moist flakes of fish!  
Method Smoking the ling: 
Make a brine of 1 litre of boiling water, 30g salt and 20g light brown sugar. Stir until salt and sugar have dissolved then cool completely before immersing the fillet of ling, flesh side down into the brine. Leave for 1 hour then drain, pat dry with kitchen towel, and leave overnight, uncovered, in the fridge.
Load the Bradley Smoker with a stack of oak bisquettes, attach the cold smoking box, and allow the cabinet to fill with smoke. Lay the fillet skin side down on a wire shelf and smoke for 1 1/2 hours.
Finish in the kitchen
Preheat the oven to 180°C. Lay the ling fillet skin side down on a tray and bake for 10 minutes, remove and set aside.
Melt 30g butter in a saucepan and sweat the onion and chopped ginger for 4-5 minutes until softened, but not colouring. Add the turmeric, curry powder, a few grindings of pepper, a teaspoon of salt, and the basmati rice. Turn all together with a spatula until the rice is coated and glistening. Add the hot stock and bring to simmering. Cover and cook over the lowest heat for 15 minutes or until the rice is almost cooked.
Remove the smoked ling from the skin in large flakes, making sure to leave behind the bones too. Try not to break up the fish too much as you do so. Add the smoked ling to the rice and fold in gently. return to the heat for a further 3-5 minutes until the fish has reheated and the rice is tender.
Add the parsley together with the remaining butter (diced), and lemon juice to taste. Place halved, boiled eggs over the top and serve immediately.
Oak
Wood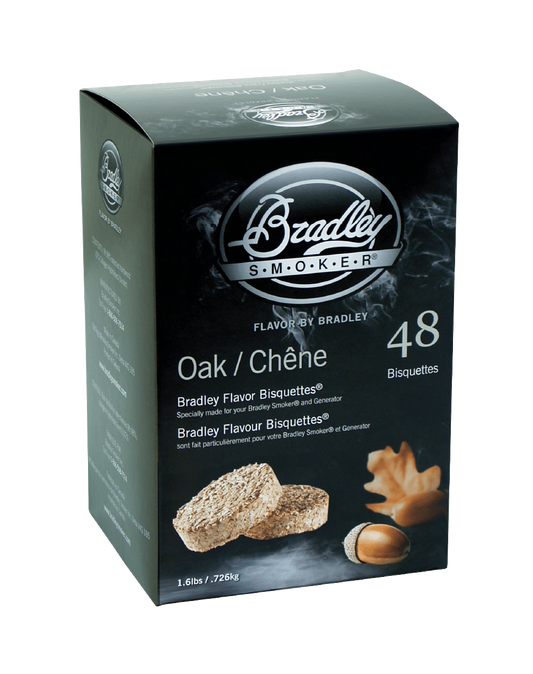 The most versatile wood of them all is Oak. Pairs especially well with poultry, beef, pork, lamb, and game.
Shop Now