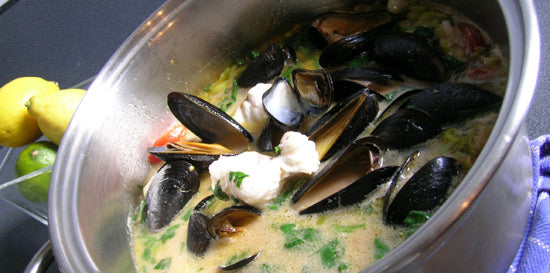 Bradley
Smoked Mussel & Monkfish

Soup

Sandra Tate

Delicate ingredients require delicate treatment.
Ingredients
(Serves 4)
800g mussels, lightly smoked
750g thick monkfish, cut into 3cm medallions
700ml fish stock
100g crème fraîche
500g small new potatoes, scrubbed and boiled to cooked
3 medium leeks, trimmed, washed, halved & thinly sliced
30g butter
2tbsp olive oil
125g young spinach leaves, washed
2 ripe tomatoes, seeds removed, & cut into small dice
salt, pepper
freshly squeezed lemon juice to taste
Preparation
Thankfully Mussels are now readily available all year round due to rope system cultivation and these were particularly good.
They must, however, be treated with care (not only to avoid a bad stomach) but to avoid turning a delicacy into a rubbery, dry, disappointing offering. Because I wanted to include monkfish I also wanted to avoid an overpoweringly strong smoky flavour to the mussels.
You will need a good quantity of fish stock for this recipe, which I covered in 'editor's note' on the May blog, I suggest you refer back to it if you feel inclined to make your own (and I strongly advise that you do).
Prepare the mussels by throwing them into cold water and swirling to encourage them to close. If after vigorous clattering against other mussels they have still not closed it is certainly time to discard them; they are dead and can cause severe stomach upset if consumed.
The healthy mussels must now be cleaned of barnacles and surface debris by scrubbing, and the 'beard' (fibrous material that attaches the mussel to the rope) should be carefully pulled away.
The mussels now need to be cooked promptly.
Heat an inch of water in a large saucepan to a rolling boil, sit the colander of mussels over the water and cover with a lid to steam.
Steam for 3-4 minutes or until the shells are opened, do NOT overcook.
Remove from the heat immediately.
To smoke the mussels:
Because I did not want to risk the mussels cooking further, or indeed drying out, I elected to connect the Cold Smoke Adaptor to the Bradley Smoker and close down the top vent of the smoker.
I added oak bisquettes to the stack and once the cabinet was filled with smoke I placed the mussels in there, spread apart, still in their shells, on a wire rack over a foil drip tray. I allowed them a scant 20 minutes of cold smoking with the vent now slightly open. DONE!
Result: moist, delicately smoked mussels.  
This is a family favourite, though the smoked mussels were new to the dish. They undoubtedly added a subtle but distinctive note of flavour and we all enjoyed the dish immensely. I think we're talking 'unmitigated success'! I call it soup, but it is a satisfying main course soup.
Melt the butter in a large saucepan, add the olive oil and the finely chopped leeks, cover and sweat over a very low heat for 5-6 minutes to soften.
Pour in the hot stock, return to a simmer and season to taste with salt and pepper.
Stir in the crème fraîche and add the cooked potatoes to the pan.
Cook gently for a further 5 minutes then add the chunks of monkfish, pushing them into the liquor to ensure they will poach evenly.
After 2 minutes add the chopped tomatoes, young spinach and the smoked mussels.
Cover and continue to cook for a further 2-3 minutes until the spinach has wilted and the mussels are piping hot.
Taste and make final adjustments to seasoning , adding lemon juice at the end to avoid discolouring the spinach.
Divide between warmed bowls and serve immediately.
Oak
Wood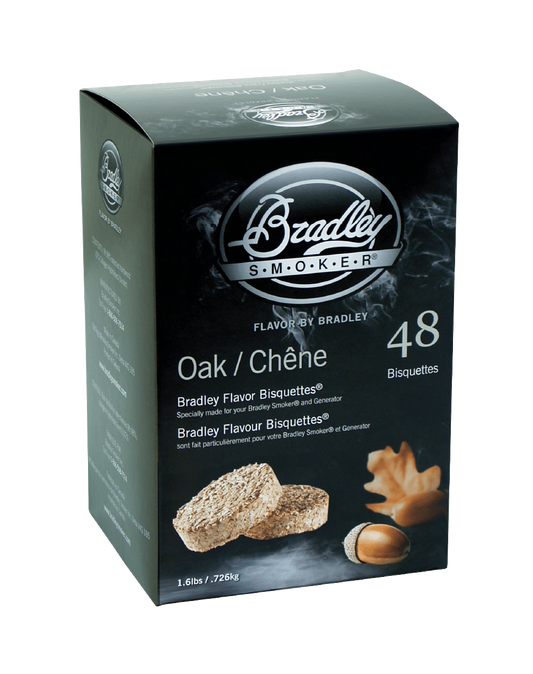 The most versatile wood of them all is Oak. Pairs especially well with poultry, beef, pork, lamb, and game.
Shop Now