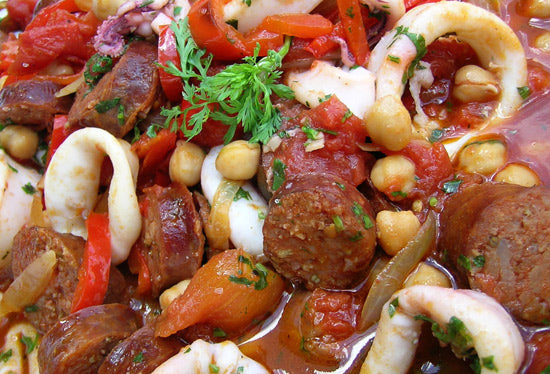 Bradley
Smoked Squid

, Chorizo, Chickpea & Mediterranean Vegetables

Sandra Tate

Squid is so easily spoilt by overcooking, so be gentle with the smoke too.
Ingredients
(Serves 4)
2 tbsp olive oil
1 onion, peeled and thinly sliced
2 ramiro peppers, seeded, halved & thinly sliced
300g cooking chorizo
4 ripe tomatoes, chopped
1 can chickpeas
salt, pepper
300g smoked squid rings
1 clove garlic, crushed & finely chopped
1 tbsp olive oil
1 red chilli, seeded & finely sliced
juice 1 lime
2 tbsp freshly chopped coriander
Preparation
Smoking squid
First off, ask your fishmonger to do all the messy cleaning and preparation. Mine reduced this lovely pair of medium sized squid to clean, bit sized pieces and rings. They were super-fresh and I cold smoked them as soon as I got them home - for a mere 10 minutes in an oak smoke-filled Bradley cabinet, with the top vent closed. Remove and chill.
A lovely vibrant, fresh, colourful, summer dish with a hint of smoke and chilli heat.
Method:
Place a large frying pan or wok over medium heat, add 2 tablespoons of olive oil together with sliced onion and red ramiro pepper slices and fry off for about 8 minutes to wilting and colouring at the edges.
Cut the chorizo into 1cm chunks and add to the pan, cook for a further 8 minutes.
Now add the chopped tomatoes and drained chickpeas, bring up to temperature, season with salt and pepper, and simmer for a further 5 minutes.
Lightly season the smoked squid.
In another frying pan, heat the remaining olive oil, scatter in the finely chopped garlic and chilli and cook for 1 minute before adding the squid rings to the pan - fry off over high heat for about 2 minutes (as soon as the rings become milk white instead of opaque they are sufficiently cooked - don't overcook or they become leathery).
Quickly squeeze over the juice from your lime and then add the contents of the pan to the chorizo and vegetables.
Finally throw in the coriander and fold all together before serving immediately with plenty of crusty French bread.
Oak
Wood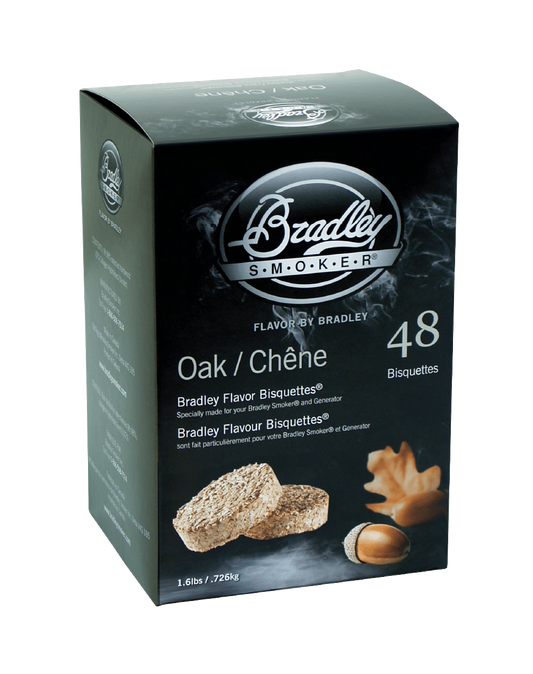 The most versatile wood of them all is Oak. Pairs especially well with poultry, beef, pork, lamb, and game.
Shop Now