Cold Smoked Pollack

, Tomato & Spinach Bruschetta

Sandra Tate

I had intended to smoke cod this week, but a thick, skinless loin of pollack caught my eye. This firm, flaked, white fish is not quite as delicate in flavour as cod but sensational all the same.
Preparation
Dissolve 70g sea salt & 30g light brown sugar in 500ml boiling water and allow to cool completely.
Immerse the 800g pollack loin in the brine in a snug container and leave for 1 hour.
Rinse and dry completely on kitchen paper.
Set up the Bradley Smoker with the cold smoke attachment and stack filled with Maple bisquettes then set to smoke for 2-3 hours (depending on your own preference for level of smokiness).
Place the pollack on a wire rack in the centre of the cabinet.
Again, depending on preference, open the top vent for light smoke and fully close for a more intense smoke.
Remove from the cabinet, wrap tightly in cling film and store in the fridge until required.
Serves 2
Cut 2 x 100g steaks from the smoked pollack loin and set aside.
Take 4 ripe tomatoes and chop into large dice; 1 clove garlic, crushed with 1 tsp salt to a pulp; 2 tbsp olive oil and 2 handfuls of young spinach leaves.
Heat the oil over medium heat and add the tomatoes and garlic salt, season with black pepper and cook for a few minutes to soften and lose their liquid.
Add the spinach and cook for a further minute or until wilted.
Remove from heat and set aside.
In a small frying pan, melt a good knob of butter to foaming over medium heat.
Dust the pollack steaks with flour, shake off excess and pan fry for 4 minutes each side (less if it's not so thick).
While the fish cooks, brush 2 slices of sourdough with olive oil and grill to golden.
Set a slice of bruschetta on each plate, top with tomato, garlic and spinach sauce and sit the smoked pollack on top.
Serve immediately.
Maple
Wood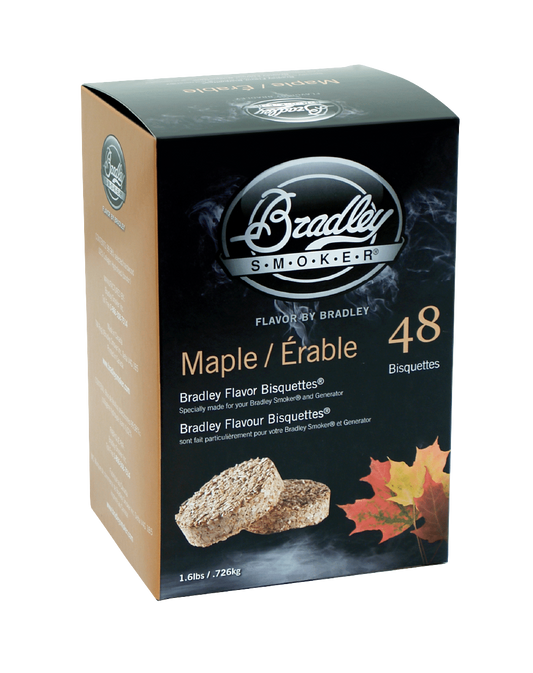 With a mildly smoky, sweet and subtle flavour, Maple Bisquettes are perfect for smoking turkeys, and enhancing the taste of poultry and game birds.
Shop Now