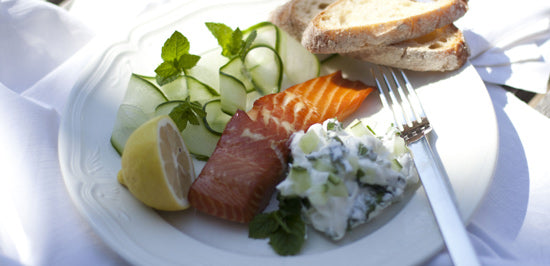 Honey & Lemon Bradley
Hot Smoked Salmon Fillet

with Tzatziki

Sandra Tate

This is such a delightful dish for a hot, Summer's day, to be served chilled and it is perfect as a starter or light lunch.
Ingredients
(Serves 4)
4 honey & lemon hot smoked salmon fillets
500g pot of Greek yoghurt
1 green chilli, trimmed, seeds removed & finely chopped or sliced
a handful of fresh mint, chopped
1 small cucumber, halved, seeds removed, & cut into 5mm dice
some wafer thin slices (a peeler or mandoline is needed) of cucumber for garnish
lemon wedges for garnish
Preparation
*This recipe is suitable for beginners
Dissolve 50g honey and 50g salt in 500ml of hot water, add the zest of a lemon and allow to cool completely.
Now immerse a 500g fillet of salmon, or 4 prepared boneless fillets, into the brine and leave for an hour.
Remove from the brine (which should be discarded), rinse and pat completely dry on kitchen paper.
Leave to dry in the fridge while you set up the Bradley Smoker.
Add several oak bisquettes to the stack and set the smoker cabinet temperature control to 100°C.
Once the temperature is reached place the fillets on a wire rack and smoke for 1 1/2 hours.
Remove, cover, and chill until required.
Place a garnish of cucumber ribbons, fresh mint tips, and lemon wedge onto each of 4 plates, add the succulent honey and lemon hot smoked fillets and spoon some cooling tzatziki beside each.
Serve with bread or pitta.
Oak
Wood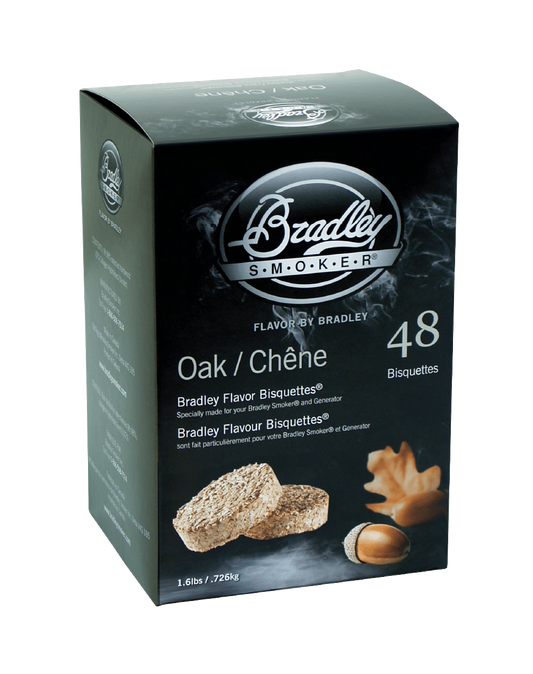 The most versatile wood of them all is Oak. Pairs especially well with poultry, beef, pork, lamb, and game.
Shop Now