Hot Smoked Salmon

with Dill, Horseradish & Spring Vegetable Pasta

Sandra Tate

I know we're not quite there yet but this Spring green pasta with juicy flakes of hot smoked pasta certainly make you feel like you're there.
Ingredients
40g salt
30g unrefined molasses sugar
500ml of hot water
700g side of salmon
(Serves 2)
150g fresh linguine
50g of tender Spring vegetables
Creme fraiche
2 teaspoons of creamed horseradish
Black pepper
Fresh Dill
Preparation
Hot smoked salmon is seriously moreish, and a little goes a long way as it is so deliciously rich and oily. Ideal over pasta but equally amazing in a sandwich, or on toast with avocado and poached egg.
Curing and Smoking
Mix together 40g salt and 30g unrefined molasses sugar in 500ml of hot water in a snug container, allow to go completely cold and immerse a 700g side of salmon for 1 hour, then rinse and pat completely dry.
Leave to dry further on a Bradley rack while you set up the smoker.
Set the Bradley Smoker to a cabinet temperature of 95°C/200°F and add oak bisquettes to the stack.
Allow the cabinet to reach the required temperature and fill with smoke, then place the salmon in the middle of the cabinet and smoke for about 2 hours - depending on thickness of the fish - and test for 70°C at the thickest part then remove, allow to cool and store in the fridge until needed.
Flake some of the hot smoked salmon, about 200g, don't be over generous as it is very rich, and wrap the remainder for other use.
Set aside to come to room temperature.
Heat a pan of salted water and add 150g fresh linguine together with 150g of tender Spring vegetables - I used sugar snap peas and tender-stem broccoli - and boil for 2 minutes or until the pasta is to your liking the drain through a sieve.
Plop a rounded tablespoon of creme fraiche together with 2 teaspoons of creamed horseradish into the hot pan and return the linguine and vegetables.
Toss together with a generous grinding of black pepper and some finely snipped fresh dill.
Divide between warmed pasta bowls and top with flakes of hot smoked salmon and more dill.
Serve immediately.
Oak
Wood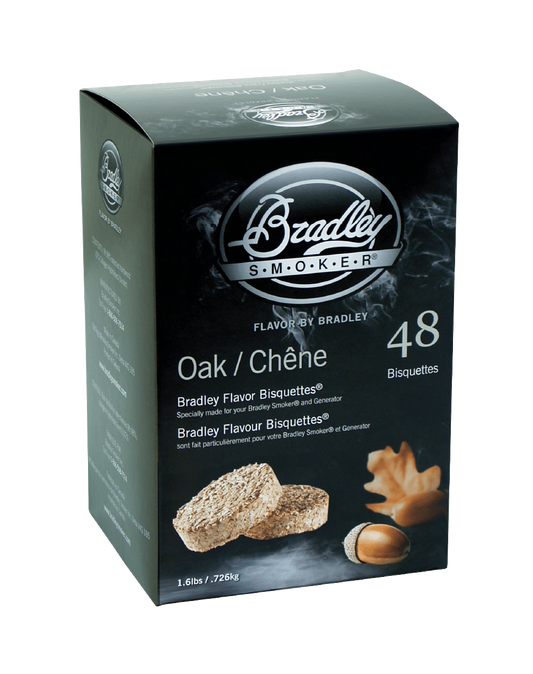 The most versatile wood of them all is Oak. Pairs especially well with poultry, beef, pork, lamb, and game.
Shop Now