Hot
Smoked Trout

, Spinach & Horseradish Soufflé Tart

Sandra Tate

To keep my smoked trout as juicy as possible I decided that on this occasion I would keep the fish whole, after all, there has to be a good reason why Arbroath Smokies and kippers aren't filleted before smoking! A little more of a fiddle to remove the flesh afterwards but I think it was worth it.
Ingredients
200g young spinach leaves
3 eggs
30g butter
30g plain flour
Salt
Pepper
2-3 teaspoons of creamed horseradish
Preparation
Take 2 large fresh trout.
To cure and smoke your trout first mix 30g sea salt with 30g light brown sugar and the grated zest of a lemon.
Remove the trout heads and pack some of the mix into the cavities then over the skin.
Leave in a container (they will give up some moisture) for 30 minutes then rinse thoroughly and dry completely with kitchen paper.
Lightly oil the skin to stop the fish from sticking and lay on a Bradley wire rack. Leave to stand for an hour to dry further, the skin will by now be quite leathery.
Meanwhile, set up the Bradley Smoker and preheat the cabinet to 95°C/200°F with some oak bisquettes in the stack.
Smoke the trout for 1 hour or until the flesh is opaque, core temperature 72°C.
Allow to cool before gently lifting away the skin and removing the flakes of fish from the bones, set aside.
For the tart you will need a pack of ready made short crust pastry.
Preheat the oven to 180°C/350°F. Roll the pastry and line a 26cm loose bottom tart tin, prick the base with a fork and bake 'blind' for 10-12 minutes until the pastry feels dry on the surface.
Remove from the oven.
Blanch 200g young spinach leaves, squeeze dry and scatter over the base of the tart together with the pink flakes of smoked trout. 
Now separate 3 eggs, placing the whites in a large bowl.
Make a bèchamel sauce by melting 30g butter together with 30g plain flour in a saucepan, once mixed and foaming add 300ml milk and whisk vigorously until the sauce is smooth and beginning to bubble - remove from the heat and beat in the 3 egg yolks.
Season with salt, pepper and 2-3 teaspoons of creamed horseradish.
Now whisk together the 3 egg whites with a pinch of salt until you have soft peaks.
Fold the bèchamel sauce into the egg whites and pour over the tart.
Gently level the soufflé mixture to the edges with a palette knife.
Bake for 25-30 minutes to golden and risen.
Serve immediately with salad or garden peas. 
Oak
Wood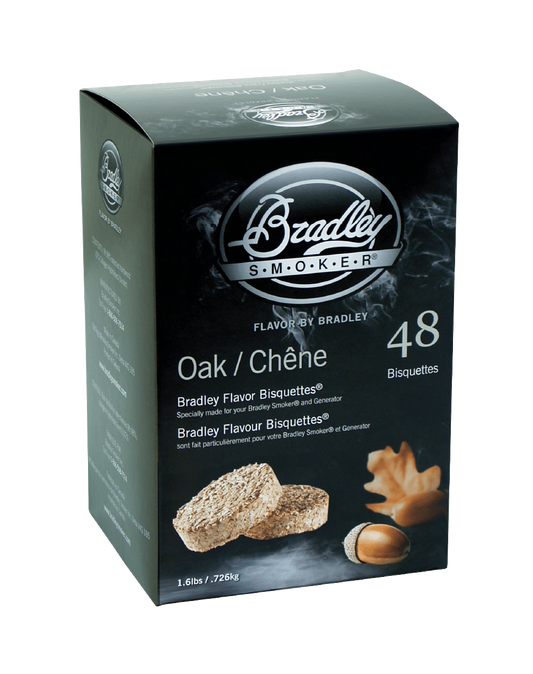 The most versatile wood of them all is Oak. Pairs especially well with poultry, beef, pork, lamb, and game.
Shop Now