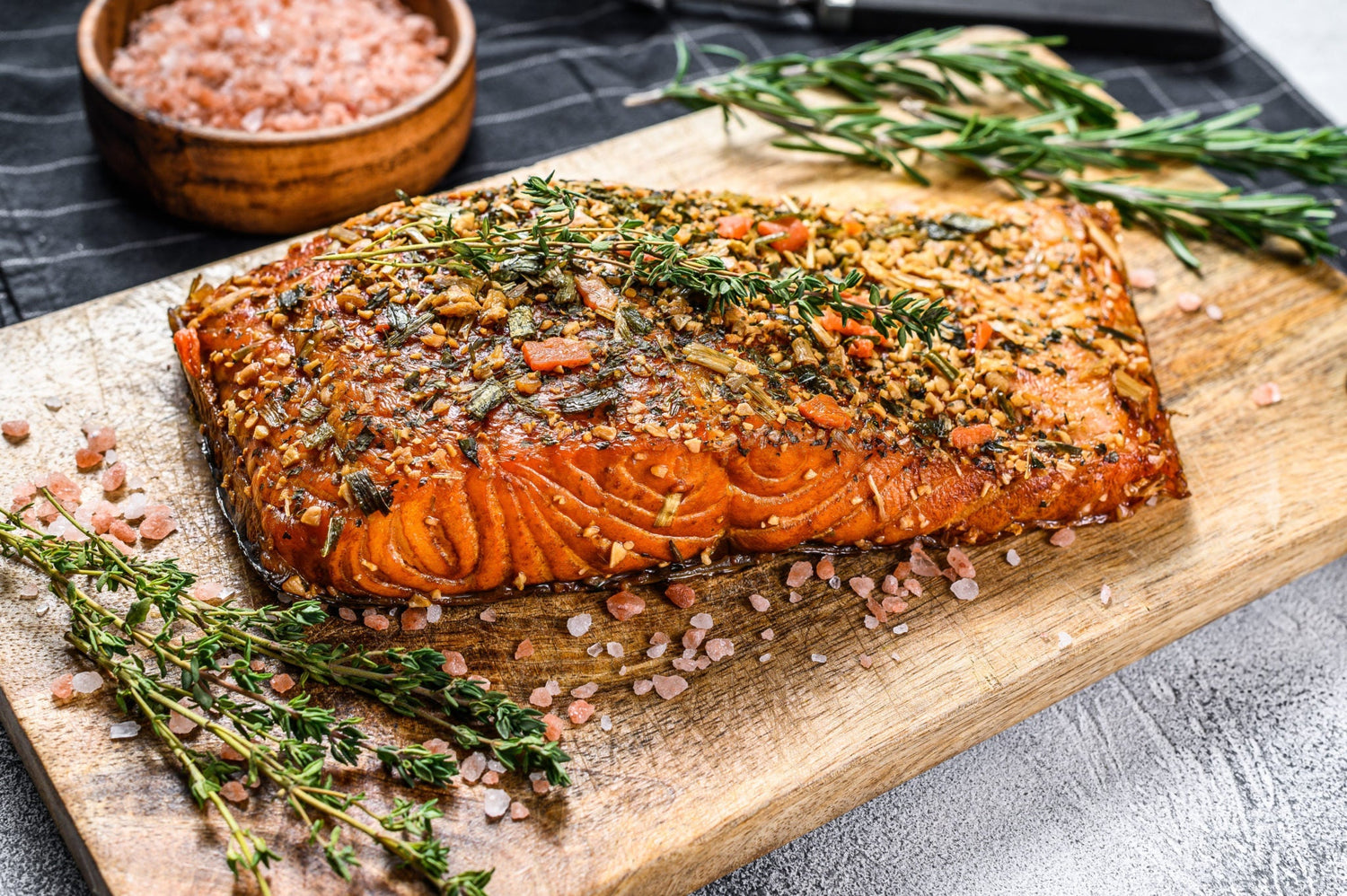 How to Smoke
Salmon


Indulge in a flavorful, smoked salmon with this recipe featuring a homemade Fish Rub made with smoked salt, paprika, brown sugar, and more. Brushed with maple syrup and garlic butter, this delicious dish is perfect for a special occasion or a weekend treat.
Ingredients
Fish Rub:
½ Cup coarse smoked salt
1 Tbsp black pepper
½ Cup minced or granulated garlic
6 Tbsp minced or granulated onion
½ Cup smoked paprika
½ Cup brown sugar
1 Tsp lemon zest
1 Tsp freshly chopped or dried dill
Salmon:
4 (3 ½ to 4 pounds) salmon fillets - skin on
2 Tbsp light cooking oil or olive oil, just to get the rub to stick
1 ½ Cups maple sugar or brown sugar
2 Tbsp fish rub (please see the recipe below)
¾ Cup maple syrup
1 Cup garlic butter - melted
1 Round of Brie cheese
1 Pound of sweetened nuts (your choice)
Preparation
Fish Rub:
Mix all the ingredients together in a medium-sized bowl. If you use freshly minced garlic, use the rub within 4 days. With granulated garlic, store in a sealed container for up to a month.
Salmon:
Preheat the smoker to 250ºF (121°C).
Brush 2 salmon filets on the flesh side with maple syrup.
On those two, sprinkle the sugar over the flesh side.
For the other two filets, brush both sides of the salmon filets with oil.
Sprinkle those filets with the fish rub.
Set them on the smoking trays and place them in the smoker for 1 hour.
Brush the filets with melted garlic butter.
Place the salmon back in the smoker and lower the temp to 150ºF (65°C).
Place the Brie and nuts on separate trays at the top of the smoker.
After 1 hour, take it out and serve!
Recipe By: Marc's on the Grill