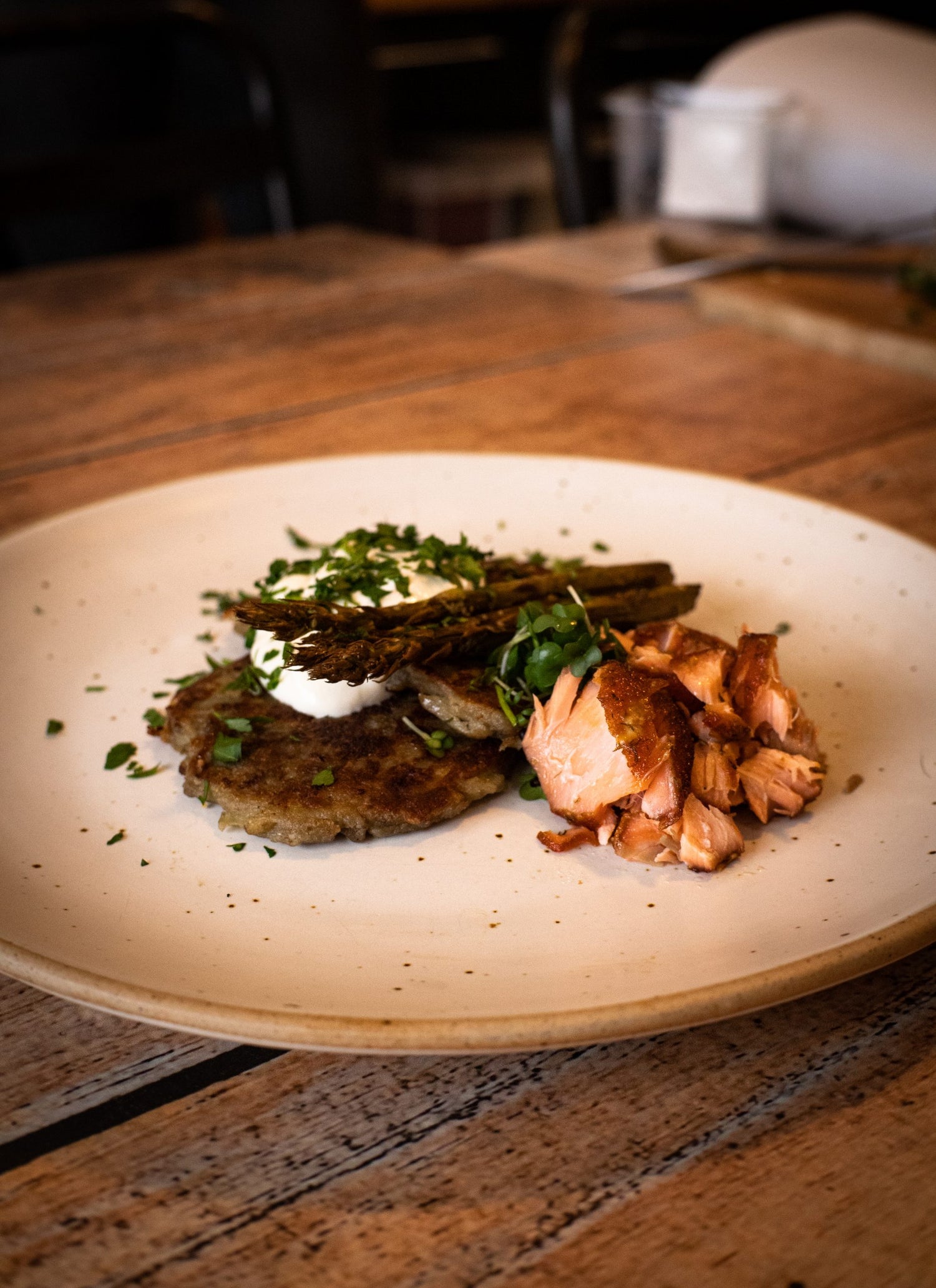 Irish Boxty with Hot
Smoked Salmon
Dan Shahin

Boxty, a traditional Irish potato pancake, is the perfect vessel for a multitude of toppings. We chose to top it with Hot Smoked Salmon with Smoked Asparagus and Crème Fraiche, but a classic combination of Smoked Bacon and Egg does nicely! Really, anything goes with Boxty.
Ingredients
For the Boxty
1 ½ cups grated raw potatoes
1 cup all-purpose flour
1 cup leftover mashed potatoes
1 egg
1 tbsp skim milk
¼ cup olive oil
salt and pepper to taste
For the Hot Smoked Salmon
2salmon fillets
¼ brown sugar
1 tbspsalt
1 tbsp cracked black pepper
1 cup crème fraiche
A garnish (we used cress, but green onion, parsley, dill, etc.)
Preparation
Method:
Leave skin on salmon. If fillet is over 1″ thick, slash the flesh every 2″ to 3″ about 1/2″ to 3/8″ deep, parallel and running in the direction of the rib. Lather the salmon with vegetable oil. It should be fully coated, but not dripping with oil.
Generously coat the salmon with a mixture of sugar and salt. Feel free to add other spices and herbs to the rub, such as dill, dry mustard, or onion powder. Rub the mixture of sugar, salt, and spices into the fillet.
Wrap the salmon fillets, flesh to flesh, with plastic wrap, then place in the refrigerator for at least 2 hours.
After the curing process, place the salmon on a rack skin side down, and into your preheated smoker at 80°C for 2.5 to 3.5 hours. (Time will vary depending on the fillet size. I'd suggest checking them after 2 hours).
Prepare the asparagus by breaking off the woody part of stem. Give them a light brush with olive oil and a sprinkle with salt. Smoke on top rack for approx. 90 minutes.
When your salmon is nearly ready, toss the grated potatoes with flour in a large bowl. Stir in the mashed potatoes until combined. In a separate bowl, whisk together the egg and skim milk; mix into the potatoes. Season with salt and pepper to taste.
Heat the olive oil in a large skillet over medium-high heat. Drop in the potato mixture, forming patties about 2 inches in diameter. Fry on both sides until golden brown, 3 to 4 minutes per side. Drain on a paper towel-lined plate. Top with the smoked salmon, a dollop of crème fraiche, and sprinkle with garden cress or some thinly sliced green onion to garnish.
Boxty is a versatile base for many varieties of toppings. A traditional topping of Smoked Bacon and Egg goes nicely, or something unique such as Smoked Duck Breast with a fruity compote for a sweet and savory treat.