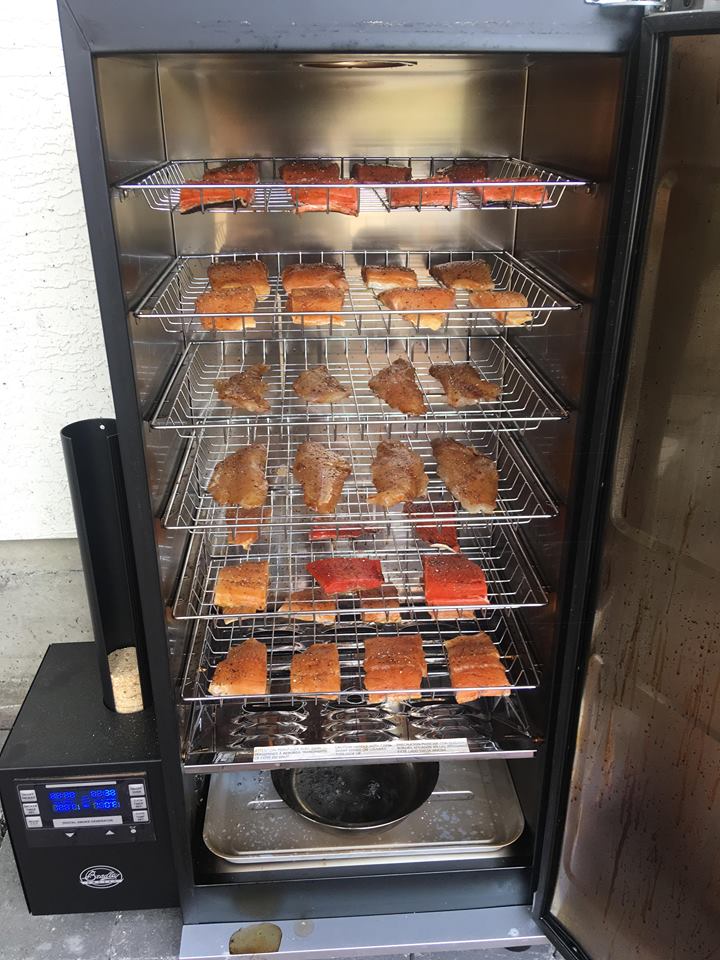 Maui Hickory Smoked
Arctic Char

Recipe



I recently got a Bradley Digital Smoker. Since then, I have been stocking up my freezer with anything I think will make for great smoking. After seeing all the half priced Arctic Char at the local grocery store, I decided to take advantage and see if it would be as good smoked as I had thought. I was not disappointed. Smoked char is as good as any smoked salmon I have had. This recipe also works great with Rainbow Trout, Coho Salmon, & Pickerel.
Ingredients
Brine Ingredients:
4 Cups water
⅓ Cup kosher salt
1 Cup brown sugar
¾ Cup peach Schnapps
Other Ingredients:
Original Maui ribs marinade sauce
Ground black pepper
Hickory bisquettes
Preparation
Cut char into 2 inch wide pieces and brine skin side up for 10-12 hours.
Wash fish off, pat dry with a towel, and place on wire rack in a cool place. Let sit for 2-3 hours.
Brush fish with Maui ribs marinade. Add fresh ground black pepper to your liking.
I used Hickory bisquettes as a personal preference, and began smoking the fish at 150ºF for 2 hours, brushing the fish again after the 1st hour with Maui ribs marinade. Increase to 160ºF for 2 hours. Finish at 170ºF for 1 to 2 hours, until the internal temperature reaches 130/140ºF.
Remove from smoker and let cool to room temp (about 1 hour) before vacuum-sealing.