Simon Rogan's
Smoked Roe

Cream

Sandra Tate

This recipe was given to us by Dr Chet Sharma, Head of Research and Development for Simon Rogan of L'Enclume in Cumbria. Many thanks Dr Chet Sharma!
Ingredients
250g plaice roes
10g fine sea salt
20g lemon juice
300g grape seed oil
Preparation
The team operate from Aulis (the development kitchen/bar where new techniques, technologies, and ingredients are explored and new dishes created). Aulis also opens its doors to up to six diners who have a meal prepared before them from an open kitchen, and experience dishes before they appear on the L'Enclume menu.
SMOKED ROE CREAM
This is a simple emulsion to make, luxuriously silky in texture and rammed with flavour. I have no idea with what this is used at L'Enclume, undoubtedly one of many exquisite elements that make up a dish there.
For me it begged to partner sweet, juicy scallops.
Method
Salt the roes evenly and place in a vacuum bag, or a freezer bag with air pushed out and sealed. Leave in the refrigerator for 24 hours.
Wash the roes thoroughly to remove the excess salt, and pat completely dry on kitchen paper. Set up the Bradley Smoker to cold smoke and load the stack with 8 apple wood bisquettes. Cold smoke the roes for 2 hours.
Remove from the smoker and with a small knife split the membranes before gently scraping the roes out. By the end of this exercise you should have at least 200g of smoked plaice roe.
Place 200g of the smoked roe and 20g freshly squeezed lemon juice into a small blender. Blend to smooth.
Now slowly drizzle the grape seed oil into the smoked roe, blending continuously until you have a smooth, creamy emulsion. Taste and adjust seasoning with salt and lemon juice if necessary.
Apple
Wood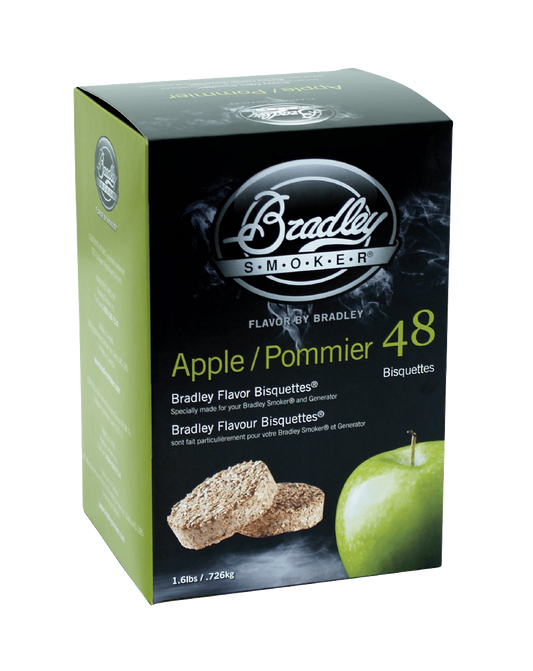 A light, fruity and slightly sweet smoke aroma that pairs with poultry, beef, pork, lamb, and cheese.
Shop Now